Home
/
Achieving Woman
How I assist parents clear the hospital bills for their children suffering from cancer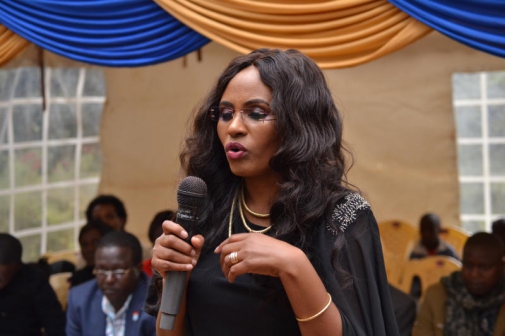 When eight-year-old Tony Onyango got admitted to Ward 1E at the Kenyatta National Hospital awhile back, he did not understand why he had to be there. And his problems were made worse by the fact that his mother could not stay with him.
His mother Bilia Onyango, who lives in Migori, had so much going on at the time and could not afford to travel to see her son as often as she would have wished.
"When he called and asked me to bring him something during my next visit I just muffled my cries and said 'yes we will see about it," says Bilia. It was tough for both mother and child and Tony was left to battle both cancer and loneliness in the hospital where visits by family members were so rare.
Where is Mummy
"I would see so other children visited and I just sat there not knowing if my mother would come," says Tony.
In the same ward, 23-year-old mother Gladys Munyake's son was going through a similar experience.
"My child just did not understand why mummy was not coming to visit and it broke my heart so much because there was nothing I could do about it since I did not have a job," she says.
Many children at KNH's Ward 1E, the paediatric cancer ward, are often left to battle the disease and be their own support system. It is for this reason that Julianna Kitenge has dedicated 20 per cent of her earnings as a nurse in Indiana State, USA to assist families like these.
Connection
"I called my friend who works at KNH and she told me about a child who had no one to visit and after the conversation my mind just could not bury the thought of helping out," she said.
Munyake is one of the beneficiaries and has continued to receive support even after her child died.
"I lost my child and I asked Kitenge if she could help me since I needed to move on with my life. She really helped in picking up the pieces," says Munyake.
Kitenge started a small business for Munyake and decided to take up a new family to assist.
"I started asking women if I could assist in either paying their fare to hospital or paying their accommodation while in Nairobi for those who stay far from KNH," she says.
Kitenge now has 20 children under 13 years who she is assisting. It was in October last year when friends started asking how they could help and that is when she started the foundation On Eagles Wings.
Making it legal
"People really wanted to assist in any way they could and soon enough they were chipping in and because I had to separate my funds to be accountable I had to make it legitimate," she says.
Kitenge adds that if everyone assisted in the little they had then perhaps no child would suffer at the wards wondering why their families were not visiting them.
"The little we give can go a long way and perhaps battling cancer could be the only fight the children can be worried about if we all came together, she says.
Related Topics