Home
/
Achieving Woman
Orie Rogo Manduli: A lioness like no other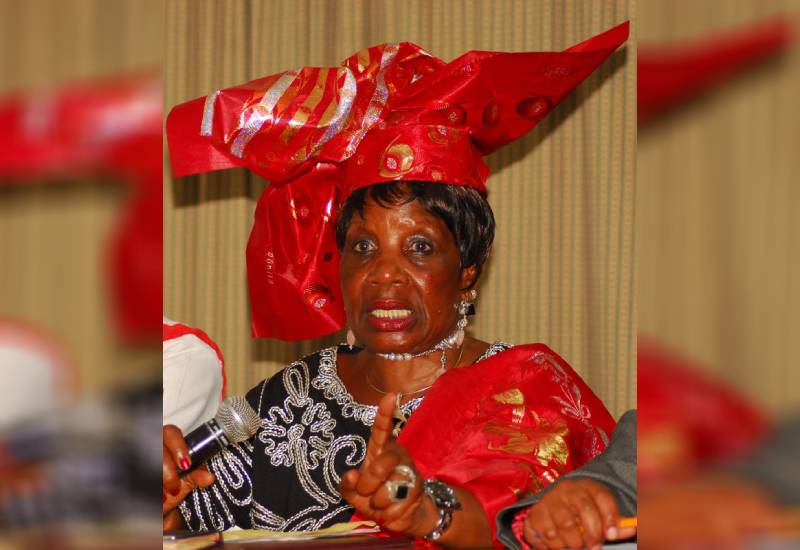 In her heyday, Orie Rogo Manduli – who died On Wednesday at her well-appointed Riverside Drive home in Nairobi – was one of the highest profile Kenyans for the right or controversial reasons.
One Sunday afternoon, I found myself without a magazine cover story and boss Lucy Oriang was not in the mood for cock and bull explanations.
Then a brainwave happened from the blue.
Wasn't Mama Safi — for that's what Managing Editor Kwendo Opanga used to call her when we ran a political weekly from her servant quarters — barricading herself at the Kilimani offices of the National Council of NGOs resisting all attempts to kick her out of office?
Armed with a tape recorder, a beeline it was to the place. The "lioness in her cage" as she described her circumstances then remembered her former tenant and an interview was swiftly granted. It would be hours and miles of tape.
She had been in the "cage" for six days surviving on, she told me, fruits and drinks passed over to her through an opening on the gate; what with police officers surrounding the place.
It was just another episode in the life of a woman who had made her mark by sheer unconventionality. No territory was out of bounds and procedure too risky. Frank Sinatra's existential anthem "My Way" would be a most appropriate tribute to the elegant who is no more.
A woman of sunny disposition Manduli was larger than life. Her trademark towering headdress, high heels and gravelly voice to boot guaranteed her a spot in the limelight. She would, during her seasonal forays into politics, eclipse party bigwigs during press conferences courtesy of her showmanship. Photographers kept on clicking as TV cameras rolled non stop. However, she never won a parliamentary seat.
The elegance, it was explained to me, was genetic.
"That's the Obota in me. That's my mother. My mother inherited it from her father, Obota. He designed and made women's attire. My mother inherited her father's artistry with his big scissors and the sewing machine he bought when he started the business.
"My mother was a beauty. I take after her. I make my own clothes. It's not in the wearing, but the way you carry yourself. Give them to another woman and they will not be the same." Phew!
Back to the NGO Council row: The year was 2005 and a caretaker body led by Oduor Ong'wen was determined to throw the chair out office with the support of Cabinet Minister Najib Balala.
"The whole saga is in my court," she told me, suggesting Balala was fighting a losing battle.
Despite her position that women in public positions should be thick-skinned and develop their own personae, she eventually lost the war. Unbowed, I suppose.
But it was not the first loss. Just another vicissitude.
After all, wasn't she a former International Council of Women's Permanent Representative to the United Nations Environment Programme and Habitat?
The UN job she told me, was lost courtesy of "Kenyan insecurities and jealousies."
Putting my head on chopping board, I asked her whether she was a publicity maniac. Response? She was not into, I think the word used was exhibitionism, was thankful to God for her good genes and above all, was not allergic to photographers.
Manduli was born in Maseno to teacher Gordon Rogo and Zeruia Adhiambo and wouldn't tell me when "just like you don't tell us where you've been when you come home in the middle of the night."
Rogo would become a councillor (now MCA) and Zeruia a home economics lecture at Kisumu Technical College. Schooling at Ng'iya Girls' High School, and Machakos Girls she was later trained as a teacher at Machakos Teachers College but she had other ideas. She married and "immediately left for Canada, where I did a diploma in office management."
She would work with Kenya Railways and Harbours Corporation as the personal assistant to the general manager, Coffee Board of Kenya as an administrative manager and as a regional marketing and public relations manager with Metal Box in 1975.
It was in 1975, she told me, when she bought the much-speculated-about Kitale farm at an auction by CB Mistri Auctioneers and loaded herself with loans.
In her words, it was a crazy year working her herself to exhaustion doing Mambo Leo and Women's World shows at KBC besides running the farm.
"That's how I ended up doing extra work after office hours with the KBC — Voice of Kenya then."
The pay was peanuts but the joy was momentous as she looked for her own studio guests. "I got the cream, including Bishop Makarios of Cyprus, the Emperor Haile Selassie of Ethiopia, Nigerian leader Yakubu Gowon and his wife Victoria and James Bond — no, Sean Connery."
It was at KBC where the Safari Rally bug bit her after interviewing female foreign drivers, which made her wonder why a Kenyan woman wouldn't do it.
She entered the Safari in 1974 with the Sylvia Omino. Sylvia was politician Joab Omino's wife.
The Safari, I was told, became a metaphor for her resilience. "I was the driver; I am always the driver. It's just that I'm always the driver in any situation. We did not finish but managed two legs." Vintage Manduli.
With her rallying skills, she was convinced she could drive to the farm, almost 400 kilometers away inspect it at night, and drive back to Nairobi for her day job!
Enter Ondieki
She started off as Mary Orie Rogo with the name mouth-filling to Mary Orie Rogo Ondieki after marriage to Mr Ondieki.
So Mary had to go, which Mary was inspired by Mary Slessor, the Scottish Missionary famous for rescuing twins in Calabar, Nigeria where they were considered a taboo. "I am Mary Slessor. My father called me Slessor and I actually sign as Slessor." Vintage Manduli. Again.
The marriage to civil servant Ondieki collapsed after three daughters — Elizabeth, Allison and Janice — with him.
"Five years later, we divorced and I took care of the children. When you're incompatible, I tell you it's tough. It doesn't work. It doesn't matter what you cook, the man won't taste it. It doesn't matter what you wear, he won't even see it."
Pressed for details, Manduli would, uncharacteristically open up to reveal that the man wanted a boy that was not forthcoming.
The boy did come but from another marriage.
The late Justice Cecil Miller granted her the custody of the children but she never saw the child maintenance bit, which she told me, she didn't hanker for considering such insistence as undignified.
She remarried in 1980 to Norman Manduli, whom I was told was a Zambian from Luapula and cousin of former president Frederick Chiluba.
She met the politician and businessman in Lusaka when she went to interview Zimbabwean freedom fighter Joshua Nkomo for the BBC.
It was love at first sight at the Intercontinental Hotel Lusaka after Manduli's daughters met her children as they played by the pool with a nanny.
Manduli died in 2003. During the interview, she maintained they never parted. "We had been together throughout. He was a wonderful husband and father."
Then there are the houses.
How did she own houses in the ritzy parts of Nairobi? The Karen one, she told me, was bought in 1986 and Ardwyn House, where she died in, in 1980.
"Manduli and I married in late 1980 but I had bought the house in early 1980."
What about the third one? "The one in Riara Close — at Thompson Estate — I bought in 1986. I love auctions. All my houses and farm are auction-bought."
I was made to understand Ardwyn House was bought through realtors Tysons Habenga, so she never got to meet the seller whom she remembered was a diplomat.
"As for the first house I bought it in 1973 when I came from Canada with a loan from Savings and Loans."
The real estate bit was getting interesting so I pressed for a full disclosure and was told: "I try to repay earlier. If they gave me, say 10 years, I would pay in seven, five. I don't owe any bank any money. I tightened my belt, I would go without food, go without luxuries, eat once a day."
The driver; always the driver.
Rest in Eternal Peace.
Related Topics