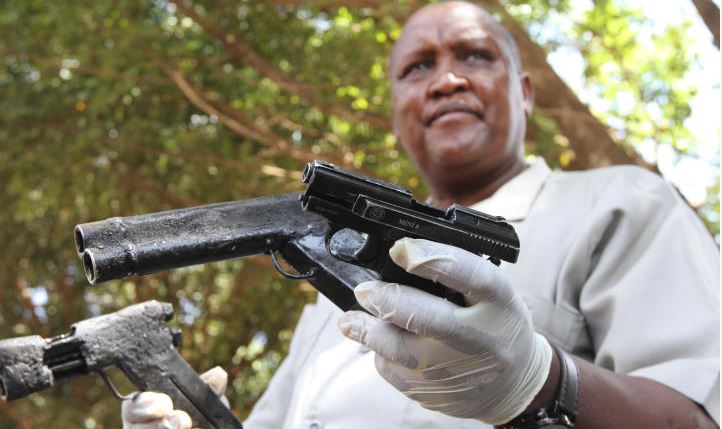 When the history of organised criminal gangs in the country is written, one man's exploits will require more than a chapter.
Musa Yego (pictured) is a police officer who has seen it all in his 39 years in the force. He will be hanging up his handcuffs on December 20 after attaining the retirement age of 60.
The Sunday Standard sought an interview with the crime buster who headed two of the most dreaded elite police units in the country.
Yego agreed to a meeting at a restaurant on Koinange Street. He was in a brown Kaunda suit and matching shoes, with a gold-plated wrist watch and ring, the only indication that he appreciates finer things in life.
This career police officer is physically imposing — a soft-spoken towering man who did not fit the brutal image associated with members of the special units he commanded.
Yego said he was taking it easy during his leave ahead of retirement that is why he appeared so relaxed. His focus now, he said, was on a crop of wheat at his Narok farm where he had spent a week.
He was measured at first but as we got deeper into conversation, he opened up and I quickly realised that age has done little to slow him down.
The father of two joined the police force as a constable in 1981. He rose through the ranks and after two decades, he was picked to head the Special Crimes Prevention Unit. He did that from 2003 to 2005.
At the time, the country was experiencing security challenges such as kidnappings, carjacking and there was a rise of violent gangs. Life in Nairobi was a nightmare.
Yego led the Flying Squad from 2007 to 2009 at the height of a protracted fight between the police and members of the murderous Mungiki sect.
He was still at the helm of the unit when it was disbanded by Directorate of Criminal Investigations boss George Kinoti in December last year. No official explanation was given for the decision, whose members were facing accusations of engaging in extra-judicial killings.
Kinoti posted on Twitter: "The Directorate of Criminal Investigations wishes to inform the public that after disbanding all the Flying Squad sub-units within the country, only the Headquarters Unit based in Nairobi remained.
"With effect from today, the unit has equally been disbanded. This marks the end of the Flying Squad Unit and no officer will present himself or herself to the public as such. Equally, the Special Crime Prevention Unit (SCPU) has been scaled down to a smaller unit."
Lucky man
For a man whose name was synonymous with death, Yego said he was delighted to be leaving the service alive. Many other officers have not been so lucky.
He insists that it is prayers that have saved him from the dangers inherent in his profession.
"I thank God for protecting me at work. Many of my colleagues and friends have died in the line of duty."
His fellow officers, he says, call him 'pastor' after he made it mandatory that they pray before starting work. "It is a practice that I started way back when I was an instructor at the Kenya Police College."
He says the darkest day of his life was April 2, 2015 when terrorists butchered 148 people at the Garissa University College. This was the second-deadliest attack in Kenya after the al-Qaeda bombing of the US embassy in 1998, which killed more than 200 people.
Yego, who was head of criminal investigations in Garissa, says the events marked a turning point in his career.
He recalls that he was preparing to leave for work after returning from a shooting competition when Inspector General of Police Joseph Boinnet called him at around 5.45am.
Boinnet demanded to know what was happening at the university. Yego told him he had received distress calls that the institution was under attack by heavily armed gunmen, but he had mobilised his officers to respond.
When the IGP called a second time, Yego told him he was already at the university hostels and requested backup from the elite Recce unit.
He recalled that it was a blood bath, with students screaming for help and the marauding terrorists shooting indiscriminately.
Armed with an AK-47 rifle and pistol, the sharpshooter had to balance between fighting the enemy and briefing his bosses.
At one point, exhausted and frustrated, Yego thought it was too dangerous to enter Elgon Hostel where a large number of students were locked up. By this time, it was clear to him that it would be suicidal to proceed without first establishing the number of gunmen inside.
"To date, I still don't understand how or what made me make that decision but I found myself inside the hostel despite the heavy gunfire."
Yego shot at a terrorist who was trying to break the main door. "I was delighted when I saw close to 200 students running out of this dormitory," he said.
The Recce officers later killed the remaining attackers, restoring sanity.
The resulting public outcry over the police response led Interior Security Cabinet Secretary Joseph Nkaissery to order an investigation into the rescue operation.
Yego and other senior security officials from the North Eastern region were interdicted after claims that they had acted negligently. After two-and-a-half years, he was reinstated to the service.
"It was the most difficult phase of my life. I suffered and was even kicked out of my police house in Garissa. I was delighted when I was cleared of the allegations of negligence," he said.
Related Topics