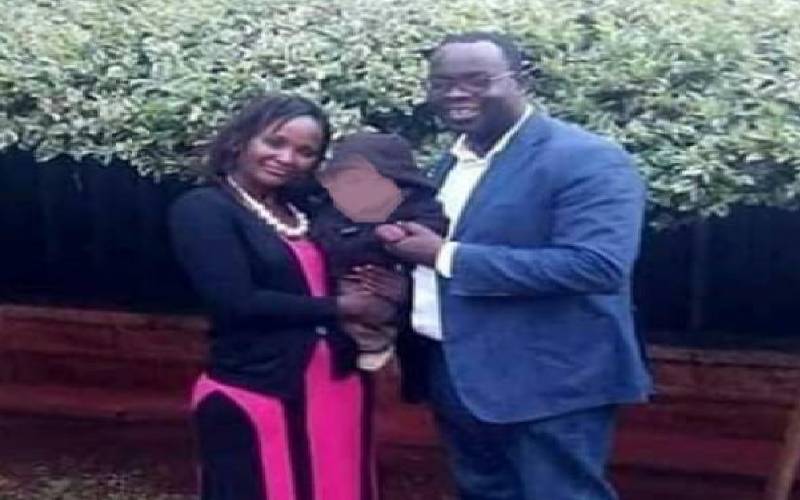 Nairobi Nominated Member of County Assembly Anne Thumbi has vowed that she will raise the son she sired with the late Kibra MP Ken Okoth to be a great man, just like his father.
Thumbi was speaking during the late Okoth anniversary held last Sunday.
The late Okoth died last year after a long battle with colon cancer.
"It is exactly one year since you left us, but you still reign in our hearts. You changed lives of many people whether you knew them personally or not. You enabled equality in our society and made sure each person was treated with equal respect regardless of their social or economic background and lifestyle.
"Your advice and attitude toward life that you taught me shall guide me through and I promise to bring up your son the way you wished. All I can tell him now is that his father was and is a great man," she said in a social media post that included a video of Okoth explaining why he left the United States for Kibra.
Okoth and Thumbi's guarded relationship came into the limelight during the MP's funeral service when Nairobi Governor Sonko spilt the beans that the two had a son. Sonko added that he said he would ensure the legislator's family recognised the minor to make sure he does not suffer.
"Ken will not forgive me if I don't save the situation. Ken fell in love with a nurse called Anita from the Sonko rescue team. In 2017, he asked me to help him nominate his second wife to the County Assembly and out of respect for him, I nominated Ann Thumbi," claimed Sonko.
Okoth succumbed to cancer and was cremated at a private ceremony on August 3.
A court battle seeking to establish the paternity of the child was ruled in favour of the MCA, confirming that the late Kibra MP Ken Okoth was indeed his father.
The ruling sealed the dispute on Thumbi's application to have the boy recognised as Okoth's son.
Thumbi who is a nurse by profession once worked at the Aga Khan Hospital before her nomination to the county assembly after the 2017 General Election.
The mother of one was nominated to the Nairobi county assembly by Uhuru's Jubilee party and has had the chance to serve in various committees including the Public Health Services.
Her notable contribution to the Nairobi County Assembly was a Motion seeking to have private hospitals barred from charging visitors parking fees.
In April this year, Thumbi announced that she was partly going back to nursing to give back to society during this time when the country is battling Covid-19.
In one of the sessions, she was spotted volunteering at the Waithaka Health Centre in a move that wowed many Kenyans seeking medical services amid the pandemic.
Thumbi and Okoth are said to have met while she was working as a medic in the governor's charity outfit, Sonko Rescue Team.
Around two months to his demise, Okoth shared a photo in company of his first wife, Monica, while he was recuperating at a hospital in Paris, France.
During the memorial service, later on, Monica revealed that she had good times with the MP and visited many parts of the world since they were close friends.
She revealed that she had known the MP for 21 years and first came to Kenya 15 years ago
"For the past two years, Ken was ill and it was sad to watch him suffer. Thank you all for your support and love," she stated.
The two met at the university in Australia where he was the only African. He later became a student leader.
Related Topics