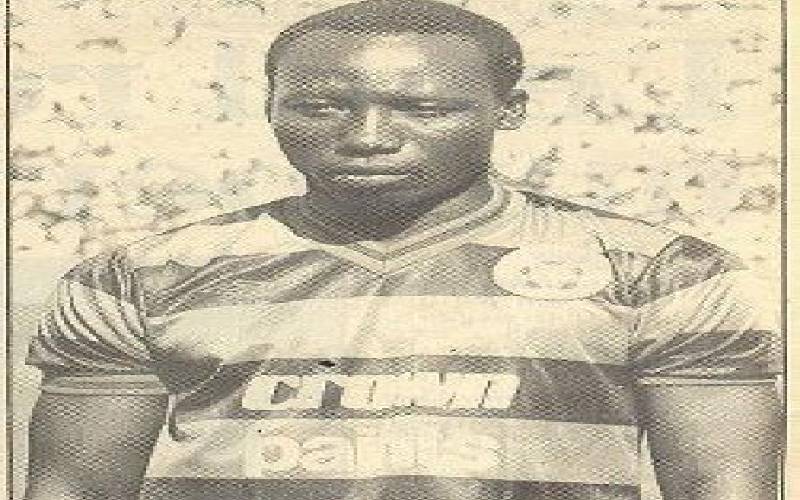 His life was short and eventful. In his late 20s, he had played for Kenya's two most historic teams. Then something strange happened: he shocked all by hanging his football boots at the tender age of 27.
A few months later he was found dead.
This is not the life of the fabled Simon Makonde, but the story of John Okello Omena aka John 'Zangi' Okello.
Football fans in Kenya may not connect the life of this famous Gor Mahia and Harambee Stars player with the August 1982 attempted coup. They may not even connect him to the successful coup in Zanzibar in 1964. The coup that brought the Afro-Shirazi Party led by Abeid Karume to power. Yet still, they have no idea that he also has a relationship with Fredrick Collins Omondi, the man who led the coup plot against the government of Mzee Jomo Kenyatta in 1971. As fate would have it, the same footballer is also linked to a great Congolese musician. His other name 'Omena' is synonymous with the smallest but most favourite fish around the lake region where he came from. Take John 'Zangi' Okello, wrap him into one and you wonder why great people often die young. The man died before many understood his background.
If history was to be re-written, the talented midfielder was also a product of the best football team to have been assembled by a school in Kenya: Kisumu Boys High School where he first donned the school jersey at the tender age of 16 as a Form Three student in 1980. Before he died in 1992 he had written football history by abandoning Gor Mahia and joining their arch-rivals AFC Leopards, causing a great explosion of emotions never seen before between these two community clubs. That was John Okello, the guy who was full of surprises.
He was a sensation. A typical example of a man described by the Greek gods as those who are brought into this world and given the power to be great but are destroyed by the same god who brought them to us.
Back in 1982, Kenyans woke up to confusion on Sunday 1st August 1982. Soldiers of the Kenya Air Force had gone on the rampage in an attempt to overthrow the government of President Daniel Arap Moi. Somewhere in Umoja One Estate, young 18-year-old John Okello had just started his life in the city, living with his uncle Hezekiah Ochuka in the Nairobi estate. Though a soldier in the Eastleigh based Kenya Air Force, Ochuka also had a house outside the barracks. This is where his nephew John Okello also lived.
Anyone who saw young Zangi in Kisumu's Nyalenda can say how he was obsessed with playing football. As other boys carried their books to school, he had an additional paper bag which carried his old football boots wherever he went. He told anyone who cared to listen how the paper bag contained what he considered would change his life. Indeed after his Form Four in 1981, he left Kisumu for Nairobi, falling into the hands of his uncle, Hezekiah Ochuka.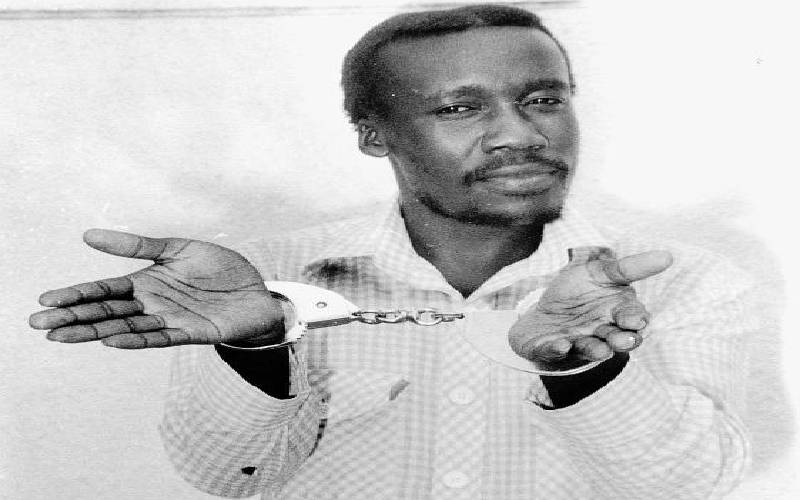 When Okello was born in Koguta Location, Upper Nyakach, Kisumu County in 1965, his birth happened few days after a successful coup in Zanzibar. The leader of the mission was a Ugandan Field Marshall John Gideon Okello. The man recruited indigenous Zanzibar Africans, descendants of slaves, trained them and used them to overthrow the Arab rulers who had conquered the clove island for centuries. The revolutionary's name became so popular in many African countries that were also emerging out of colonialism. Although he became a hero to many, he was quietly feared by new presidents. They thought he could do another 'Okello' in their newly independent countries. He became a marked man.
Back in Nyakach, Kisumu County, Zangi's father, Hezron Omena saw a good name and gave it to his bouncing baby boy. Koguta Village is also where Fredrick Omondi was born. The jet fighter pilot was among the six Kenya Air force soldiers who were selected for an elite training programme at the Royal Air Force Training College in the UK. At 20 years, he was the youngest and also emerged the best student. At the age of 26, in 1971, Omondi organised to overthrow Jomo Kenyatta's government. Omondi's story is for another day. Fast forward to 1st August 1982 and Omondi's village mate, Hezekiah Ochuka copy pastes what his homeboy had done earlier.
Just a few years before, at Kisumu Boys High School, teenagers in the city and indeed the whole country were dancing to hits by Congolese musician Johny Bokello Isenge. It is the musician's last name 'Isenge' that school mates gave the talented John Okello as a nickname. With time, it was corrupted to 'Sengi' then gradually it became 'Zangi'.
Zangi moved to Nairobi to look for his fortune in football. He knew he was talented, tried and tested. Naturally, he joined his community club Gor Mahia after a short training stint with Iqbal FC in Nairobi. He moved in with his uncle Hezekiah Ochuka and stayed in Umoja One Estate. Ochuka was a soldier with official housing at the barracks in Eastleigh. Zangi therefore had a field day in Umoja. In August 1982, the coup happened and Ochuka was arrested. It is alleged that few days after the attempted coup, Kenya Army soldiers went to the Umoja house and chased away John Zangi Okello and his cousin Harun Owuor before ransacking the house. Zangi was helpless and devastated by the sudden turn of events. He took it in his stride and drowned his sorrows in his football activities.
Senior CECAFA Cup
Gor Mahia had never seen a talented young man like Zangi. He could master the midfield with precision and courage. Some fans called him Okello 'Zing-Zang' because of his ability to run with the ball, stop, look the other way and take a turn in measured angles. His 360 degrees turn was the fans' favourite. Like a round robbin, Zangi could turn mid-way and pass the ball in any direction leaving his opponents in a trance. At the 1983 Senior CECAFA final match between Kenya and Zimbabwe, he did exactly that. He passed the ball to a teammate in a one-two formation and pretended to receive, but let it slip between his legs, landing in the path of a charging JJ Masiga. The blockbuster that came from JJ sent the crowd at Nyayo Stadium into a frenzy. Zangi had come in as a substitute but set up the winning goal in a 1 – 0 triumph. Harambee Stars won the Senior CECAFA triple, courtesy of Zangi's trickery in his debut.
In 1988, Zangi was in the Harambee Stars team that toured Brazil. The newspapers there judged him the best player in the Kenyan team. The young lad had run-ins with Gor Mahia officials simply because he became too outspoken. He could not entertain what he considered unfairness and player exploitation. He was among players who had earlier been suspended after bribery and match-fixing accusations were levelled against them. Shortly upon reinstatement, he was back in the sin bin for speaking out loudly on matters to do with player remuneration. Zangi was vocal and open-minded, a rebel of sorts. Club officials were never amused by his off the pitch actions. It was during one of these suspension periods that Zangi decided to hit back hard and painfully too. He did what only a daring lad would do at that point in time. He joined AFC Leopards.
Unlike today, that was like an abomination. The daring John 'Zangi' Okello just as brave as the person he was named after, had crossed the red line. It is like he answered Ingwe fans prayers. Gor Mahia's strength was their midfield. The club had excess talent in that department. They had John 'Zangi' Okello, George 'Fundi' Onyango, Charles 'Engine' Otieno, Abbas 'Zamalek' Magongo, George 'Nyangi' Odembo and Isaiah 'Janabi' Omondi. Zangi had weakened Gor Mahia's midfield which was its engine and turbo. Ingwe fans were on cloud nine and they embraced their former tormentor with open and warm arms. They even gave him a nickname — 'Wanyonyi'.
Gor Mahia fans were mad at their once favourite midfielder. They considered what Zangi did a big betrayal. They started harassing him at every opportunity. In one dramatic event, Zangi was spotted at the stadium where he had gone to watch a match between Gor Mahia and Kenya Breweries. At the end, rowdy Gor fans rushed towards him, baying for his blood. It took the quick intervention of Gor players to save him. They pulled him into the team bus just in the nick of time. Things were never the same for Zangi after that.
In 1986, word filtered out that Zangi's favourite uncle Hezekiah Ochuka had been hanged in Kamiti. Zangi's conscience was not clear, he became a very disturbed man. His mind was never settled and many thought he was unable to reconcile himself to what was going on around him. Messages from back home in Nyakach did not help matters either. Ochuka's father Nyambogo Ochuka had died earlier in 1984 out of shock when he heard that Ochuka had been charged with treason. Hardly a few months after, he was sentenced to hang. His other siblings, three brothers and two sisters also died mysteriously.
Zangi abandoned football in 1992 and was found dead by the roadside in Kisumu. He was 27. The player had become alcoholic and resorted to roaming the streets of Nairobi and Kisumu. He had no house, no wife or children, no family and no friends. The dazzling midfielder was destined for ruin and death. The gods had decided his fate. People saw many things in his predicament. Some saw the long arm of government, others saw witchcraft. Some thought juju was at work. Others accused Gor Mahia fans who they claimed had bewitched Zangi after he showed them the middle finger.
Like Rashidi Yekini of the famous Super Eagles of Nigeria, who suffered mentally before his death, Zangi's legacy disappeared into oblivion. As Hezekiah Ochuka's remains lie somewhere in Kamiti Prison, Zangi's remains were laid to rest on top of the Nyabondo Plateau overlooking Kisumu, the city that once made him famous.
Related Topics