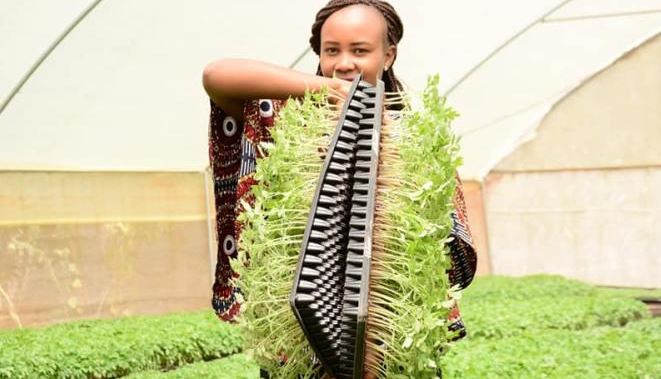 In 2010, Caroline Mwangi (pictured) graduated from college with a diploma in Human Resources Management.
Today she is a farmer – running a seed propagation enterprise that saw her awarded at the Nairobi International Trade Fair 2019 by President Uhuru Kenyatta. Consequently, she was appointed as the youth ambassador for agriculture in Kiambu County by the governor James Nyoro.
"I chose to study HR not to be employed per se: I was preparing for a future where if I owned a business I would know who to employ," she says.
Caroline's journey into farming is simple. She started off as a hobbyist and then became a full-time farmer.
From passion to profit
Between 2011 and 2016 Ms Mwangi was employed by a local construction company as an administrator.
Her salary, she says, was decent – for someone who had just left school and only had herself to fend for. She had no reason to resign in pursuit of farming.
But in 2012 Caroline took up passion fruit farming.
"My intention was not to make a profit. Farming for me is a hobby: it had been for a long time," she says.
The miracle of burying a seed in soil and seeing it germinate then grow into a plant; which would then yield produce of higher value just fascinated her.
By and large farming for Mwangi was of sentimental value: it showered her with the feel-good hormones.
The passion fruit covered a quarter of an acre in Ruiru – a piece of land on which a family friend had allowed her to use pro bono, albeit for a short term.
She insists that growing passion fruits was done for the fun of it. It was not in her grand plan to become a full-time farmer.
If fact, around the same time, she had acquired CPA (accounting) certification and was probably looking at a career in the corporate world managing human resources and accounting for finances.
Power of social media
While to her the whole venture was a pastime thing people noticed her efforts as she frequently left 'what I am up to' posts on her Facebook timeline – pictures and all.
What followed, she says, happened perchance.
"Somehow the media got to know about the passion fruit field. I was contacted by TV stations who profiled my work at the farm.
"I believe the fact that I was a young person and a woman involved in urban farming attracted the attention.
"Within the same year I was featured by two TV stations. This kind of exposure created even more attention and buzz around the whole thing.
"Afterwards I started getting calls from people asking for seedlings to start their own farms. I referred them to the farmer who sold me mine but then I got feedback that he was no longer selling seedlings.
At the time, she was also struggling to get spinach seedlings to intercrop with the passion fruits.
She then began propagating seedlings for herself and the people who reached out with similar requests.
"I started propagating passion fruit seedlings and vegetable seedlings – in my free time," she says.
But demand began going up. Every day she got new requests for seedlings.
Mwangi also got calls from juice production companies who were interested in her passion fruit produce. Her farm was, however, too small to meet the demand.
Orders started streaming in
By this moment Mwangi hadn't contemplated harnessing the opportunity. She still held her day job. But she continued producing seedlings and would sell to a few of those who needed them.
She never contemplated a situation where demand would grow – at least not as quickly as it was increasingly becoming apparent.
At some point in 2016 she did the math and discovered that she could earn from selling seedlings – as much as her salary or even more.
Light bulb moment
This was her light bulb moment: there was a gap in the seedling market and she decided to take the risk and dive in hook line and sinker.
"Of course I was afraid: it is not easy to give up a stable job for farming – which can be unpredictable some times," she says.
She, however, resolved that if she was to achieve the success she envisioned she needed to take the risk.
"In June 2016, I resigned from formal employment to start my own seedling propagation business," she says.
Known as Kimplanter Seedlings and Nursery, the company has grown in leaps and bounds: starting with an eighth of an acre in Ruiru and expanding operations to Makuyu in Murang'a County.
While the company's operations are domiciled in Kiambu and Murang'a counties, it derives clientele nationwide.
Mwangi says: "We supply seedlings to farmers all over the country. We supply to farmers in central Kenya (our largest customer base).
"We also supply in Mombasa, Lodwar, Kisumu and other far flung places. We work with a courier company to provide delivery services almost anywhere in Kenya."
Clientele base
Kimplanter attends to two kinds of customers. First, one can walk in at the company's premises and buy a particular type of seedling.
The second type of client is one who has their own seeds that they need propagated to seedlings.
"The difference between the two is that the second client will have to wait for a few weeks to pick their seedlings. In their case, we are selling them our expertise and quality media that gives seeds a good start."
Why would a farmer want to buy seedlings instead of propagating by themselves?
Mwangi argues that seedling propagation is a delicate process that can lead to failures and low quality seedlings.
"We are saving the farmer the work and wait involved in seed propagation. If a farmer was to propagate for themselves they would face challenges such as low germination rate, lack of uniformity and a less than good start for the seedlings.
"For us we use fresh seeds from reputable seed companies to propagate. Our germination rate is higher than 95 per cent.
"We use a special sterile media called coco peat that is soft and adaptable to all types of soils.
"The seedlings are propagated in plastic planting trays that ensure uniformity: so that each seedling grows and matures nearly at the same rate in the field," she says.
To reduce pest attack and optimise germination conditions, Mwangi and her staff perform propagation inside greenhouses.
The company operates from two greenhouses in Ruiru and 9 in Makuyu. Among the species they propagate include cabbages, kale, sukuma wiki, tomatoes, capsicum, cauliflower, pawpaw, broccoli, tree tomatoes, passion fruit and spinach.
"In simple terms we propagate seedlings for vegetables, fruits and herbs," she says. "For a few of the species we propagate different varieties. They include: tomatoes, capsicum and cabbages."
As an incentive to clients, she provides free agronomy services at the point of sale.
She adds: "We also do follow up extension training to the farmers as we check on how the crops would be doing on the field."
What started as not-for-profit pastime has become Mwangi's career today.
Related Topics