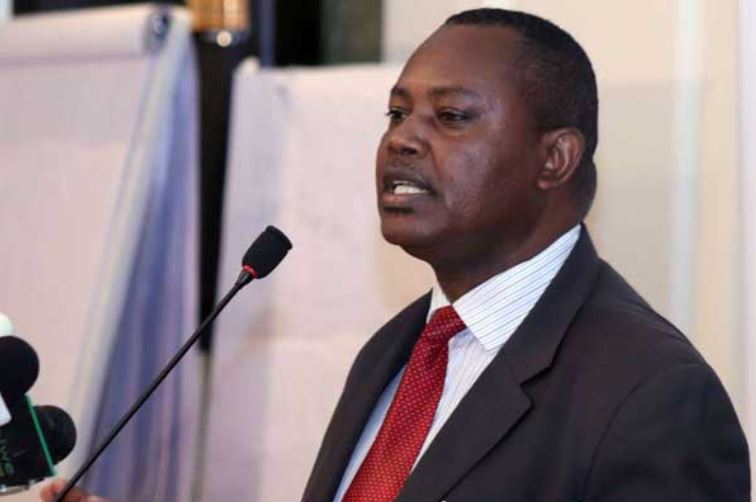 All police officers at the dreaded Flying Squad police unit have been moved once again and the team disbanded.
This is the second time in two years that the crack unit is being restructured.
The Director of Criminal Investigations (DCI) George Kinoti summoned the officers to his office on new year eve where he made the announcement.
"The Directorate of Criminal Investigations wishes to inform the public that after disbanding all the Flying Squad Sub-units within the Country, only the Headquarters Unit based in Nairobi remained."
"With effect from today, the Unit has equally been disbanded. This marks the end of the Flying Squad Unit and no officer will present himself or herself to the public as such. Equally, the Special Crime Prevention Unit (SCPU) has been scaled down to a smaller unit only based."
He said It has been renamed Special Service Unit (SSU) and officers deployed in the unit have undergone intense training in and outside the country leading to the upgrading of their competencies, enhanced skills and knowledge aimed at making the Unit more effective.
Kinoti said to replace the Flying Squad and create an auxiliary support team on identified, researched and profiled crimes, another squad has been formed and named Sting Squad Headquarters (SSH) that will have a maximum of 50 specialized trained officers who will respond to specific cases.
"The cases include; armed robberies, kidnappings, motor vehicle theft, sale and distribution of contraband and substandard goods," he said.
Before they are assembled, the competitively selected officers will undertake specialized courses within and outside the country touching on their core areas of operation. Both Squads (SSU) and (SSH) will be linked directly to the Crime Research and Intelligence Bureau (CRIB) for intelligence-driven operations alongside other augmenting Units.
The over 60 officers who have been working under the unit were asked to surrender government wares which included weapons and handcuffs and wait for further communication on where they will be posted.
Head of the unit Musa Yego will now be based at the DCI headquarters while his deputy Jack Owino was moved to Embu and named the local DCIO.
Officials said only four officers remained at the unit to manage the transition.
When Kinoti disbanded the unit in 2018 he rebuilt it and ensured it worked from Nairobi. He was then responding to claims some officers were involved in crime.
Kinoti plans to recruit a new team to join the unit from February. All junior ones will be below 30 years, an officer aware of the plans said.
The recruitment of new personnel is set to be done competitively.
Flying Squad officers were mainly used to carry out special duties such raids. They also back up other officers, even in terror-related operations.
Also known as Anti-Motor Vehicle Theft Unit, Flying Squad is among crack units under the DCI.
The directorate had reverted to its old system of recruiting Flying Squad officers from police stations, targeting those who have served for at least three years.
The officers were identified by a station's crime branch and recommended by area OCPD and the officer in charge of the crime section. This was to ensure those deserving were recruited as peer recommendations adopted during the launch of the Service Standing Orders, Scheme of Service, Recruit Curriculum and Career progression (Promotions) curriculum.
The DCI is seen as the backbone of the police and has been performing relatively well under Kinoti.
Other special units under DCI include Special Crimes Prevention Unit, Cyber Crime Unit, Criminal Intelligence Unit and Anti Terror Police Unit (ATPU).
Police officers attached to crack units stand out in comparison to colleagues from the regular duty.
For instance, they dress in plain clothes and ride in unmarked cars, which are at times fitted with foreign registration number plates.
And while police officers in regular duty are required to maintain a clean shave, those in the Flying Squad often sport baggy trousers, trendy T-shirts, dreadlocked hair and long beards just in case they have to go undercover.
It is not the first time the unit is being overhauled, having been dismantled in 2006 and most of its officers replaced by those from the paramilitary General Service Unit (GSU).
In most cases, Flying Squad officers do not appear in court to give evidence since most of their missions are like those of hit squads.
In a majority of the cases, they are not sent to make arrests because their missions involve the exchange of fire that often ends in the deaths of suspects.
The Flying Squad borrows its name from an ancient unit in the Metropolitan police in the United Kingdom, where its original officers used horse-drawn carriages.
Flying Squad is captured in the service standing orders and Kinoti's move is likely to be challenged legally.