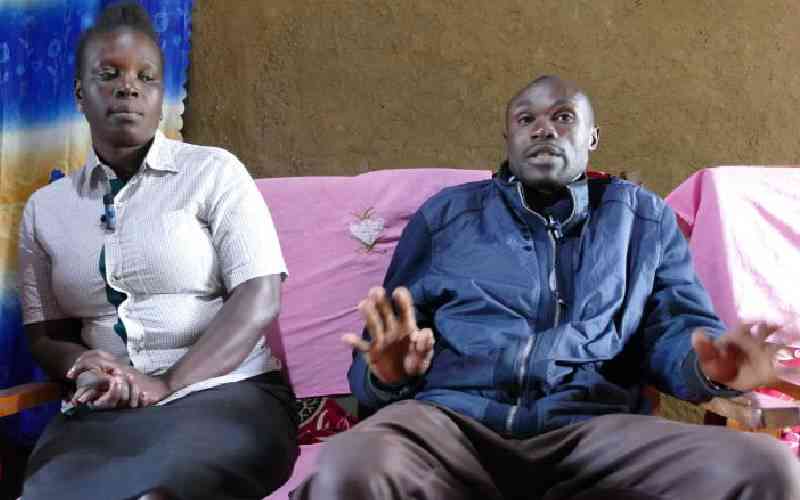 In the tranquil village of Eshiaka, deep within Kakamega County, the sun's golden rays have already painted the sky. Patrick Weta, 46, and his second wife, Dorine, embark on their daily routine of drawing water from a nearby borehole.
As they welcome us into their modest home, they lay the foundation for a story of love and sacrifice. Their shared laughter and how they seamlessly share responsibilities in their household paint a picture of a profound connection.
Weta is a polygamous man with two wives, each blessed with four children; two boys and two girls. He decided to undergo a vasectomy in 2008 after the eighth child was born.
"I made this decision because my first wife faced complications with various family planning methods. She experienced irregular menstruation, heavy bleeding, and overall weakness. She tried various methods, but none suited her," he said.
Dorine's journey with family planning was no less challenging. She initially opted for a two-year contraceptive method which presented significant issues. A doctor advised her to go for a three-month option which only exacerbated her woes.
"I experienced continuous bleeding leading to the deterioration of my health. At one point, I required a blood transfusion. I switched to a three-month injectable contraceptive, but it did not go well with me either," Dorine narrates.
"My monthly periods became irregular and excessively heavy, even causing me to faint, resulting in frequent hospitalisations," she recounts.
Dorine's health struggles prompted frequent visits to Makunga Health Centre and the Kakamega County referral hospital due to complications from the methods she was using.
Despite their mutual agreement on the desired family size, they could not find a suitable family planning method for her.
During one of her hospital visits to Kakamega County Referral Hospital, where she had been hospitalised, health officials approached her husband and explained the complications arising from the contraceptives.
They suggested he could assist by undergoing a vasectomy to save his wife's life, an idea he initially vehemently declined.
On his way home from the hospital that evening, Weta was deeply troubled. He could not bear the thought of losing his wife, and the potential dire consequences of continuing with contraceptives weighed heavily on his mind.
"That evening, after sharing a meal, I approached her. It was evident that she was unwell. I expressed my concern and told her that if opting for vasectomy could save her life, I saw no reason not to undergo the procedure," Weta reveals.
"After all, we had already welcomed the four children we had planned for. Despite her attempts with various contraceptive methods, none had proven successful. I was willing to take the responsibility to protect her health," he adds.
"She looked into my eyes and asked if I was speaking from the heart. I assured her that my love for her compelled me to make this decision, and she embraced me, overwhelmed with joy," he recalls.
Weta later discussed his intentions with his second wife, who resides in Bungoma County, and they all agreed that he should go ahead with the vasectomy.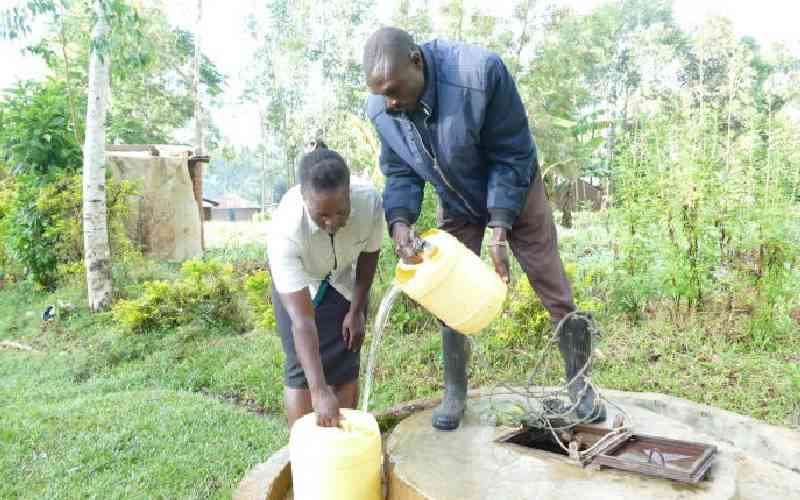 "After counselling with health officials at the Makunga Health Center, where they explained the procedure and its nuances, I signed the consent form and underwent the vasectomy procedure," he says.
He adds: "It was quick, virtually painless free of charge. Following the procedure, I chose to become a vasectomy champion, spreading awareness among locals."
Dorine experienced a remarkable transformation in her health post-vasectomy.
"When my husband chose to undergo vasectomy, it brought about significant positive changes, particularly in my health. I became stronger and more capable of managing household tasks after discontinuing contraceptive use," Dorine shares.
She adds: "For him, there were no adverse effects; he remained just as strong and capable as before. The only difference was that he could no longer impregnate me."
However, word began to circulate in the village that Weta had undergone a vasectomy, a topic that many men in the rural community shied away from, associating the procedure with castration.
"Some people believe that undergoing vasectomy makes you less of a man or affects your performance, but this is a misconception," he asserts.
"Vasectomy does not diminish your masculinity or the ability to enjoy a fulfilling sex life. I had people say I would start behaving like a woman, but look at me now. I'm perfectly fine, and my wives aren't complaining," he says.
Weta actively encourages fellow men to dispel the myths surrounding vasectomy, emphasising that it doesn't negatively impact manhood but prevents impregnation.
He and his wives challenge the long-held belief that many children equate to wealth, prevalent in African traditions, underscoring the changing times and the evolving dynamics of family planning.
"In the past, having many children may have made sense due to large landholdings and cattle, but the current economic situation makes it more practical to have only as many children as you can comfortably provide for, educate, clothe, and raise without difficulty," Dorine says, her sentiments resonating with her husband's.
Reflecting on his experiences, Weta, who works as a mason and doesn't have a permanent job, expressed that he initially lacked awareness about family planning.
If he had been informed earlier, he could have made more informed decisions regarding how many children he could afford to support.
"I believe if I had stuck to four children, my financial situation would be more stable. Currently, I struggle to provide for their needs, including school fees for two children in college. I only earn a modest income, which barely scratches the surface of my responsibilities," he says.
He stressed the importance of shared responsibility in family planning, stating, "I want to emphasise to Kenyan families that family planning is not solely the responsibility of women. Families must come together to make these decisions. Men should not leave family planning solely to women."
With unwavering commitment, Weta champions vasectomy awareness, focusing on areas like Mumias East, Navakolo, Busia, Lurambi, and Bungoma, where he has friends and found it easier to convey the message. He acknowledged the challenges in convincing people due to deeply rooted cultural beliefs.
"Vasectomy is not a hindrance to being a responsible man and husband. It's time we all recognise the importance of shared responsibility in family planning and dispel the misconceptions surrounding vasectomy," he adds.
His wife urges men to consider vasectomy as a viable option for family planning when they witness their wives suffering, emphasising that it brings peace and love to the family.
She also stresses the significance of trust and fidelity within a marriage, reminding women to respect their husbands' decision to undergo vasectomy, as it was done for the family's well-being, discouraging actions that could disrupt the family unit.
"Currently, vasectomy uptake in Kakamega County is at approximately 0.0001 per cent of the male population. We encourage men to consider vasectomy and actively engage in family planning discussions. Men often play a central role in African families, and their involvement can shape a brighter future for all," says Jacinta Angote, the Kakamega County Reproductive Health Coordinator.
She explains that the county has made significant strides in expanding family planning services. They've trained healthcare workers for quality service delivery and partnered with others to reach remote areas via community outreach programs. Vasectomy champions have been enlisted to connect with men in the community.
"We urge couples to attend counselling sessions during clinics. We also engage communities through various platforms," she emphasises.
One focus is postpartum family planning, advising women to wait six months after childbirth or miscarriage. For recent mothers, a gap of two to three years before another pregnancy is recommended. The approach empowers women to choose a suitable family planning method.
She said vasectomy is a permanent, safe method for men and urged families who have achieved their desired family size to consider it.
She highlights the importance of dispelling misconceptions, stating, "Vasectomy isn't castration; it doesn't affect a man's virility. After the procedure, men should avoid unprotected sex for three months to ensure effectiveness, preventing unintended pregnancies."
Related Topics