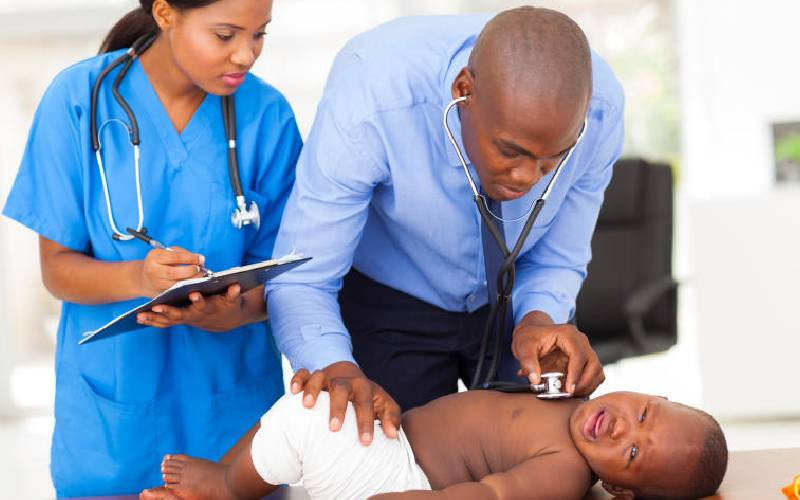 At the age of two, my son was too weak to balance or walk on his own. I was very worried about his late response to every stage of walking and talking.
One day, he started having frequent fevers and refusing to eat. During a visit to a clinic, the doctor tested his blood sample and concluded that my son had acute malaria. I ensured he took all the medicine prescribed but after some days, his condition regressed prompting me to stay home full-time to take care of him.
During one of my countless visits to various hospitals, one medic said my son had meningitis, and another analysed my son and said that he was insane. I was really hurt by the term he used "insane" and wished he had used a better word. That word just confirmed the community's perception of my son.
When he was four years old, I went back to the hospital to inquire why he could neither hear nor speak. After several tests, the doctor said that the boy was deaf and dumb and I was taken aback by the new diagnosis.
When my neighbors learned of the diagnosis, they cautioned their children to stop playing with my child, advising me to seek spiritual guidance and labeling my son abnormal.
One day, my son fell seriously ill and I had to rush him to yet another hospital. On my first encounter with the doctor in the consultation room, he said, "I think it's autism." The doctor said that it was not an illness but a disorder that affects the brain and nerves found throughout the human body and the spinal cord -- something many children had all over the country.
As I was struggling to understand what autism was, a patient on the waiting line approached me and explained everything to me since she also had an autistic child. I sat on the waiting bench to contemplate on the other patient's story and started seeing my son as a long-term burden that I needed to get rid of.
After three unsuccessful attempts to abandon my son, I went to a hospital I had never visited before in another attempt to abandon my son. However, I met my longtime friend who was then working at the facility. I believe that God sent me sent me there.
I narrated the whole story to my friend. By then my son had multiple episodes of hyperactive behavior like running, screaming and eating anything around him. My friend introduced me to a WhatsApp group of parents with autistic children and from there I realised that my son's condition was not as bad as I had imagined.
Right now I have accepted my son's condition and enrolled him in a school where he is progressing well. The journey has been challenging but with the help of others, I have managed to take my son through occupational therapy and a good diet as I am prepared to learn more.
- As narrated to Sharon Wanga, a Standard Group Reporter. Are you a patient, family member, or medic with a health story to share? Write to us on [email protected]
Related Topics