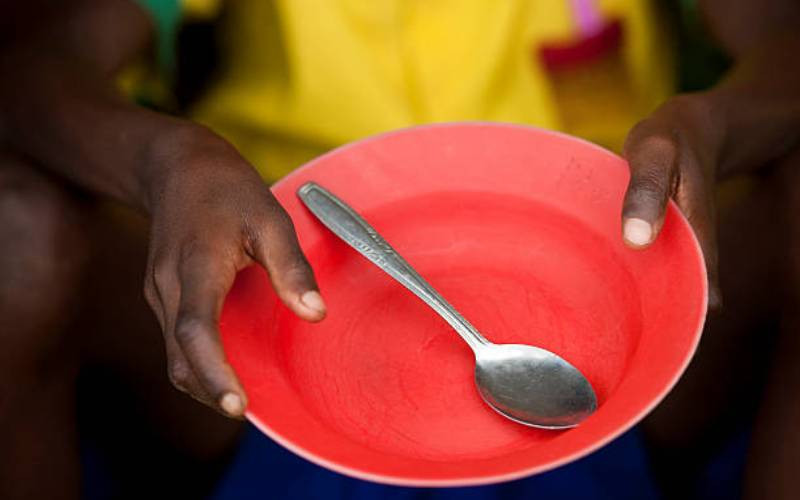 World Health Organization (WHO) has dispatched food valued at Sh26 million in support of children faced with severe malnutrition in the counties of Turkana, Samburu and Isiolo.
The Ready To Use Food (RTUF) will benefit at least 10,000 children between six and 59 months, who have severe acute malnutrition.
The support follows a recently released 2023 Kenya Demographic Health Survey (KDHS) report, an estimate of 1.13 million children under five was stunted, 315,066 were wasted, and 630,132 were underweight in 2022.
Kenya's stunting stood at 18 per cent, a drop from 26 per cent documented in 2014. Counties of Kilifi, West Pokot and Samburu have stunted growth at 37, 34 and 31 per cent respectively, against 18 per cent, nationally.
Dr Diallo Abdourahmane, WHO Representative in Kenya, said the food will serve the children for a period of two months.
"WHO is deeply concerned and sympathizes with the drought-affected communities in Kenya. Having over 4 million people under severe food shortage is an extremely difficult situation for any government, anywhere," said Dr Abdourahmane, as he flagged off the food yesterday.
Globally, malnutrition contributes to 45 per cent of all causes of death in those under five. The health condition is also associated with lower educational achievement and cognitive development during childhood and leads to long-term impairment, including increased risk of chronic diseases and lower productivity during adulthood.
"Malnutrition and diseases also have a synergetic relationship, where hungry children become sick more easily and sick children become more easily malnourished.And these are the main reasons why WHO is very concerned - that the drought will have serious and long-lasting consequences on the lives of communities. We are not just looking at one or two years of drought, but of the health of those communities in the coming decades," added the WHO representative.
Also present was Dr Josephine Mburu, PS for the State Department of Public Health and Professional Standards, who said the Kenyan government is committed to eradicating malnutrition in the next five years.
Among the plans is to increase access to early stimulation and learning, and to prioritize an integrated package of services for children, attributed to malnutrition to prolonged drought, facing some parts of the country.
"Counties in the Arid and Semi-Arid areas are disproportionately affected by high levels of acute malnutrition, often as a result of cyclical droughts that affect food security and livelihoods of the communities," said Mburu.
She added that the drought situation continues to worsen in the 23 arid and semi-arid counties. Kenya is facing the worst and longest drought situation in at least the last 40 years due to the cumulative impact of five consecutive failed rain seasons in the counties, a condition that has left at least 4.5 million in need of humanitarian assistance.
Failed rainfalls have had an adverse effect on crop and livestock production, resulting in deteriorating food and nutrition situations.
"The main drivers of acute malnutrition are food insecurity resulting from cumulative effects of poor rainfall performance coupled with high food prices," added Mburu.
An Integrated Phase Classification for Acute Malnutrition (IPC AMN) analysis conducted in July 2022 showed that the nutrition situation had deteriorated compared to the same season last year, with Turkana North and Turkana South, and Laisamis in Marsabit.
About 884,464 children aged six and 59 months and 115,725 pregnant and lactating women requiring treatment for acute malnutrition.
Mburu said to prevent the effects of malnutrition, the Ministry is implementing the multisectoral Kenya Nutrition Action Plan (2018-2022) which outlines priority interventions in promoting good nutrition and addressing persistent acute malnutrition.
Scaling up of integrated management of acute malnutrition in addition to strengthening the nutrition commodities supply chain are among the priority strategies.
The official admitted that the country has in experienced challenges with nutrition commodities supplies due to the changing donor landscape.
"In recognition of the importance of these lifesaving commodities, the Ministry has included nutrition commodities in the Kenya Essential Medical List, 2019 to enable KEMSA to procure and stock them and facilitate easy access by county governments," said Mburu.
Further, the official said that the Ministry has also initiated discussions with the National Treasury on sustainable measures for strategic programmes, funded by development partners.
Related Topics