Home
/
Mental Health
Kisii hospital facing big burden of mental illness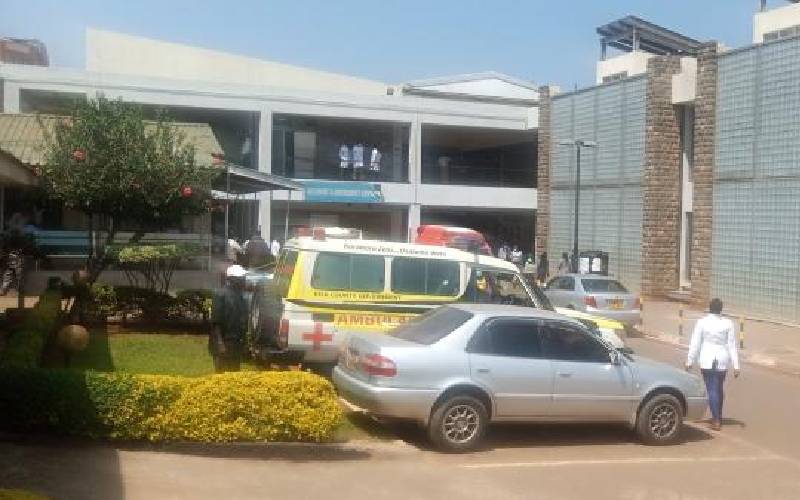 Cool and soothing music welcomes you as you walk into the main gate of Kisii Teaching and Referral Hospital (KTRH). The music is coming from a building next to the CEO's office - where psychiatric wards are housed.
Officials say the music is therapeutic to mental health patients. The capacity of the psychiatric section is 20 patients. However, that number rarely goes below 25.
"Some of the patients don't want to talk. However, they sing along as the music plays. After some time, we have noticed, they would open up on what is bothering them," said John Ouma, the head of the psychiatric ward.
On Wednesday, there were 28 patients. Those who have improved are made to share beds to create room for new patients.
Even worse, the facility also serves patients from neighbouring counties - Migori, Homa Bay, Nyamira, Kisumu and Narok.
The structure has been split into two - one section to host men and the other, women.
Ouma said they are overwhelmed. "Over the past one year, we have been receiving up to 35 patients each month."
The ward has just six staff members, taking care of the patients. These includes two doctors.
Ouma said their problem was exacerbated by April 2020 decision to close Mathari Mental Hospital in Nairobi following the outbreak of coronavirus. Ouma said this has seen an influx of mentally ill patients to KTRH. Mathari is the biggest psychiatric hospital in Kenya.
Most of the men admitted have a history of drug and substance abuse. Some patients in the women's wards are those got mentally unstable after learning they had HIV. They have not accepted the status, officials said.
Ouma said at least five university students, who have been abusing drugs, are admitted to the facility. One student has been at the hospital for the last one month.
The 22-year-old started abusing drugs at the age of 18. He was initially admitted into the school of law law at a Nairobi-based university before switching to humanities, just a year after joining the institution.
He said he would visit many places in Nairobi after lectures and on weekends before he was introduced to drugs by friends.
Ouma said the boy will next week be transferred to the rehabilitation centre of Moi Teaching and Referral Hospital.
"We are optimistic he will recover. The main challenge with him is that he does not take his medicine as prescribed," said Ouma.
Another university student pursuing a bachelor of economics degree at Kisii University has been an on and off patient at the facility. Though due for discharge, he says he will not be able to continue with his studies.
"I started smoking bhang while in Form Three. And because of the effects of the drugs on me, I have put my mother through a lot of pain. I want to look for a job and later pay my university fees. I don't want to bother my mother anymore. The pain I have caused her is enough," he said.
KTRH Head of Clinical Services Bina Ongaki said most of the patients have a history of drug abuse, cerebral malaria, stress and STIS infections. "Covid-19 has also affected many people mentally."
Dr Ongaki added: "Our plan is to expand the facility for mental health patients. Other than the need for more space, we all need additional staff."
"Mental illness is not a death penalty. We have people who have fully recovered and discharged. Some of them had family and work related depression but are now back with their families," Ongaki said.
Last year, President Uhuru Kenyatta ordered development of a short course on handling depression. He also called for enhancement of guidance and counselling among civil servants. More than 150 civil servants were trained as the first group.
"It is unfortunate Covid-19 made the situation even worse. These are matters we should handle with all the seriousness it deserves bearing in mind there is a great correlation between psychological wellness and productivity," Uhuru said.
In Kenya, it is estimated that one in every 10 people suffers from a mental disorder. The number increases to one in every four people among patients attending routine outpatient services.
Related Topics