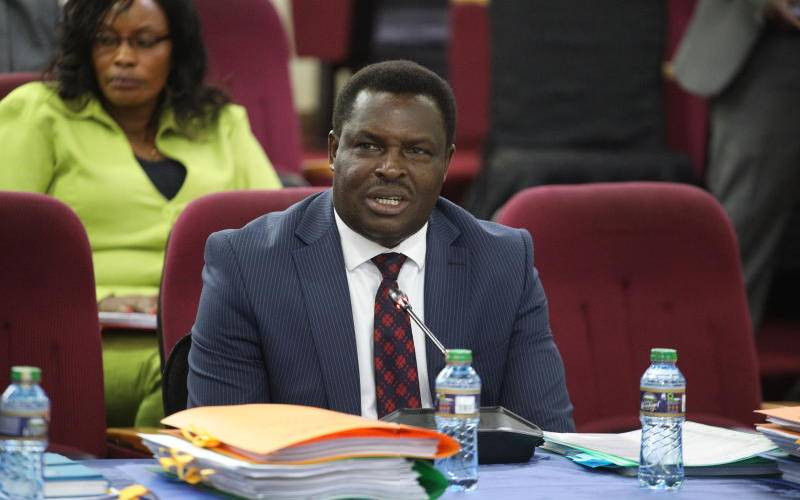 There is still push and pull in managing the Health docket between national and county governments across the country, just one year after Kenya Kwanza Government ascended to power.
Despite Health being a devolved function, the two entities seem to be clashing in the implementation of key roles aimed at ensuring Kenyans access quality healthcare.
One such clash has been witnessed in the creation of laws surrounding national health insurance including the National Health Insurance Fund.
Last week, the Council of Governors (CoG) raised an uproar saying they have been sidelined in the preparation of four crucial NHIF bills aimed at spearheading the implementation of the Universal Health Coverage (UHC), which is one of President William Ruto's key agendas.
Governors have maintained that there was need to involve counties in the initial stage of preparing the bills namely Social Health Insurance Fund Bill, Facility Improvement Financing Bill, Primary Health Care Bill 2023 and Digital Health Bill 2023.
According to governors, involvement would help avoid a clash since counties are expected to help implement the bills after being passed by Parliament into law.
"Our input as Council of Governors should be incorporated in these bills before they go out to the public. Your legal team and our legal team which have not sat anywhere should have sat and agreed on the issues before they go out to stakeholders," said Tharaka Nithi Governor Muthomi Njuki, also the chairman of CoG Health committee.
Njuki further emphasised that two levels of government need to respect and avoid inter-governmental disputes, which have happened before. Kwale Governor Fatuma Achani questioned what would happen if the National Assembly does not capture interventions of governors.
"Who is going to implement the bills or acts, because I am seeing a stand-off. If you give me a bill or an act to employ 1,685 workers who are Community Health Promoters, I cannot do it because of the resources," said Governor Achani.
However, Health Cabinet Secretary Susan Nakhumicha maintained that the bills have captured the voice of governors.
"These bills have not been developed from nowhere, but from existing documentations, which have been worked on together with CoG," said the CS, who also acknowledged the need for more time to consult.
But whereas counties are mandated to manage human resource, President Ruto in July said the government will hire 103,000 Community Health Promoters (CHPs).
According to Kenya Kwanza government, the CHPs are part of a preventive approach to healthcare, an announcement that was made by President Ruto while meeting the United States Agency for International Development (USAid) Administrator Samantha Power.
Controversy also continues to surround the Sh63 billion Managed Equipment Services (Mes) project after the government agreed to terminate an eight-year agreement with counties.
The agreement was made between the Ministry of Health and CoG in June. This was despite the National Treasury allocating over Sh9 billion under the 2023/2024 budget.
Out of the allocation, each county is supposed to receive Sh200 million annually for the leased equipment.
In 2015, the ministry of Health signed a deal with five firms to lease about 20 different types of equipment including dialysis machines and MRI scanners on behalf of 47 counties.
According to the agreement, which still has gaps on who will manage it between the county or national government, the Mes project will be referred to as National Equipment Support to Counties.
"Actors of the project are both the county government and Ministry of Health" reads part of the agreement.
An insider hinted to The Sunday Standard that negotiations for the new arrangement are yet to begin.
"This thing (procurement) is very political. The intergovernmental agreement was to address the issue of whether counties would require procurement," he said.
The equipment was launched by then President Uhuru Kenyatta in 2016, during the tenure of Cleophas Mailu as Health CS.
Related Topics