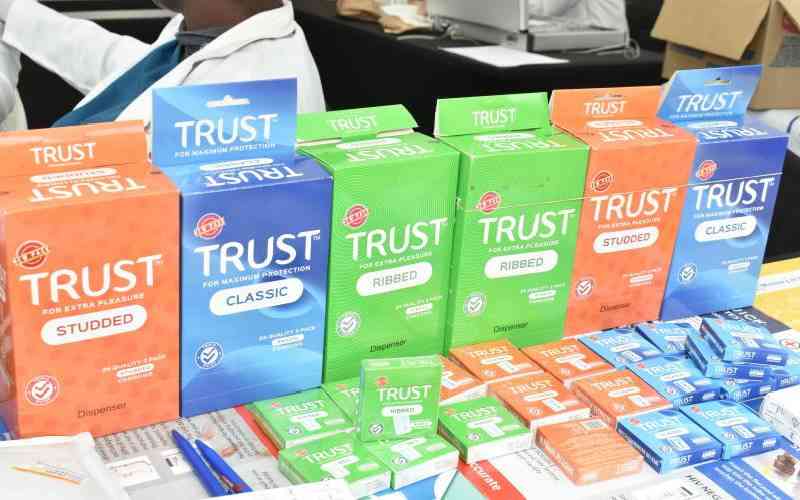 Many Kenyans are reluctant to buy condoms amid shortage of free ones due to shrinking donor support
National Syndemic Disease Control Council (NSDCC) CEO Ruth Masah said failure to use condoms might erode the gains made in the fight against HIV.
"Condom is a single protection method against sexually transmitted diseases, HIV and pregnancies," Dr Masha said during the Maisha conference in Mombasa, aimed at reviewing progress made in the fight against HIV.
Correct use of condoms provides up to 95 per cent protection against HIV, other sexually transmitted infections and unintended pregnancies.
Failure to use condoms raises the risk of transmission of HIV, other sexually transmitted diseases and unintended pregnancies.
At least 1.4 million Kenyans are living with HIV of which, 67,869 are children aged between zero and 14.
Masha regretted that a majority of Kenyans heavily rely on free condoms.
"Most sexually active partners say condoms are so expensive. This is sometimes mistaken when we talk about funding. For example, people will go for the most expensive alcohol sold in the market, but not condoms," said the CEO.
She added, "I received a call during the Devolution Conference, notifying me of a shortage of condoms and I called one of the supermarkets only to find out they have supplies. Yes, we have a shortage of free condoms, but we have commercial ones in the market."
Masha said Kenya needs 424 million male condoms, translating to 40 condoms per male, every year.
According to the National Condom Situation report by NSDCC, 190,110,760 male condoms were distributed in 2021 against a need of 424 million male condoms.
At least 3,090,000 female condoms were distributed in 2021 against a need of 8,206,345 female condoms. But even with the free supply and distribution of condoms, usage among sexually active partners is low.
Data reveals that only 45 per cent of men aged 15 to 49 reported using condoms, at their last high-risk sex, against 24 per cent of women.
"Our data is not talking about condoms not being available. Even if available, the use has been low. People do not use condoms, yet they have multiple partners," said Masha.
Kenya's condom programme is heavily donor-funded, requiring Sh1,117,850,400 with a resource gap of Sh803,235,120 (71.9 per cent) in 2021.
Already, the country is grappling with an acute shortage of free condoms, among other family planning devices, following interruption of donor programmes.
Kenya receives 180 million condoms from the Global Fund and the United Nations Population Fund (UNFPA).
The CEO admitted that free condoms are fewer than before, due to reduced funding by donors.
For example, Kenya has been receiving condoms worth Sh25.4 billion annually.
The public sector is the dominant source of condoms at 84 per cent, followed by the social market sector at 14 per cent, with the commercial sector controlling 2 per cent.
"Do we have condoms in the country, which condoms are we lacking?" posed Masha.
"With limited resources, there is need to make those who can buy to prioritise condoms as an effective tool for triple prevention."
According to Masha, the low purchase of condoms is in line with HIV and reproductive programme design, which does not cluster condoms as an essential commodity.
Also, the National Health Insurance Fund (NHIF) does not have condoms under its cluster of health tools, despite them preventing diseases like gonorrhoea, syphilis and chlamydia which are highly spread among sexual partners.
"Availability of condoms for everyone would sort out almost entire epidemics. A condom is a single protection tool. As we talk about innovations in fighting HIV, why can't we embrace its use?" posed the CEO.
Masha noted that to ensure that every sexually active person in Kenya has access to a sustained supply of quality condoms, correct knowledge, skills and motivation to use them correctly and consistently to prevent transmission of HIV and other sexually transmitted diseases and unintended pregnancies.
Additionally, NSDCC is focusing on three key areas namely consistent supply and commodity security, demand, access and utilisation, and leadership and coordination.
Further, the council has increased access by conducting a mapping of potential or existing condom distribution points.
Masha emphasised the impact of condoms in reducing new HIV infections, STIs and pregnancy, hence the need for a 100 per cent condom policy.
The use of condoms also prevents infections and reinfections among people living with HIV.
Related Topics