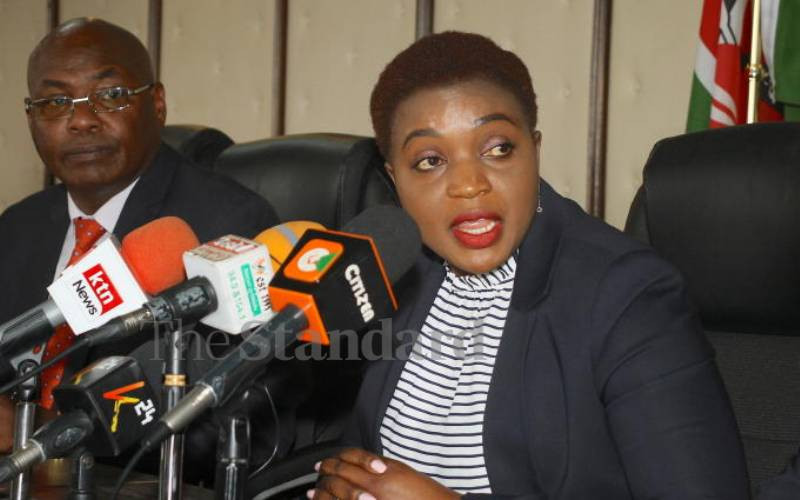 The Ministry of Health has suspended managers at the National Health Insurance Fund (NHIF) in Nairobi and Meru counties, over allegations of minting of millions of shillings through rogue hospitals.
The action was taken after it emerged that a section of Kenyans have lost money through dubious payment after being coaxed by individuals claiming to be employees of NHIF.
Health Cabinet Secretary Susan Nakhumicha suspended the officials on Monday.
"All NHIF branch managers in all affected areas are suspended," said Dr Nakhumicha.
The CS directed NHIF board, the Kenya Medical, Pharmacists and Dentists Council (KMPDC) and Pharmaceutical Board of Kenya to carry out a thorough investigation into the matter. They are expected to give a comprehensive report on the matter within 48 hours.
"I have instructed NHIF board to start investigation and take action against culpable staff. They share a report in 48 hours," said Nakhumicha.
The CS directed KMPDC to investigate the rogue hospitals.
Hospitals facing probe include Jekim Medical Center in Meru Central, St Peter Orthopaedic and Surgical Hospital in Kiambu, Afya Bora Hospital Annex in Mwea Kirinyaga, Joy Nursing and Maternity Hospital, in Kamukunji Nairobi.
Others are Afya Bora in Mwea, Jekim Hospital Nkubu Limited in Imenti South Meru, and Beirut Pharmacy and Medical Center and Amal Hospital Limited.
The CS directed the said hospitals to transfer patients and have owners vacate premises to allow for smooth investigation.
"KMPDC should start investigation in all mentioned hospitals. Facilities are directed in 24 hours to evacuate their patients, and they will remain closed until investigations are concluded," said the Health CS.
The hospitals were allegedly paid at least Sh1.54 billion for 30,111 claims made between July 2022 and June 2023.
The CS said any hospital providing health services should get a license from KMPDC.
Nakhumicha further asked the Ethics and Anti-Corruption Commission (EACC) to liaise with NHIF and carry out comprehensive investigations, with aim of finding out how the cartels siphon money from Kenyans and the Fund. The report she said should be availed within seven days for action.
The CS was responding to a report in a local daily that a number of private hospitals in Nairobi and Meru counties collude with rogue NHIF employees to steal healthcare funds.
Facility owners allegedly ferry patients from across the country to hospitals within the two counties. Unfortunately, some of the patients are left unattended leading to premature death.
Nakhumicha said to prevent minting of funds from NHIF, payment to hospitals will be subjected to the highest threshold after verification.
Lifestyle audit for NHIF staff will start this month.
"We are going to commence an elaborate lifestyle audit on all NHIF staff to ensure all staff can explain their wealth portfolio in consistence with their earnings," she said.
Also, the ministry is embarking on verification of payments, to flag abuse of resources and theft.
The CS reiterated that NHIF is a primary cog in implementation of Universal Health Coverage (UHC) which a key agenda for the Kenya Kwanza government.
Related Topics