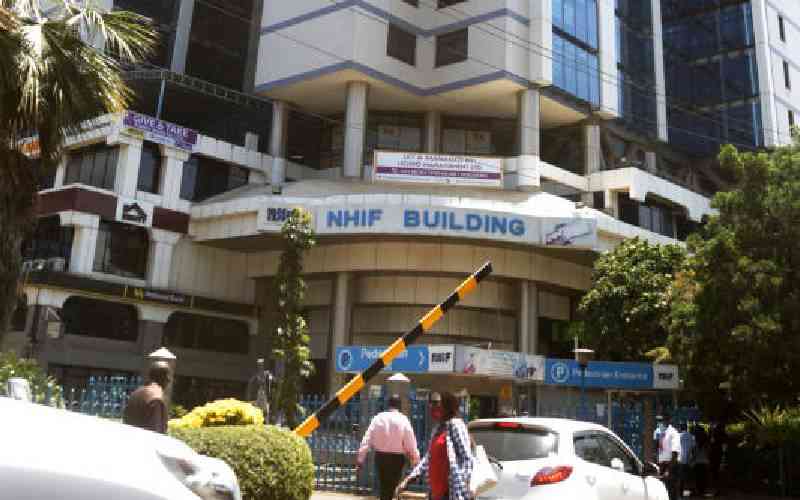 The National Health Insurance Fund (NHIF) remains the most popular insurance among Kenyans despite damning reports of malpractice.
Out of 26 per cent of insurance holders, at least 24 per cent of them use NHIF, according to the 2022 Kenya National Demographic Health Survey (KNDHS).
Treasury Cabinet Secretary Njuguna Ndung'u said the Kenya Kwanza government is committed to boosting NHIF coverage to guarantee quality healthcare to all patients.
"We anticipate NHIF will increase its sufficiency and scale to cover all of us," said Prof Ndung'u.
At least one in four people according to the survey have a form of insurance, with health insurance coverage being twice as high in urban areas as compared to rural areas, at 40 and 19 per cent respectively.
Nairobi and Laikipia have the highest number of insurance holders at 46 and 44 per cent, whereas Tana River and Mandera have the lowest holders at 5 and 6 per cent respectively.
Also, people pay an average of Sh37,362 for each in-patient visit per year and an average of Sh1,735 for each outpatient visit per month.
"Cash payments, followed by NHIF payments, are the most common means of payment for inpatient and outpatient expenditures. Household members paid by cash for inpatient expenditures an average of Sh13,621 per year and Sh9,330 through NHIF compared to Sh6,202 paid through private insurance," adds the survey.
Speaking during the launch of the survey, Ndung'u said health insurance for the population ensures that people are protected against unforeseen expenditures that may arise.
He said that health insurance is one of the key components of financial protection for the population, "because the cost associated with health payments during a disease episode can drive families into poverty".
"Public health insurance is critical and it aids in reducing out-of-pocket costs. It does not only help in times of illnesses, but treatment," said Ndung'u.
According to the 2023 Budget Policy Statement (BPS), Kenyans spent Sh150 billion annually on pocket, annually.
In its budget proposal, The National Treasury, further noted that the majority of Kenyans are forced to pay out of pocket, when sick, an issue that strains healthcare.
Out-of-pocket payment according to the PBS report has forced a number of Kenyans to dispose of their property to cater for healthcare.
"As part of the health sector interventions, the government will reform NHIF as a necessary imperative," read a section of the BPS report.
University of Nairobi lecturer XN Iraki said the government should develop policies to boost membership in the scheme.
"Sensitisation should be done, for Kenyans to understand the importance of enrolling for public insurance cover," said Prof Iraki.
The Kenya Kwanza Government has proposed to have each individual deducted 2.7 per cent of their salaries to cater for NHIF.
Currently, NHIF contribution ranges from Sh500 to Sh1,700, depending on the type of cover, and income generated by a holder.
In Kenya Kwanza's health manifesto, NHIF contribution was to be made mandatory for all households.
Each household was expected to pay a minimum of Sh300 and a maximum of Sh3,000 monthly, raising Sh200 billion annually.
NHIF is expected to finance the much-hyped Universal Health Coverage (UHC), through increased enrolment.
On UHC, Iraki said everyone should pay towards its implementation, depending on one's income.
"UHC is a brilliant idea... if people are healthy, the economy will grow."
Related Topics