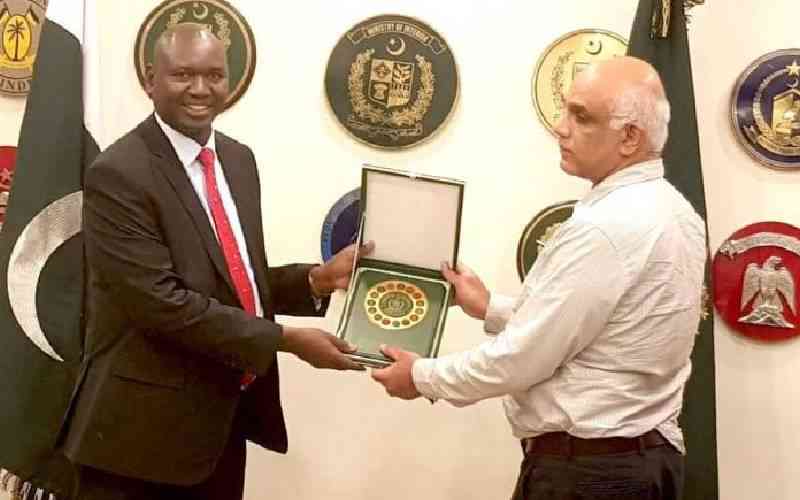 The government wants to borrow lessons from Pakistan's digital Identity Card in its bid to roll out the stalled project.
This is according to Immigration and Citizen Services Principal Secretary Prof Julius Bitok, who said the Asian country model of linking registration data to national security and social-economic planning offered useful lessons in the collection, storage, and use of records on birth and deaths among others.
The remarks come a day later after Cabinet Secretary for Information, Communication, and the Digital Economy Eliud Owalo revealed that they are also looking at benchmarking with India, Estonia, Lithuana, and Romania for the digital identity project.
Speaking when he met his Pakistan counterpart Syed Ali Murtaza in Islamabad, Prof Bitok said Kenya is pursuing an advanced registration system that will make it difficult to forge identity documents while also cleaning up and consolidating existing databases into a master register.
"We currently have various databases that should ideally be collapsed into a master register for better control and management of important information while also supporting the wider national security interests," he said.
Besides the Integrated Persons Registration System (IPRS), Kenya also runs the National Identity Integrated Management System (NIIMS) which is popularly known as the Huduma Namba database.
Some state agencies and private firms also run their own databases. This has caused concerns over the privacy and security of large amounts of data stored by different handlers.
According to Bitok, the proposed Unique Personal Number (UPI) that will replace the current birth certificate number and that will be valid for a lifetime will be the building block for a third-generation smart ID that will be progressively introduced in the country.
Related Topics