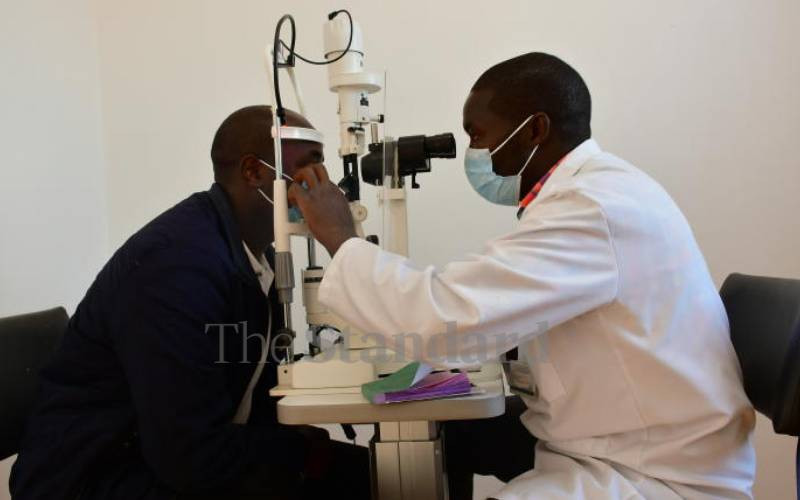 Thousands of people in Kilifi have lost their eyesight because they cannot access treatment for easily curable eye diseases, the county's lead eye specialist Dr Geoffrey Anaya has said.
"We are ill-equipped and we require more infrastructure since our services do not reach many patients. There are approximately 7,000 people who are blind because of treatable cataracts, and 4,000 live with cataracts," he said.
Cataract is an age-related eye problem that results in cataract lens clouding. Dr Anaya said about 250,000 people in the county suffer from eye-related ailments.
He said the eyes of the 7,000 patients could be corrected but have no access to medical service. He said that only three hospitals in the county offer eye treatment.
He said eye services were only offered at the Kilifi Referral Hospital in Kilifi town, Malindi Sub-County Hospital in Malindi town, and at the Mariakani Sub-county Hospital in Kaloleni Sub-county.
Patients interviewed said they were forced to either seek traditional medicine or remain with the problem for fear that if they seek the treatment they could turn blind.
"I suffer from high blood pressure, and I was told I could lose my eyesight if I got an eye operation and the people who told me so are my fellow village mates," said 76-year-old Esther Kombe.
Mrs Kombo's Jilore village said most residents go for traditional medicine because there is no hospital that offers eye treatment near them.
She said eye problem among the older generation is also high due to old-age and that diseases such as high blood pressure and diabetes and cultural beliefs had hindered many from seeking medication which, eventually leads to total blindness
Her eyesight was restored after undergoing a successful diagnosis at the Malindi Sub-county Hospital where a free eye clinic organised by the Kuwait ambassador to Kenya was conducted.
"I dreamt of having my eyesight restored and I used to see darkness but now I can see people around me. I thank God for bringing the doctors to us; I have nothing to give them but my blessings," she said.
Joseph Mutuku, 86, who used to work as an artisan at the Malindi Art Craft Society said that the dust from sculpting and scorching sun contributed to his eyesight woes and he could not afford medical care.
"Dust from sculpting was too much and this might have contributed to my eye problems but I thank the doctors for restoring my eyesight. I was going blind," he said.
Elderly patients
Stephen Kahindi, also a beneficiary of the free medical camp, said he was delighted at how his eye problems were solved and challenged the county government to help patients with eye problems since many eye problem victims were the elderly.
"My left eye was partially blind but because of the Kuwait free eye clinic, I can now see things around me. I challenge the county government to provide these services to residents deep in the county so that they can get their eyesight back," he said.
During the free eye clinic monitored by the Kuwait ambassador to Kenya Quassi Rashed Al-Farhan, more than 600 patients benefited.
According to Dr Ali Bushir from Safe Surgical Aid, an organisation of eye surgeons in Kenya, 150 patients underwent surgery while others were given medicine and eyeglasses at zero costs.
"We have screened more than 600 people to get 150 surgical cases and this has been possible through the people of Kuwait through ambassador Al-Fahran," he said.
Related Topics