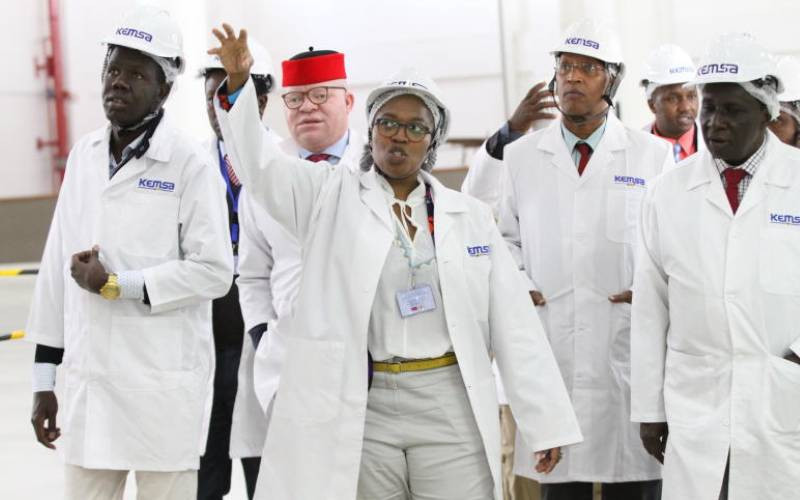 Kenya Medical Supplies Authority (Kemsa) has said counties owe it Sh3.2 billion from medical supplies.
Speaking when the National Assembly's Committee on Health visited Kemsa's Embakasi headquarters, Kemsa Chief Executive Officer Terry Ramadhani said they are working on recovering the money.
"We have Sh3.2 billion that is owed by counties at the moment and we are working very closely with the Council of Governors and county governors to get this money recovered," said Ms Ramadhani.
She said as a result of the arrears, some counties can no longer get supplies from the agency, noting that the Taita Taveta county account had been closed over a Sh90 million debt.
The Taita Taveta county administration, which is still grappling with persistent shortages of drugs, non-pharmaceuticals and equipment, also owes money to other medical suppliers like Lancet Kenya and Mission for Essential Drugs and Supplies (MEDs) respectively.
Ms Ramadhani said after taking over in May, she has instituted reforms at the Authority despite the challenges of debts and litigation by some 300 staff who were sent home on compulsory leave.
The agency is undergoing restructuring in a bid to instill reforms and improve the accountability of its employees amid a series of scandals that have plagued it in the past.
November last year, Kemsa Board Chairperson Mary Mwadime indicated plans to lay off over 900 staff as the agency was facing financial constraints.
However, the Employment and Labour Relations Court stopped the move to sack the employees.
"Our monthly payroll is about Sh90 million for those working from home and in the office," said Ms Ramadhani.
"We are trying to optimise the operations internally in view of the new structure, which is driven by best practices, optimisation of resources and ensuring that people have good quality work and are delivering," she added.
Auditor General Nancy Gathungu's report for the year ended June 2020 showed that Kemsa had 912 employees against an approved number of 341.
However, Ms Ramadhani noted that with the workforce, they have improved the turnaround time of delivery of drugs from 46 days to 16 days on average. She also said they have closed about 25 hired warehouses and saved Sh200 million in rent.
Leading the Department of Health Committee, Seme Member of Parliament James Nyikal promised to work together with Kemsa, the Senate Committee on Health and the Ministry of Health to address challenges like debt in order to achieve Universal Health Coverage (UHC).
In Taita Taveta, Health Executive Gifton Mkaya cautioned that public health facilities are at risk of running out of essential drugs, a situation that will badly affect service delivery to the public.
Failure by the county assembly to pass the supplementary budget tabled in the house last week for approval had also compounded the drug shortage. Assembly Budget and Appropriation Committee chairman Jimmy Mwamidi confirmed that the house received the supplementary budget but the executive recalled it.
"The Executive told us that some of the development programs proposed by Governor Andrew Mwadime were underfunded in the budget estimates. The Executive recalled the budget and we are still waiting for it to be presented to the house for approval or rejection," said Mwamidi.
Yesterday, Mkaya said the Executive will soon convene a consultative meeting and negotiate with senior Kemsa officials to resolve the standoff over drug supplies.
As a short-term measure, Mkaya said the new government has operationalised the Taita-Taveta Health Services Bill, 2020 to ensure that all public health facilities retain money generated from patients for use to buy drugs, and equipment and improve service delivery.
Related Topics