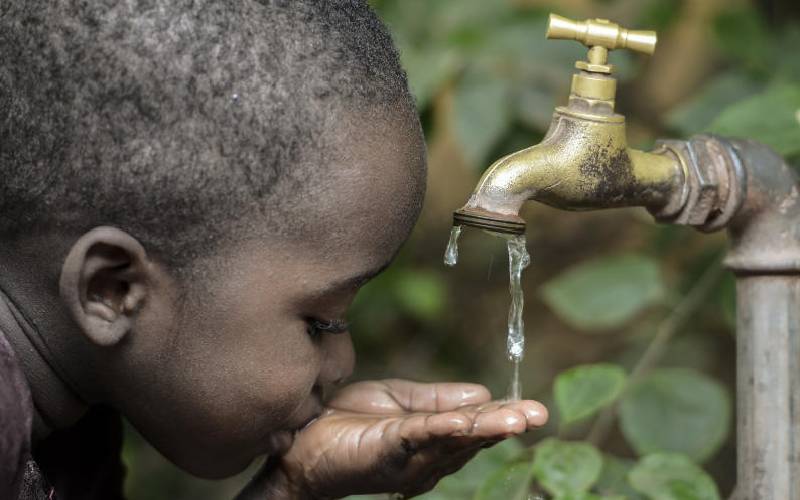 Over 1.5 million people die annually from diarrhoea and consuming contaminated water globally, a new study has revealed.
The meta-analysis study report says the majority of victims are young children.
The survey done in Kenya and other countries revealed that water treatment reduces the odds of child mortality or death before fifth birthday by 30 per cent.
Data from World Health Organisation (WHO) indicates more than two billion people around the world still drink contaminated water.
However, the study by economists from the universities of Chicago, Stanford and Harvard indicates that water treatment is often excluded from lists of the most cost-effective child-survival interventions, making it a massively under-funded intervention for saving lives.
As a highly cost-effective way of saving lives, researchers suggested that water treatment costs about $2,800 (Sh327, 824) to save a child's life through water treatment or every $36 (Sh4,214) spent on water treatment could add a year of healthy life.
One of the study's lead researchers, Prof Stephen Luby, vouched for the significance of a 30 per cent reduction in child mortality as "between one in every three and one in every four deaths of children under five could be prevented by water treatment."
In a five-year randomised controlled trial, the researchers combined data from 15 different randomised evaluations of water treatment interventions set in low- and middle-income countries, to evaluate the impact on under-five child mortality.
Five of the studies included in the meta-analysis took place in Kenya.
Another researcher, Nobel Laureate, Michael Kremer, noted that in low-income countries, only 28 per cent of the population have access to safe drinking water services. Kremer has worked on different projects in Kenya for over 20 years and argued that improved water quality, around the world, would lower child mortality by about "half a million children under five years of age annually at a cost of $1.3 billion (Sh152 billion) per year," Kremer said.
Kenya's Director-General for Health Patrick Amoth observed that the meta-analysis shows the need for a policy shift "to address child health, to resolve inequities in child survival so all children will be able to reach their fifth birthday, irrespective of where they live."
The meta-analysis studies included a total of 25,526 subjects and 509 deaths.
The researchers screened 1,485 studies, reaching a final sample of 15 high-quality studies examining water chlorination (12), water filtration (2), and spring protection interventions (1).
Combining all collected evidence, the authors found that water treatment is a highly cost-effective way to save lives.
WHO describes the intervention as highly cost-effective if it costs less than the Gross Domestic Product (GDP) per capita of the country in question per disability-adjusted life years (DALY) averted.
One DALY represents the loss of one extra year of healthy life.
The WHO lists the most cost-effective interventions for reproductive, maternal, newborn, and child health with a cost per DALY of $10 - $100, (Sh1, 170-Sh11, 700) including childhood vaccination, treatment for diarrhea using oral rehydration solution, and malaria treatment.
The researchers' cost-effectiveness estimates of around $36 (Sh4, 214) per DALY averted would rank water treatment among the most cost-effective interventions on the list.
Taking cost data from two water treatment interventions in Kenya and Malawi, the estimated number of DALYs averted per dollar is more than fifty times greater than the WHO's cost threshold for highly cost-effective interventions.
Related Topics