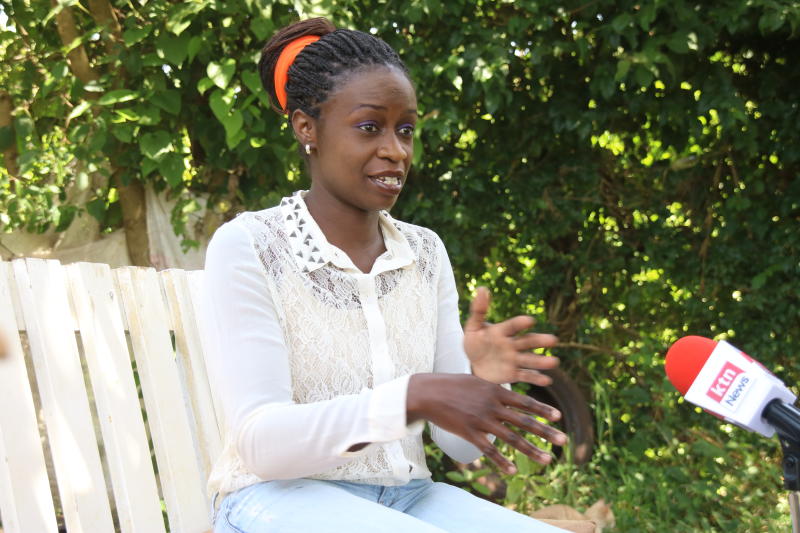 Michelle Alividza received us with a warm smile at the gate of 'Usikimye' safe house in Ikinu, Kiambu County, her home since December last year, after completing her rehabilitation in another rehab centre, also in Kiambu.
A mother of four, Michelle has her two sons closely clinging on to her, but she insists that the interview be done without them.
Michelle was celebrating 189 days of sobriety, a big milestone, "one of the best gifts I have ever given myself," says the 36-year-old who until August last year had been overly dependent on alcohol but is now making baby steps towards sobriety.
Her addiction, she later learnt, emanated from a traumatizing past: She was sexually abused as a child, but never opened up about it. Losing her mother only made her alcoholism worse 15 years ago while still a first-year college student.
"My mum got very sick with cancer" she recalls. "It got worse when she started chemotherapy and I could no longer concentrate on my studies. Within no time, we lost her."
Michelle never properly mourned her mother, her best friend and confidant who often warned that "I had a problem with alcohol but my dad would dismiss her that I was just being rebellious."
Then shortly after her burial, family members swiftly moved on with their lives as "nobody cared about what we were feeling."
By 25, Michelle realized she was an alcoholic with a seven-month-old baby to take care of. She dropped out of school and searching for love and comfort saw her getting into a series of toxic platonic relationships which worsened her alcohol dependence.
Besides also being alcoholics, some of the men were abusive to her and the children. Michelle steeped in drink and could no longer take care of herself or the children.
"I wanted to stop but when I did for about a day, I would feel out of place," she said. "This is when my family stepped in to get help for me."
Michelle spend three months at a rehabilitation centre in Lower Kabete but relapsed while at a halfway house. Her family could take it anymore. Abandoned, she resumed her previous relationship and the cycle of abuse and alcoholism become a waking nightmare again.
"I felt so angry for relapsing. I had a lot of guilt and regrets," she said. "I felt like I had failed my family that had invested so much for my rehab."
In December 2020, Michelle finally decided to stop drinking. She dumped the father of her two sons and joined a support group where she was connected to the owner of a rehab centre "who sponsored me for the four months I was there. I am grateful to them."
Michelle has not relapsed since checking into the rehab last August in which with time, "I got to understand myself better and why I was doing the things I was doing. Since then, I have not relapsed…I feel very different and more in touch with myself and my children."
Besides emotional and biological turmoil, substance abusers also endure social stigma. It is not uncommon for friends and family to harbour negative assumptions; that the addict is a deviant weakling who is disengaged from society resulting in social isolation.
According to Chris Lyimo, a psychologist and addictions interventionist, substance abusers need a lot of support, especially from family, friends and support groups and "luckily most of them are free of charge."
But most times people with alcohol and drug dependence need to take the initiative to change themselves, but emotional and financial support from family is crucial.
"The role of the family is simple but not easy," explained Lyimo. "They need to love the addict to death. When the addict goes to rehabilitation, the family also needs to go to rehabilitation mode and see what they did to contribute to the addiction."
Related Topics