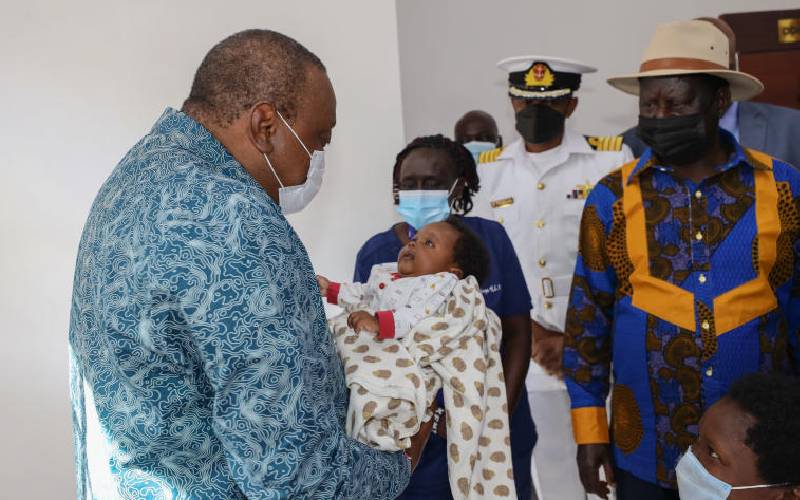 Lydia Wangechi from Majengo village, Nyeri County suffers from hypertension, while her two children have epilepsy.
The 68-year-old nurses her bedridden husband and coupled with financial constraints, she struggles to meet her daily needs as well as access to quality healthcare.
"My life and that of my family hangs in the balance. I have been giving my husband painkillers, but I do not have any penny," narrated Wangechi who requires Sh700 monthly to manage hypertension.
She was among hundreds of patients who turned up to register for Universal Health Coverage (UHC), whose card lies in her old cupboard.
"I was diagnosed with hypertension in 2019 and enrolled for treatment. But since the government stopped supporting us, I depend on well-wishers to get medicine," she regretted.
Her condition is a far cry from when President Uhuru Kenyatta made UHC part of his Big 4 Agenda to anchor his legacy in 2017. UHC was to ensure that all Kenyans accessed health services without risk of financial hardship. Its implementation is meant to start this month with many unsolved issues still hanging.
To finance UHC, the government was to mobilize finances by increasing enrollment to the National Hospital Insurance Fund (NHIF).
Piloting of the program was done in Isiolo, Nyeri, Kisumu and Machakos counties with complete roll out across 47 counties this year.
Though there are grey areas in implementation, locals in Machakos continue to enjoy free health care, after its adoption under health policies.
"I just had an X-ray for Sh6,000, just by presenting my ID card, no payment. This is the Kenya we want," said Judy Muchoki at Machakos Level Five Hospital.
To boost service delivery, the county has increased budgetary allocation for health. Of the Sh12 billion county allocation, Sh4 billion is allocated to the health docket.
At least 1.2 million people were registered under UHC in Machakos.
After the pilot program though, the UHC train seems to have stalled, due to lack of proper financing mechanism.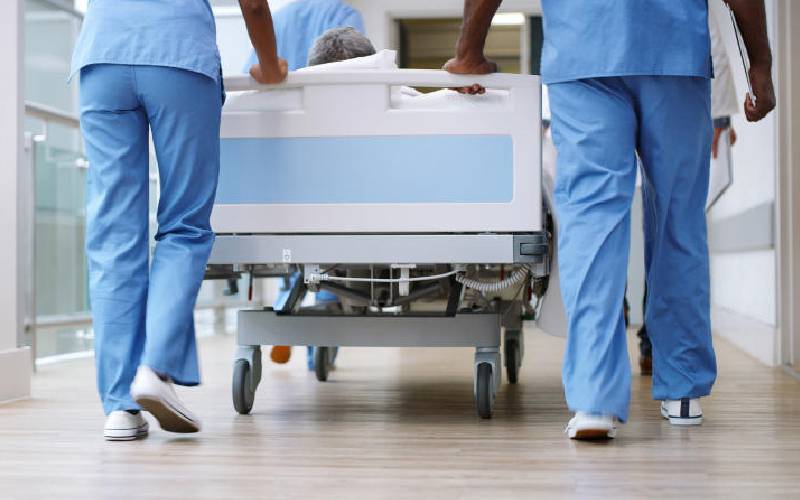 According to the June 2019 NHIF report, titled 'Reforming the NHIF to position it as a strategic purchaser for UHC', Kenya had positioned itself to achieve UHC by 2022.
Under the strategy, NHIF was key in scaling up population coverage with repayment health financing mechanisms.
The government had planned to support 20 per cent of indigents, equivalent to 1.5 million people under NHIF.
In the 2021/22 financial year, the National Treasury allocated Sh121 billion to the Ministry of Health, of which Sh47 billion was towards UHC.
Out of 10 million households enrolled under NHIF cover, those active by May this year (2021) were only 5.6 million, according to NHIF whose CEO, Dr Peter Kamunyo, termed the UHC model of financing as 'input financing.'
Dr Kamunyo argued that "the only sustainable model to UHC is to have members who can pay their premiums annually do so, and those who cannot pay, like vulnerable groups, be identified and supported."
The government is expected to raise Sh30 billion in support of indigents.
"Medical insurance is very important because you transfer the risks, NHIF provides social protection. As we scale up, we need to support the poor too," added Kamunyo.
According to the 2021 report, Wrong Prescription- The impact of Privatizing Health Care in Kenya, public health system is best positioned to deliver on public goals, including UHC, but "choosing to pursue Universal Health Coverage through the NHIF rather than through the public health system will have far-reaching consequences. "
The healthcare system in the country thus continues facing myriad challenges ranging from diagnostics, human resources and treatment.
Our efforts to get input from government officials on progress of UHC implementation have remained unsuccessful.
However, in a document titled UHC progress report, Health CS Mutahi Kagwe noted that attainment of UHC has remained elusive due to unequal access to different healthcare services and due to poor distribution and use of resources.
Related Topics