Home
/
Health & Science
Doctors, don't be politically shy, get into parliament - Dr Mercy Mwangangi
Health & ScienceBy Mactilda Mbenywe | Mon,Dec 13 2021 14:41:50 UTC | 2 min read
The Ministry of Health is upbeat that the new National Health Insurance Fund Bill will help root out medical fraud and negligence.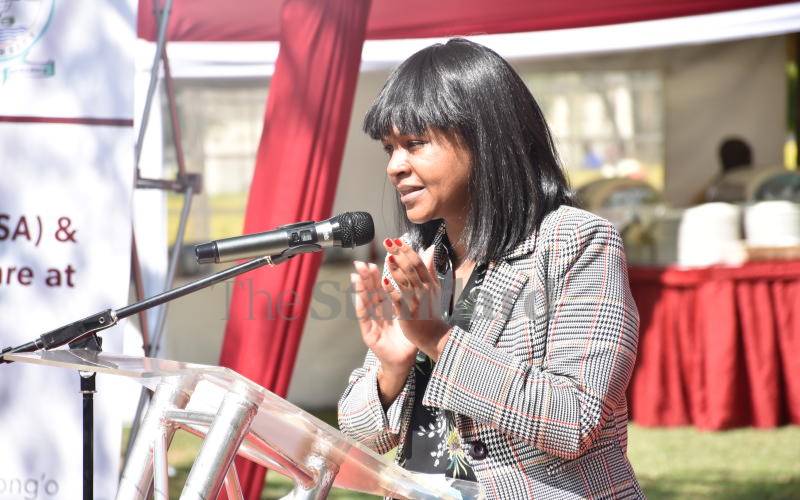 Speaking during the Kenya Medical Association (KMA) Presidents' Dinner recently, Health Cabinet Administrative Secretary (CAS) Dr Mercy Mwangangi (pictured) observed the bill will transform medical practice by sanctioning medical fraud through outing health facilities and medics involved.
Dr Mwangangi urged presidents of medical doctors' associations and unions in attendance to be part of the process of setting up regulations that will have an impact on their practice, income and UHC agenda for Kenya
Dr Mwangangi was speaking during the launch of Professional code of conduct for KMA Members and revealed that the country will be launching the Kenya Centre for Disease Control (KCDC).
She asked the medical fraternity to be part of it and since the medical profession is intertwined with politics and business she challenged medics to consider plunging into politics as MPs to influence decision-making processes.
The changes in policy will see the Ministry of Health undertaking health workforce accounts much like National health accounts and public health expenditure.
"We will now be accounting for human resource for health in the sector and both county and National government will be able to determine the number of medics across all cadres with market forces of demand and supply coming into play," she explained adding that the medical curriculum "needs to be revised by taking in the new digital advances" and soft skills for all healthcare workers.
KMA President Dr Andrew Were said the Professional Code of Conduct 2021 will among others, define the relationship doctors have with the public and patients.
Related Topics