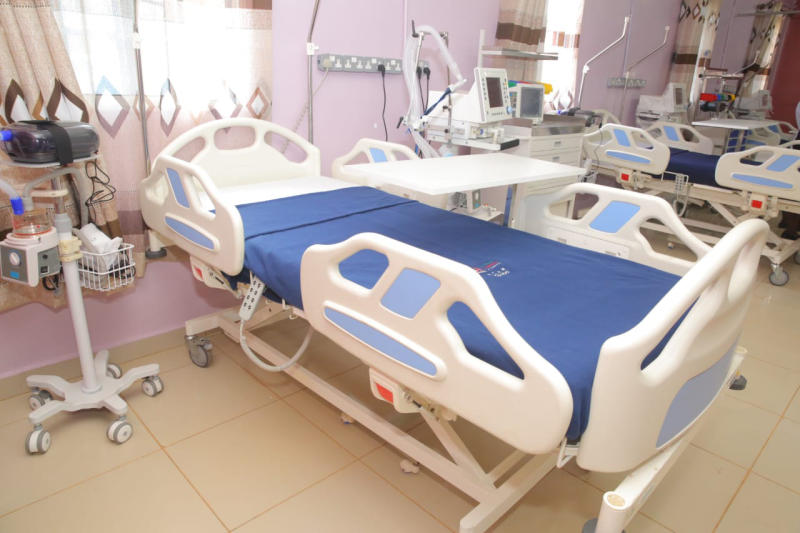 There are no public critical care beds available in the five counties declared as a diseased zone by President Uhuru Kenyatta on March 26.
Covid-19 patients in need of critical care in these counties have to scramble for the 58 Intensive Care Unit (ICU) beds currently fully occupied, and only available if one is discharged or dies.
Kajiado and Kiambu counties have no Covid-19 ICU beds while in Nairobi City County, Kenyatta National Hospital (KNH) has only six beds, Kenyatta University Teaching, Referral and Research Hospital (KUTRRH) has 32 beds. Mbagathi and Mama Lucy Hospital have no Covid-19 ICU capacity.
Dr Jeremy Gitau, an emergency care specialist at KUTRRH said that at least 20 patients are admitted every day half of whom require ICU care.
"Emergency department is always full, some waiting in the ambulances, some in the cars, as we wait to create for them space," said Dr Gitau, adding that unlike during the first and second wave of the virus, majority of patients were in need of medical oxygen.
Patients needing ICU beds have another hurdle besides the medical condition, ICU deposits.
The Kenya Medical Practitioners and Dentists Council (KMPDC) CEO Dr Daniel Yumbya noted that most hospitals were demanding exorbitant deposits for ICU beds, before treating patients, an issue that affects smooth service delivery.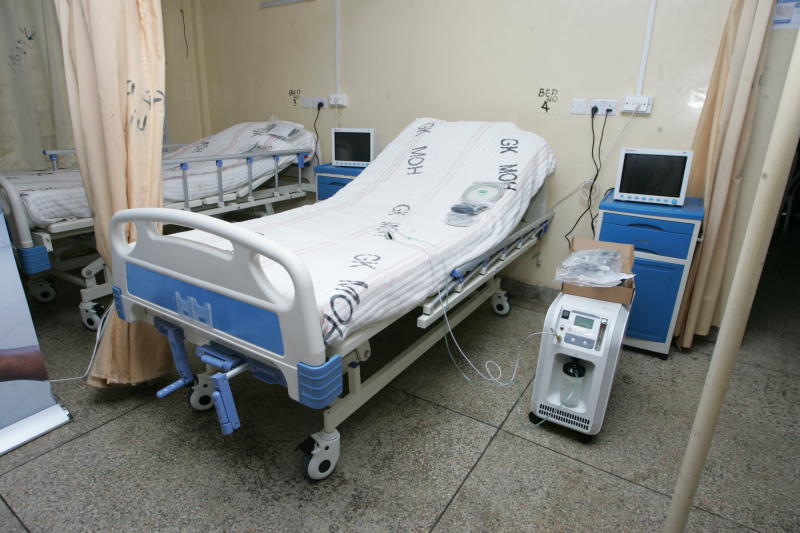 Among hospitals charging deposit fee for ICU beds before admitting patients include Nairobi Hospital, KUTRRH, Nairobi Women Hospital and MP Shah Hospital.
KNH does not ask for deposit but patients seeking intensive care at KUTRRH are required to deposit Sh200,000.
MP Shah Hospital charges highest amount of deposit as compared to other government and private hospitals in the city. A patient is charged Sh650,000 to access ICU bed. The hospital only has six ICU beds.
At Nairobi, a patient parts with Sh300,000, and they are required to have a guarantee. But the council notes that the hospital does not deny patients treatment due to deposit.
Elsewhere at Nairobi West Hospital, patients are expected to deposit between Sh130,000 to Sh300,000 for ICU bed.
According to the Health Ministry, at least 1,590 patients are admitted in various hospitals across the country, out of which, at least 200 patients are admitted in ICU, 40 on ventilatory support machines and 130 on supplementary oxygen, 240 others on oxygen in the High Dependency Units and general wards as at yesterday.
Related Topics