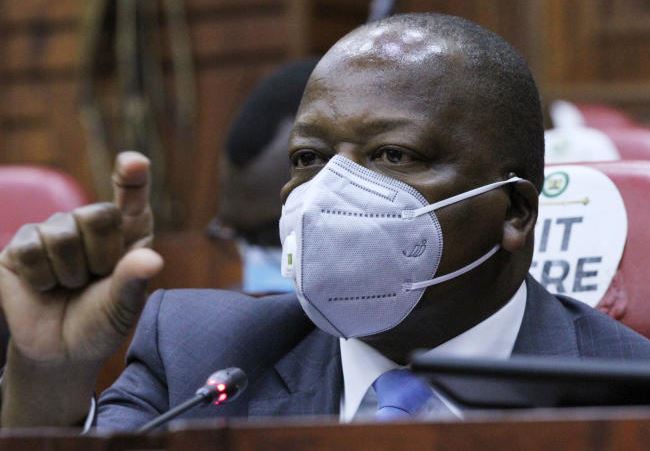 Kenya's Covid-19 situation seems to be spiraling from bad to worse as the country grapples with increasing deaths averaging at 20 per day for the last one week.
In just a fortnight, the country has lost 253 people as documented since November 1. In the last seven days, the number is 146, including doctors and other frontline workers.
This averages to 20 deaths every day for the last week. On some days, the country has been losing one person every hour to the disease.
The highest daily tally of deaths was recorded on Wednesday when 26 people died. Since November 1, the least number of deaths reported is eight on November 8, the only single-digit fatality with the rest being double digits.
The 254 deaths represent 20.3 per cent of the total deaths, with the case fatality ratio being 1.8 per cent. The global average is 2.3 per cent, just 0.5 per cent away.
Among the dead are front-line healthcare workers whose safety has been compromised both in hospital and community due to lack of Personal Protective Equipment (PPE) and increased community infections.
In his update yesterday, Health Cabinet Secretary Mutahi Kagwe (pictured) reported 21 deaths in what was the fifth day in a row the country was recording fatalities in the 20s. Among them are four medics -- Dr Emarah Ashraf (plastic and reconstructive surgeon), Dr Hudson Alumera (periodontal surgeon), Dr Jackline Njoroge (an administrator at Thika Level Five) and Dr Faith Kanjiru.
"I am saddened to inform the country that among those we have lost today are four medical doctors," said Kagwe. "I take this opportunity on my own behalf, and on behalf of the government, to send my condolences to the families and friends of the four doctors as well as those who have lost their loved ones as a result of the disease."
So dire is the situation that doctors will today hold a meeting to deliberate the increased Covid-19 deaths in the country.
As of November 12, there were 23 deaths of healthcare workers with 2,207 confirmed infections.
The Kenya Medical Practitioners and Dentists Union (KMPDU) has already cautioned all medics not to risk their lives until their hospitals are safe to work in.
The union has convened a National Advisory Council meeting today after which the leaders will make declarations.
"All doctors are instructed not to risk their lives per section 14 (2) of the Occupational Safety Health Act 2007 pending the Resolutions of the special NAC meeting," said KMPDU Secretary General Chibanzi Mwachonda.
No cash
Healthcare workers have been on record complaining of not being able to access PPEs, the major reason they blame for the rise in cases among their colleagues.
"We are losing too many health workers to Covid-19. Two more soldiers have fallen early this morning. We are on our own. Nobody cares for health workers. Few PPEs, no medical cover from NHIF. No compensation...," wrote Dr Elizabeth Wala in the debate on social media.
The shortage of PPEs has been evident, with counties having no cash to purchase them. The last disbursement given to counties to support Covid-19 response was Sh5 billion in June. The country however has been receiving donations of PPEs and funding whose usage has not been clear except for a report by the Controller of Budget.
According to the report released in August, counties had by then used just Sh3.43 billion of the total Sh13 billion meant for Covid-19 response.
The World Bank also boosted Kenya with Sh6 billion for Covid-19 preparedness in April.
Despite this support, it is noted that by November 4 when President Uhuru Kenyatta revised the containment measures, some counties did not have the required 300 beds each, and particularly intensive care units (ICUs).
"A number of counties are running in their full capacity in the isolation wards, intensive care and high dependency units, meaning counties can no longer admit new patients. It is an acute crisis, may patients are losing the battle enroute to Nairobi," said Council of Governors Chair Wycliffe Oparanya.
By then, 12 counties had less than the required 300 isolation beds (per county), and 11 have less than five ICU beds.
"This is a major challenge for patients who may require ventilatory support and supplementary oxygen," Oparanya said.
Mr Kagwe, however, noted that the country's hospital capacity of handling Covid-19 cases – both critical and asymptomatic – is nowhere near overwhelmed as claimed.
He gave an example of Nairobi where most patients would prefer private hospitals like Nairobi Hospital, Aga Khan University Hospital, and MP Shah whose ICU capacity is limited, and leave other public hospitals.
The CS said hospitals like Murang'a County Referral Hospital, Othaya Referral Hospital and Kenyatta University Teaching Research and Referral Hospital are not even half full.
"What people are not appreciating, is the spread of hospitals is not just around Nairobi. A time is going to come when you have to rely on your county for everything. In the next two months," he said.
The CS insisted that the country is well prepared, saying Kenya has received 200 ventilators from the US government which will be distributed across all the 47 counties.
In addition to critical care services, counties have no means on how to access PPEs as they have no money. While the issue on lack of money is yet to be addressed, the challenge is on Kenya Medical Supplies Authority (Kemsa) not being able to sell a Sh6.2 billion stock of PPE it has.
The counties, while they could purchase PPE if money was disbursed, could not buy from Kemsa since the available stock was under investigations in a Sh7.8 billion procurement scandal.
Last week, the Health CS said he will issue a directive to Kemsa to sell the Sh6.2 billion stock in their warehouses. Kemsa however is not only facing the dilemma of selling the stock at a Sh2.3 billion loss due to a drop in market prices, but also reluctance from suppliers who have not been paid from the previous supply. Others are reluctant to deliver their products due to the recent scandal.
The Sunday Standard has also learnt that not all counties have been able to place orders for the products after the CSs directive.
New cases
Considering it is a second wave and all the 47 counties have to buy from Kemsa, the authority might need some cash from the exchequer to recoup the loss in order to keep the supply flowing.
However, while issuing the orders, the CS did not mention any cash plan for the authority.
The delay in quick reaction is at the expense of healthcare workers and Kenyans who are at risk, some already infected with the virus and are in need medical attention.
Yesterday, Kagwe reported 1,080 new cases from a sample size of 8,322, raising the number of those who have tested positive to 69,273.
In two weeks – since November 1 – the country has reported 14,081 new cases. These cases also represent 20.3 per cent of the total 69,273.
The increase in cases and deaths as explained by Health Director-General Patrick Amoth is as a result of community infection.
While the numbers have been increasing at an alarming rate – some linked to political rallies which have since been banned for 60 days – it is not clear how high this new wave will be.
"We are currently experiencing a surge in number of cases with a well-established community transmission. However, we will need a bit more time and keener study of the graphs and models to be able to project a peak of this wave," said the DG.
As of yesterday, there were 1,185 patients in various hospitals and 5,974 in home based care. Of these patients, 58 are in ICU, and 15 in high dependency unit.
Related Topics