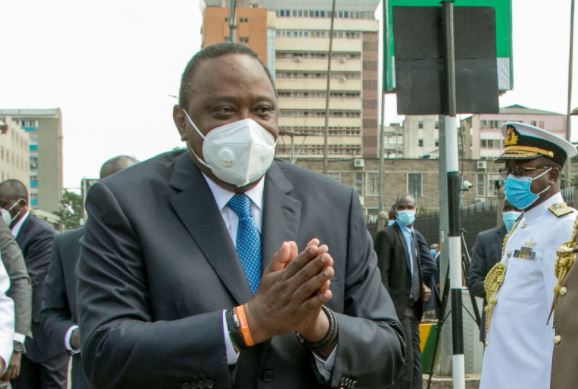 President Uhuru Kenyatta (pictured) has told Kenyans that the nation is still strong, resilient and beaming with the promise of a brighter tomorrow.
In his message, which is his second-last State of the Nation address, Uhuru acknowledged the global economic, social and health disruptions, that led to the rescheduling of the address for about six months.
The address – an annual constitutional requirement – was supposed to happen in the first quarter of the year but was put off due to the Covid-19 pandemic. His last address was on April 4, 2019.
The Head of State said despite the commendable efforts to curb the spread of Covid-19, cases in the country were still on the rise and they had caused national distress.
As of Thursday, Kenya had 66,723 cases with a death toll standing at 1,203. 23 people had succumbed to the disease over the last 24 hours.
Following the outbreak, Uhuru said his administration established a framework to upscale and co-ordinate Kenya's preparedness and response to the Coronavirus threat. Kenya's first case of Covid-19 was confirmed on March 13, 2020.
The onset of the pandemic had crippled the country's economy and caused a massive strain on health facilities, and this forced him to implement measures in order to stem its spread.
"Covid-19 pandemic led to loss of lives, disruption of learning, a strain on health systems and pressure on families and nations," he said.
The measures saw the shutting down borders, learning institutions, disruption of religious activities and sporting events, postponement of major cultural activities and the imposing of a Nationwide curfew.
Uhuru, while commending health workers, said the Covid-19 pandemic had begun against the backdrop of a steady economic growth rate of 5.4 per cent in 2019.
"We honour and commend all our frontline health workers. We shall forever be grateful for their service under tremendous strain and challenging conditions. We honour all other responders and essential workers," he said.
Apart from Covid-19, Kenya had also battled the locust menace at the beginning of the year that left many farmers reeling in losses.
"As we ushered the third decade of the 21st century, we were invaded by locusts threatening to decimate our food baskets and the livelihood of millions of our farmers," Uhuru said.
The speech was delivered in strict adherence to Covid-19 protocols such as social distancing. Only 114 from the 416 MPs followed the address from Parliament chambers and there were minimal interactions in the House.
The other legislators, like most Kenyans, watched a televised speech, as the president gives his scorecard and provided the way forward for the country.
The address comes barely two months after Chief Justice David Maraga advised President Uhuru to dissolve Parliament over its failure to enact a law on gender balance.