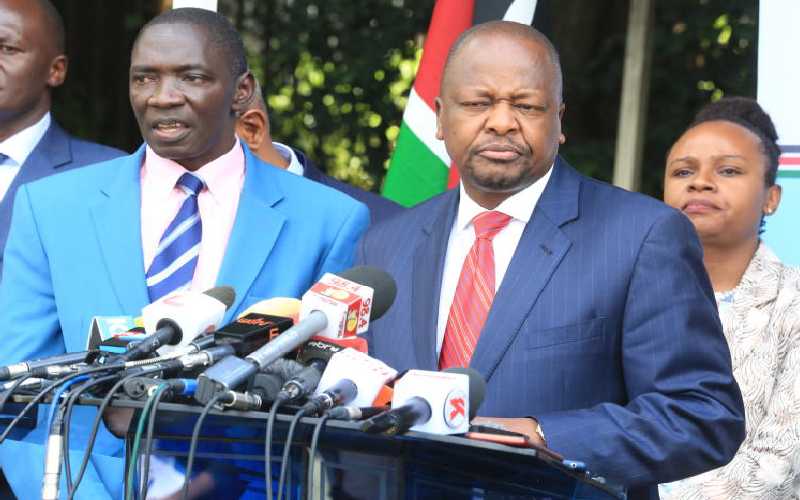 Kenyans on Twitter have trained their guns on Health Cabinet Secretary Mutahi Kagwe after he poked holes on the Covid-19 vaccine developed by US pharmaceutical giant Pfizer on Wednesday.

"Now, I would like to know how they knew in the first place that I was going to get the virus…we are talking about treatment when I have a virus…but when you tell me that I stopped you from getting the virus…how would you know I was going to get the virus in the first place? So for me I have reservations about it," said the CS, while giving a status report on the fight against the pandemic to the Senate.

But his utterances threw him to the deep end of the pool, making him subject of ridicule as Kenyans rebuked him for casting doubt on the 'only ray of hope that the world has' in dealing with a pandemic.

Some of those tweeting alluded that the CS's statements discredit the vaccine because it will render him unimportant once it deals with the pandemic.

Another tweet by Juma G read, "Mutahi Kagwe, a whole Minister of Health, paid by your taxes, loudly, without fear or shame, on national television, wonders how one should be given a Covid-19 vaccine without an assurance that they will get Covid-19 in the first place. As in, REALLY? REAAALY?"

Others were left with many questions not fully grasping the point CS Kagwe was trying to drive home.
"Does he even listen to himself?? He is the same person who told us 'I can Gerrit, you can Gerrit Mutahi," tweeted Generali Kiprotich.

On Monday, Pfizer said its experimental vaccine was more than 90 per cent effective in preventing Covid-19 based on initial data from a large study.

Pfizer and German partner BioNTech SE are the first drugmakers to make a vaccine that offers promising results from large-scale clinical trials. The companies said they have so far found no serious health concerns caused by the vaccine and aim to seek US emergency use authorisation later this month.

If authorised, the first batch of vaccines will initially be limited. However, questions still surround the new ray of hope as to how long the vaccine will provide protection and whether it will be administered to persons across all age brackets.
Even though scientists have hailed the new milestone, many see it as the first step in a long journey to win the war against Covid-19.