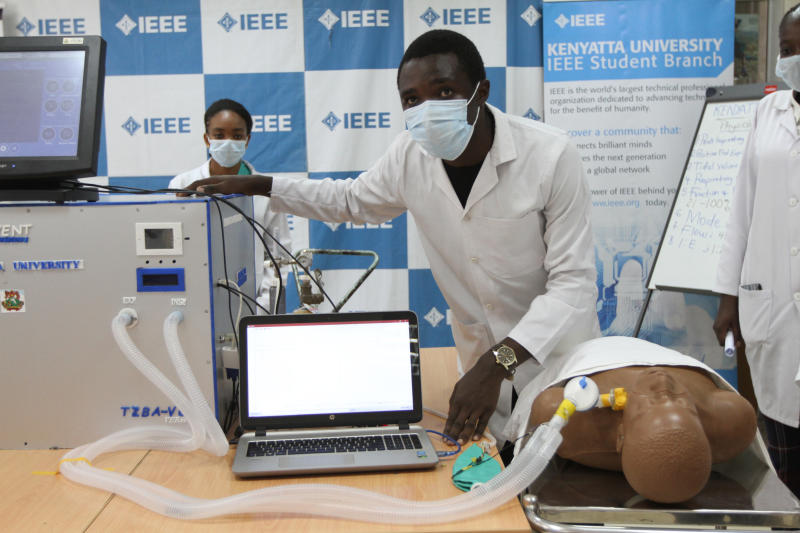 Kenyatta University has come up with its make of a ventilator that could save lives of victims of the coronavirus.
Ventilators are key equipment for coronavirus patients who develop difficulty in breathing. But there are only a handful in Kenya.
It is against this backdrop that a group of students from the Thika Road-based university came up with a prototype dubbed Tiba Vent.
The prototype, a cubical unit made of hard silver plastic parts with pipes connecting to an oxygen tank and two other pipes delivering the air, was developed by 16 students from different faculties in under a week.
The mechanical unit is controlled from a computer on top of it from where doctors can monitor the concentration of oxygen in the air that the machine is pumping into the patients' lungs as well as control the ventilators' intensity.
If the prototype is approved, KU Vice Chancellor Paul Wainaina said the institution has the capacity to produce 50 ventilators a week
Bernard Karanja, a fifth year Pharmacy student said: "We came up with the idea to make a ventilator when we heard that there were in short supply and with almost all the countries in lockdown, we could not import them from elsewhere," Karanja said.
Its large scale manufacture now depends on the approval by the Ministry of Health. "We can produce 50 machines a week and each one will cost about Sh500,000 to produce," he said as the university showcased the ventilator to Trade Cabinet Secretary Betty Maina.
Ms Maina said the university was part of a growing number of Kenyans who were making equipment and gear to be be used to fight the coronavirus.
"I am excited that there are groups working on prototypes and as Kenyatta University finalises theirs, they have demonstrated that they can produce it because all the material they have utilised is available locally," she said.
Related Topics