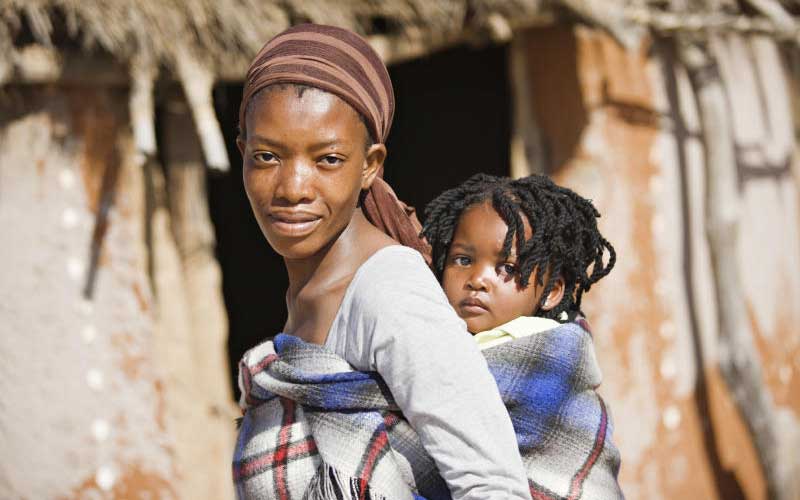 The size of the single mother family is bulging and with it, medical experts say, is the number of children at risk of poor health.
"I had vowed never to have another child unless I married or had a job," says Agnes Karuku, a single mother of four.
Karuku, a 'mama nguo' in Parklands Nairobi says putting food on the table has been difficult but with the new disease it has just become a nightmare.
"Nobody is letting us near their homes anymore," says Agnes who lives in the densely populated Kangemi estate in Nairobi.
Researchers have investigated 57,219 single mothers like Agnes in 25 African counties with 6,107 of them in Kenya.
"Our study is one of the first to show that families formed outside of marriage are increasing, not only in number but also in size," say Emmanuel O. Olamijuwon, of the University of Witwatersrand, South Africa and lead author.
Olamijuwon and his team say children of single mothers are likely to miss immunisation, have poor nutrition and at higher risk of dying before the fifth birthday compared to those of married women.
"Evidence shows children of single mothers have higher mortality risks, and poorer health outcomes compared to children born to married mothers," says the study published last week in the journal BMC Pregnancy and Childbirth.
The World Family Map 2019 which sampled 40 countries from all parts of the world showed about a quarter of Kenya's children go without a decent meal every day.
31 per cent of the children in Kenya the report showed live with one parent while 15 per cent live with no parents.
Of the 40 study countries Kenya had the highest number of children with only one parent most of this being the mother.
The map by the Institute for Family Studies, a conservative US think tank, showed almost a quarter of children in Kenya are born to unmarried women and majority lacked in daily basic needs.
Education and residence a factor
Researchers in the new study say they had expected that many single mothers, especially those who are poor, may delay having a second premarital birth.
"We thought they may engage in more protective sexual behaviors to avoid or delay another premarital birth after experiencing the adverse effects of the first premarital birth."
Poring on data from the current demographic and health survey, Olamijuwon team had studied women aged 15-49 who had at least one premarital birth.
The data however shows, more than 20 per cent of the women with one premarital child are likely to get another one within three years.
At highest risk on the increased birth before marriage the study say are women living in rural areas and with less education.
"This is worrying especially for adolescent mothers being encouraged to go back to school after first premarital birth, but only to get pregnant again which may affect their future," says Dr Stephen Asatsa, a psychology lecturer at the Catholic University of Eastern Africa.
Agnes however says, the brood keeps on coming. "It is not for lack of trying but here they are. I have now sworn no more no matter what."
A study following 4,577 women in Nairobi for three years found 16 per cent of those who said did not want another child became pregnant within two years, rising to almost a third at three years
The study led by Kazuyo Machiyama of London School of Hygiene and Tropical Medicine, found 32 per cent of women who had wanted to wait for at least five years had become pregnant within three years.
Eight per cent of singles who did not want a next child until they got married had become pregnant before achieving their marriage dream.
The main reason for the apathy against next pregnancy was that they already have enough children or cannot afford to feed another mouth.
Women who managed to keep off pregnancy up to the third year, the team says, were most likely to be in paid employment and with secondary education or more.
Olamijuwon and his team say they did not get into why single mothers have a second premarital birth despite its associated negative consequences.
They, however, hypothesised that poor single mothers may have low negotiating power and lack access to modern contraceptive methods that could help minimise the risk of a second birth.
With four children, secondary education and few job skills, Agnes' competitiveness in the marriage and job market, she says is extremely low.
A recent study shows the duration unwed mothers take before they can marry in Kenya has increased from about three years in the 90s to about four years today.
Evidence, says Olamijuwon suggest that having a premarital birth may reduce women's "attractiveness" and limit their access to potential partners.
"These risks could even be worse for women with multiple premarital births." Agnes says she made a huge mistake in overstaying in a come-we-stay union hoping it would transit to a marriage. "It never did, despite the increased brood"
Only about 1.4 per cent of come-we-stay union is Kenya are formalised annually, shows a study by Population Council-Kenya. This is despite about 87 per cent of men and 72 per cent of women aged 25 to 34 in Nairobi being in informal unions.
Related Topics