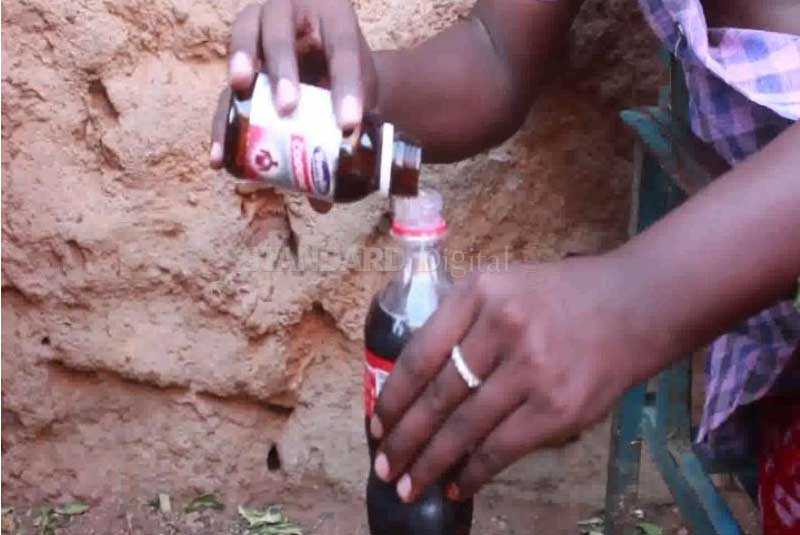 When you meet Abdullah Ali, 20, you will immediately notice his erratic mood. One minute he is extremely happy, the next he is gloomy and irritable.
He, however, seems to stabilise every time he takes a dose of his 'poison'. This 'poison' happens to be a popular cough syrup — Benylin.
An indepth investigation by The Sunday Standard, reveals that Ali is among thousands of youth in Nairobi and North Eastern abusing the cough syrup to get 'high'.
For two years, Ali, has been abusing this syrup with abandon.
When this writer met him at Old Pangani Shopping Centre, he was busy chewing miraa and drowning it with soda mixed with the syrup.
"I love this syrup. I have been using it for two years. Every morning, before taking breakfast, I have to get a dose," he says adding: "Its breaks my day with highness."
Ali says he was introduced to the drug by friends before he cleared Form Four. He is lucky that though he is now addicted, he passed his Kenya Certificate of Secondary Education examinations.
Benyly is categorised as a codeine, a narcotic pain-reliever and cough suppressant similar to morphine and hydrocodone.
With a growing demand from teenagers and young adults, the price of the of-the-counter drug has risen sharply.
A spot check shows that a bottle now retails for Sh900 up from Sh60.
The issue is of great concern, security officials say many Benylin addicts are engaging in crime such as robbery to fund their addiction.
And parents and guardians are a worried lot and are appealing to the Government to intervene.
"This is serious, we can't allow it to continue under our watch. Our children are drinking poison and slowly killing themselves. The Government should do something," says Hussein Abukar, a parent in Mandera town.
Statistics by local anti-drug organisations show usage of the drug has been noticed in primary and secondary schools which have in turn recorded increased school drop outs rates.
Complex issue
This abuse of over-the-counter drugs has attracted the attention of the Pharmacy and Poisons Board from Nairobi.
Last month, a team of five officials from the board visited Mandera to investigate the extent of the problem and possible ways to arrest it.
They held discussions with the Mandera County Assembly health committee. A dealer who sought anonymity, says he sells 50 boxes a week. Each box contains 35 pieces of Codeine and each piece goes for Sh900. He claims to make Sh1.6 million a week from the sale of the cough syrup.
Mandera East OCS Albert Kipchumba says police are carrying daily raids and confiscating large amounts of the drug. Heads of security in Mandera asked residents to join the fight.
"Abuse of illegal drugs to get 'high' is common in the country, but what is happening in Mandera is a little complicated, use of legal drugs bought over-the-counter to get a high," Kipchumba says.
Take it daily
This trend is also picking up in other northern eastern counties.
Many users are khat-chewing men who mix it with soda. It is used repeatedly to get them 'high', a deadly effect that can kill.
Many of the youth this reporter spoke to confessed that they are addicted to codeine syrup and they take it daily.
"We mix it with soda. It makes me very 'high'. I take it everyday," says Nasir, a Form Three student from Garrissa.
Last year, for instance, a Nairobi-based accountant confessed to weaning off a crippling two-year substance dependence on a codeine-based cough syrup.
A few years ago, Drum magazine August edition published a story on former TV anchor Cynthia Nyamai who traced her addiction to the cough medicine, saying the syrup helped her deal with her divorce.
Ms Nyamai said she realised one bottle was not enough and as her life spiraled south, she began taking an extra bottle.
But why are youth resorting to this syrup as a form of let out?
Alibashir Mohamed, a parent and an educationist says the issue needs attention.
"When you close all recreation centres and entertainment joints, young men have no option but to turn to drugs," says Alibashir.
Treats minor pain
Notably, this is a global problem. A recent study in America shows nearly five million Americans older than 12 abuse prescription pain relievers, including codeine syrup.
While the number of Kenyans who abuse these drugs is growing slowly, health statistics shows 90 people die of opioid annually in Kenya.
Codeine is one of the many pharmaceuticals classified as an opiate, narcotics with a high potential for addiction.
When used as prescribed, this pain-reliever is a relatively mild opiate.
Codeine is typically administered in liquid or pill form (frequently in combination with acetaminophen), and when used under the direction of a medical professional, it is a relatively safe way to treat minor pain or control troublesome coughs.
However, users often abuse codeine for the feelings of relaxation and euphoria they produce.
Codeine abuse can develop into a full-fledged codeine addiction in fact, it has been classified as a Schedule II drug, meaning it has a "high potential for abuse."
Like many opiates, withdrawal symptoms from codeine can be quite severe, keeping the user in a cycle of use they cannot stop.
Related Topics