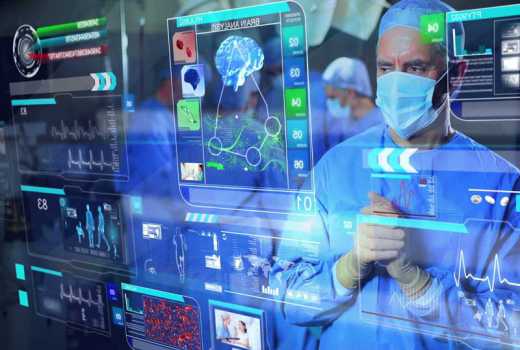 Modern scientists primary task is to fight against cureless diseases. Researchers, doctors and scholars are always looking for ways to treat complex diseases or at least, make people's life easier.
This article looks at five medical devices humans could not have imagined a few years ago.
No.1 Bionic Eye
Bionic eye is a miniature video camera in glasses. The camera makes records in real time and transfers the signals into the glasses and then to 60 electrodes located on the damaged retina.
In June 2017, doctors from the Scientific-Clinical Center of Otorhinolaryngology of FMBA of Russia successfully implanted the bionic eye to a man who lost vision 20 years ago.
The benefit of Russian surgery was in recovery speed of the patient. He could distinguish light sources and simple images of objects in a month.
Patients in other countries achieve these results in 2-3 months.
No.2 Total Artificial Heart
In 2015, the US Food and Drug Administration approved artificial heart transplant studies. The heart made of plastic and metal is called ventricular assist device (VAD).
Over 50,000 people around the world need the cardiac transplant. And only 5,000 such procedures are performed per year. Doctors consider VAD as a permanent option before the donor heart transplants. The high demand and inability to wait requires the use of it. Some hospitals provide artificial heart transplant as commercial treatments.
"Patients know about VAD transplant and wonder where they can have it. Still, lots of them can't afford the surgery. Indian hospitals that are considered as the cheapest in the world offer artificial heart transplant starting $150, 000," says Kristina Zadorozhna, a medical doctor at the Bookimed International Patients Support Center.
No.3 Artificial Beta Cells
The smart beta cells (AβCs) founded by the scientists from the University of North Carolina and NC State are to help people with type 1 diabetes and some cases of type 2 diabetes.
The researchers made the artificial synthetical cells from protein coat with few insulin pills. The cells can be inserted directly into patients or used as skin patches.
When the glucose level is sharply increased, the pills start to merge with the membrane and release the insulin. The hormone runs in the blood this way, and human cell backs up to normal condition.
Currently, the research team is working on developing a delivery method and long-term effect.
No.4 Artificial Uterus
The Children's Hospital of Philadelphia researchers have invented an artificial womb. It is a bag with fluid connected to special cords.
These cords transfer all nutrients and oxygen inside the bag. With the help of this artificial uterus, biologists saved lives of unborn lambs. They place lamb embryos to the artificial uterus at their 105th day of development (what is the same as 23-24 weeks in humans).
This innovation gives hope for babies who currently die under cognitive impairment or lung problems due to preterm deliveries.
No.5 Effective genome editing
CRISPR/Cas9 System for Targeted Genome Editing is a mechanism for identifying required DNA sequences. It changes them or just removes. Today, it is the most simple and efficient tool for genes manipulations.
CRISPR/Cas9 was tested for HIV and cancer treatment. Among its achievements is removing DNA of the HIV from the human cells making them healthy.
American researchers have also tested the system as a method for cardiomyopathy treatment in embryos. They could remove the damaged gene in 25% embryos. The authors consider the result as remarkable.
Related Topics