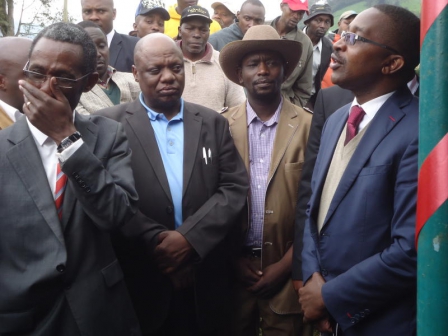 A dispensary in Murang'a County has run out vital drugs for five months.
Residents of Tuthu village in Kangema say the crisis has forced them to buy drugs expensively from elsewhere, besides the transport cost they incur to seek treatment at Kanyenya ini health centre.
Records indicated that the facility had placed orders for the drugs since last November.
A clinical officer who only identified himself as Chege said he had once ordered for 5,000 tablets, but only 300 were delivered.
Governor Mwangi wa Iria has now called for a crisis meeting between health and Sanitation Executive Dr Susan Maganda and medical director Dr Winfred Kanyi.
Even less expensive drugs, for instance, anti-acid had not been delivered despite the demands. "This cannot happen in Murang'a where millions of shillings are budgeted annually for the health sector to procure essential drugs," he said.
Elsewhere, Iria had joined residents of Tuthu village to celebrate 100 years since the Consolata Catholic Church Missionaries held the first mass under a Mugumo tree in the locality.
The missionaries were hosted and accommodated by the late paramount chief Karuri wa Gakure in 1902 at the present Tuthu Catholic Church.
During the celebrations, the residents called for upgrading of the dispensary to health centre and be provided with an ambulance to help save lives.
Related Topics