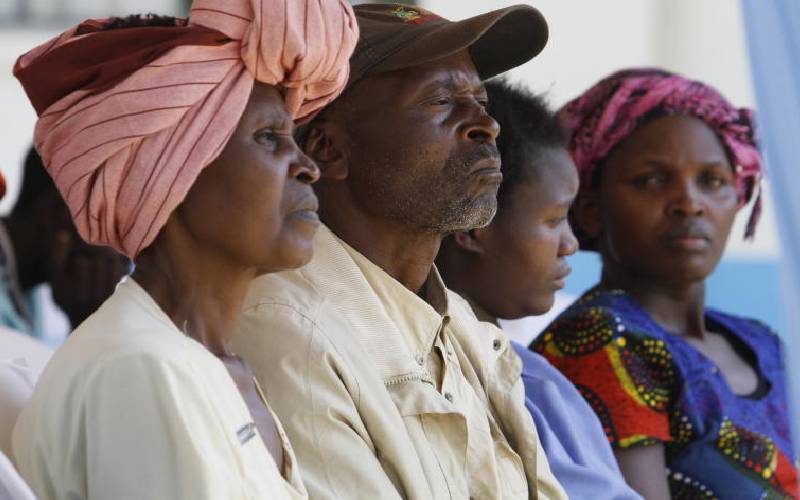 More than 200 patients at the Kenyatta National Hospital with pending bills were allowed to go home.
In a move the hospital's Chief Executive Officer Thomas Mutie termed historic, 257 needy patients were released from the referral hospital much to the relief of many like Maureen Achieng'.
Achieng's 11-month-old baby sustained burns on the thighs and legs after a lamp tipped over and set their shanty house in Kibera slums on fire.
While she did not salvage anything from the house where she lived with her husband and another child, thankfully, she says, she was able to rescue her baby, who was thereafter admitted to KNH.
However, despite the child being treated and stable, the family accrued Sh200,000 in medical bills, which Achieng', a housewife, and her husband, a casual labourer, could not afford, leading to the baby's detention.
The respite is a godsend for Achieng', who told The Standard her family would be moving to an empty single-roomed house, and paying a monthly rent of Sh1,500 as they try to start over. "Some wards were full. Releasing the patients is a move to decongest the hospital," stated Dr Mutie in an address to the media.
"It is in the interest of the hospital to let the patients go," said acting hospital board chair Stanley Kamau Maina. He noted that even though the hospital's bed capacity had improved in recent years, the resources of the facility, the country's largest referral hospital, were still under intense strain.
Dr Kamau also admitted that the move was "humane", although partly motivated by media reports of the plight of patients held hostage by the hospital.
While some of the patients were allowed to go home on Monday, others were released yesterday. The remaining lot will go home today.
"Some patients have been able to pay off their bills, others will pay in installments and some were release because they will never be able to pay no matter how much time we give them," said Kamau.
The management, however, regretted that the situation would not favour the hospital, as the unpaid bills were an "unwanted addition to the millions of losses" the hospital had made as a result of unsettled bills.
"Since 2003 we have incurred a deficit of Sh5.6 billion due to unsettled bills. Since the financial year that began in June 2018, we have accrued losses of Sh900 million, also due to unpaid bills," Kamau stated.
KNH management also wants to decongest its mortuary. Those with bodies of relatives at the hospital's mortuary, the acting board chairman said, can enter agreements to pay outstanding bills in installments and collect the corpses within 21 days.
Related Topics