Home
/
Health & Science
Fully vaccinated to wait longer for 'booster' shot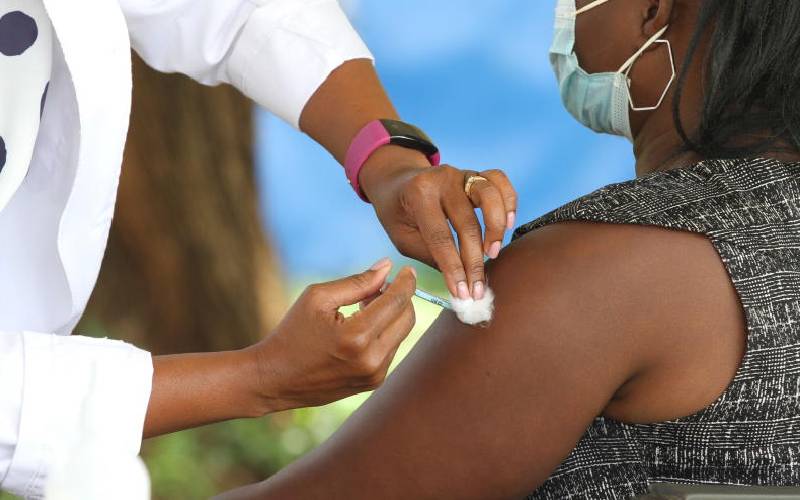 While Kenya is grappling with the deadly Delta variant amidst Covid-19 jab hesitancy, fully vaccinated populations in developed countries are on their third, booster shots.
A 'booster dose' is an extra jab given to maintain vaccine-induced protection.
Currently, Kenya has slightly above three per cent of the people vaccinated with the first dose and about 100,000 have defaulted on their second dose, according to the Ministry of Health.
Kenya has an uphill task of vaccinating the targeted 10 million people by end of the year to achieve herd immunity that protects people from severe disease, hospitalisation and death.
The country's rollout has been limited to Covax facility supplies and donations, besides procuring more doses using local and donor funding.
The Director, Africa Centers for Disease Control and Prevention (CDC), Dr John Nkengasong noted that there is no conclusive evidence that healthy people, who are not immunocompromised, need an extra shot.
But an Ipsos/World Economic Forum survey conducted in August revealed that the majority of the fully vaccinated adults in 13 countries would not mind a Covid-19 booster shot if offered. The survey included 9,521 adults under 75 years, of whom 5,977 had already received two doses, indicating a majority of adults in every country think the priority should be given to the unvaccinated.
It also showed that most people thought an annual booster shot against Covid-19 would be needed to maintain protection.
The expectation was highest in Mexico, Brazil and the UK, but lowest in Russia. Intent to get a booster shot was highest in Brazil (96 per cent), Mexico (93 per cent) and China (90 per cent) and the lowest in Italy (66 per cent) and Russia at 62 per cent.
"The problem we have with the third doses is that we have not seen enough science behind them," Dr Nkengasong told journalists said in an online news conference. "It is really still confusing why we are moving toward a vast recommendation for a booster dose, and that by offering booster shots, we will surely be gambling."
In August 2021, the Center for Disease Control (CDC) recommended that certain immunocompromised people, who had had the Pfizer or Moderna vaccines, get a third booster jab to increase protection, but experts are not keen on it.
The World Health Organisation, for instance, warns that booster shots could divert vaccine supplies from countries with largely unvaccinated populations.
US President Joe Biden's administration still plans to offer Covid-19 booster shots from September 20. On Wednesday last week, WHO asked wealthy countries not to administer booster shots for healthy patients until the end of the year to enable every country to vaccinate at least 40 per cent of their populations.
While there are booster shots that increase immunity in already vaccinated populations, there are also additional doses that may be needed by the immunocompromised to develop immunity and which WHO is not opposed to.
In Kenya, the Ministry of Health does not foresee the administering of booster shots until more than 50 per cent of the population is fully vaccinated.
"It is inhumane for someone to get a third and fourth shot yet they are people in low-income countries with no single shot," said Acting Health Director-General, Dr Patrick Amoth.
Dr Julius Oyugi, a virologist at the University of Nairobi, said that that a booster shot cannot be possible in Kenya considering half the population is yet to be vaccinated.
WHO's Africa Director, Dr Matshidiso Moeti said Covax will supply fewer Covid-19 vaccine doses than expected, meaning that talk of a third booster shot won't be featuring in any conversation on vaccination campaigns, yet.
Related Topics