Home
/
Nutrition and Wellness
Carrying lunchbox is healthy, cheaper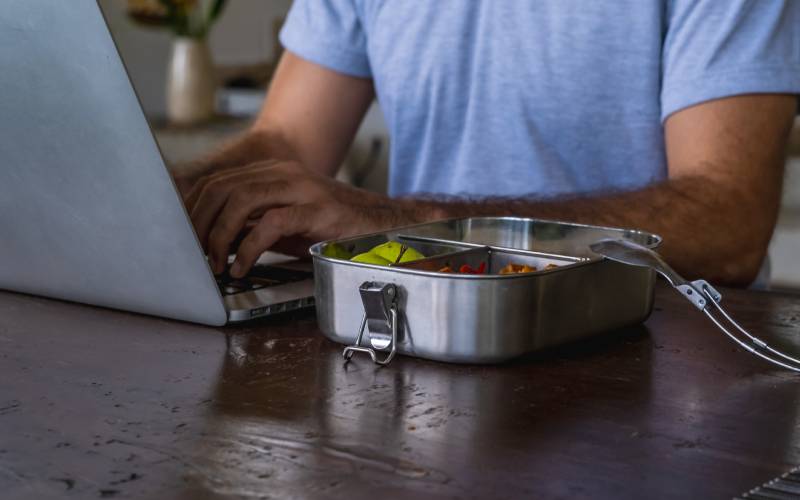 A man reports to work carrying a laptop bag, but no lunchbox inside. Lunchtime will see him trooping to a restaurant or the office cafeteria. A woman, on the other hand, will carry hygiene products and spare shoes, but also snacks, fruit salad, a water bottle and home-cooked lunch.
Why is it not logical for men to carry lunchboxes considering the prevailing harsh economic times yet it is healthier and cheaper?
Joseph Waithuki, a credit risk manager, says a lunchbox is impractical and cumbersome for a bachelor who doesn't cook often and uses public transport due to that small matter of spilling the food and the attendant stress that causes.
But the pandemic forced many to work from home, changing perceptions. "I would spend around Sh300 each day, a cost which can be avoided," says Waithuki, adding lunchboxes are easier for those who drive as the cars accord them privacy and comfort.
Henry Mwenda, a client delivery manager at a bank, says carrying packed lunch for him was during the early days of the pandemic when eateries were limited and fear of infection was high, but "I would otherwise never carry packed lunch," he says, arguing it would interfere with his lifestyle. "Imagine going to the club with a lunchbox - it is such a no-no!" says Mwenda.
But carrying lunchboxes was normal for Kenyans who lived abroad.
"In the States, offices have what they refer to as brown bag meeting rooms, also called lunch and learning lessons rooms, where colleagues enjoy their packed lunch as they engage in informal discussions at lunchtime," says Andrew.*
Victoria Muthoka, a wife and Law School student packs lunch for her husband who's in manufacturing. She includes vegetables, starch, fruit and a healthy beverage. Though he was reluctant at first, he now rarely complains of stomach upset.
Eating homemade lunches has great benefits as such meals are healthier, safer, cheaper and balanced giving one "control of the food chain" including storage, says Faith Kariuki, a nutritionist at Afya Bora Nutrition and Wellness Centre.
She adds that city restaurants have limited choices. "If you want traditional vegetables with brown ugali, you either wouldn't find it offered, or it would only be available for a limited amount of time." Besides, restaurants tend to overcook vegetables, whose vitamins and minerals are destroyed by light and heat, but with "a packed lunch you also have control over your choices of fats and oils. Vegetable oils are much healthier than most fats used in hotel cooking.
Related Topics