Lunchbox: Era of men carrying food to the office is here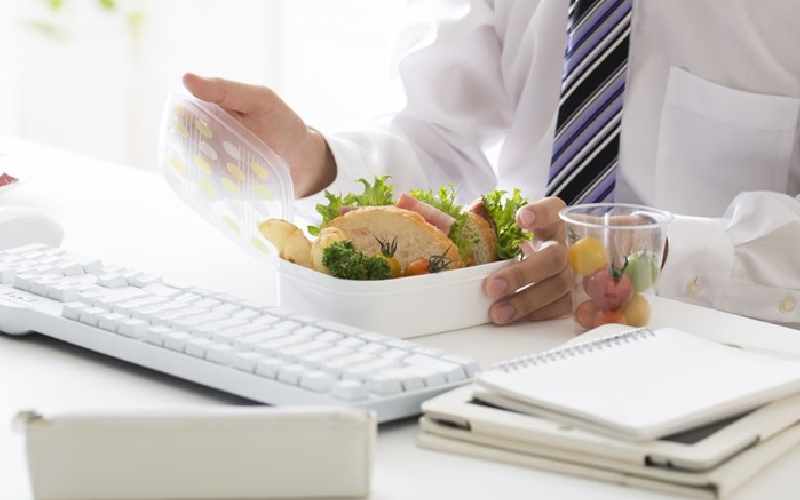 Men in formal employment typically carry a laptop bag or a briefcase to work. But briefcases seem to have gone out of fashion, with only a few men carrying them nowadays. A few decades ago, it was a must-have male accessory.
Quite often, a man will show up at the office empty-handed, ready to get down to business. All he needs to do is be at his desk, and he will perhaps go out to a restaurant or the office cafeteria for lunch.
A woman, on the other hand, may carry several bags or have one she can fit all her other bags in. More often than not, she brings with her hygiene products, spare shoes, make-up for beauty lovers and maybe a snack to nibble on while working. It has also become the norm for women to carry water bottles.
Due to the prevailing harsh economic times, it would only be logical for both genders to slash their costs by carrying packed lunch to the office. However, the practice is not as common as would be expected despite its numerous benefits such as offering healthier choices, utilisation of supper left-overs and saving money.
Joseph, a credit risk manager at a financial institution in Nairobi, says that carrying a meal to his engaging 9am to 5pm work is impractical. As a bachelor, cooking every evening is not guaranteed, and he finds the small lunch bag cumbersome to carry.
"I use matatu to and from work. Just the thought of queuing and going through the hustle and bustle carrying food that may spill stresses me out," says Joseph.
Spending time at home in the wake of Covid-19 has, however, made him reconsider carrying food to work. It dawned on him that he had been spending more money than necessary on lunch every day.
"I would spend around Sh300 daily. Working from home has made me realise that it is a cost I can avoid," he says.
He says owning a car would make it easier for him to pack lunch to work.
"I would carry lunch in a backpack, or together with my laptop ... to avoid that small funny bag," says Joseph.
Tied down
Henry Mwenda, a client delivery manager at a bank in Nairobi, says carrying packed lunch would interfere with his active lifestyle.
"Not only would the commute to work be hectic, but also, I love to stretch and walk around while on my lunch breaks. I don't want to be tied down," says Mwenda.
He says he carried packed lunch in the early days of the pandemic since there were only a few eateries that were open, coupled with the fear of exposure to infection.
"I would otherwise never carry packed lunch. Before coronavirus, my wife offered to pack meals for me to work but I refused. I like to spend time with friends and go out on Fridays after work. Just imagine going to the club with a lunchbox; that is a no-no for me!" says Mwenda.
He says washing the dishes after meals as well as packing them would be a nuisance.
He adds that one cannot avoid a little teasing for carrying packed lunch among his circle of friends. "It would not bother me much," he says.
A few years back, carrying water bottles attracted attention - men carrying them to the office or just around town were seen as being different, but people got used to it. Men carrying food to the office is an evolving trend people will soon learn to live with.
New normal
And as offices change, with food spaces becoming a major component, carrying packed meals will be the new normal. Furthermore, it is nothing new in the Western world.
"When I lived abroad, it was normal to carry a lunchbox. Everyone there carries food to the workplace as it is viewed to be a healthy practice, one that also saves time," says Andrew, adding that upon returning to Kenya from the US, his colleagues found it strange that he carried a lunchbox to the office.
Victoria Muthoka, a wife and a Law School student, says a packed lunch is the only way out for her busy husband. She cooks nutritious meals for him every day, ensuring to include vegetables, starch, fruit and a healthy beverage.
"Before I started packing meals for my spouse, he would regularly complain of stomach upset. This has improved since I took it upon myself to make him fresh meals every morning," says Muthoka.
Faith Kariuki, a nutritionist at Afya Bora Nutrition and Wellness Centre, says that packing lunch gives one control of the food chain, improving the management of safety and hygiene in the course of purchasing, preparation and storage of food.
"Accessing a healthy meal in Nairobi restaurants tend to be relatively expensive.... There are also limited choices on most menus," says Kariuki.
There is variety in homemade meals.
Kariuki says that restaurants also tend to overcook vegetables, whose vitamins and minerals, are destroyed by light and heat.