Home
/
Mental Health
Tribulations of mentally ill prisoners at Mathari Unit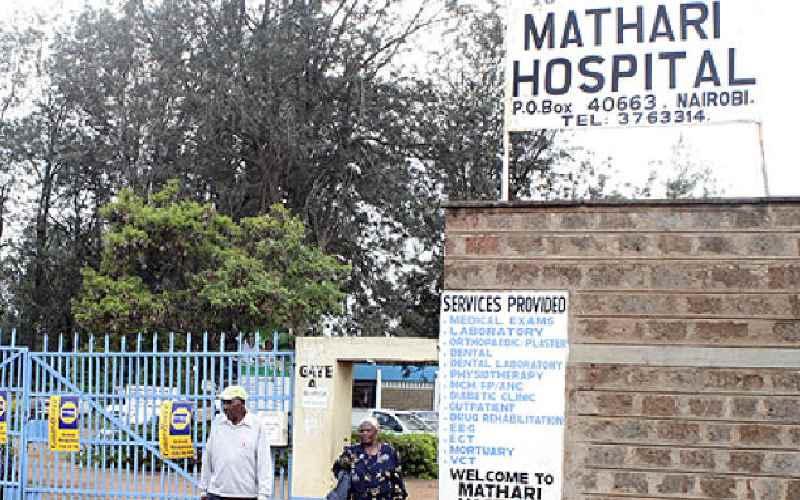 To many Kenyans looking from the outside, Mathari Psychiatric & Referral Hospital in Nairobi is an establishment where mentally ill persons are taken for treatment and rehabilitation.
What they may not know is that within that expansive compound, there is the Mathari Maximum Security Unit where those found criminally insane by the courts are confined. In addition, it hosts those awaiting psychiatric evaluation before taking plea as the law requires.
By 2018, there were 309 patients at the facility. Currently, 156 are admitted; some were released, others died, by suicide, or escaped.
Take this man on a wheelchair. He was admitted to the Maximum Security Unit in 2002, but broke his spine. During the pandemic, three wheelchair-bound patients attempted suicide and are now under medication at the infirmary.
Lawyer Felicia Mburu laments that many offenders needing psychiatric evaluation are taken there and forgotten. Like her client, Abraham Musili, 66. He was charged with murder in 1991 and condemned to the Kamiti Maximum Security Prison then Mathari in 2002.
Musili has been at Mathari for so long until he's often consulted for guidance by other patients. All efforts to get him out have proved futile in the three decades he's been behind bars. He has appealed his case twice, enduring lost files, to almost being released then something happens derailing his freedom.
Mburu says after the court orders a psychiatric evaluation, officers from the Industrial Area Remand Prison take the accused to the remand facility and process them by taking photos, fingerprints and medical reports before allocating them a cell.
Police officers take suspects to Mathari for mental assessment and leave them, yet no case can proceed from Mathari without going through Remand Prison and so suspects are stuck there, according to lawyer Mburu.
Talk therapy
Good behavior and rehabilitation can see a third of the original sentence reduced but Mburu wonders "what is a third of life, a third of death? Assuming the average Kenyan dies at age 65 then if you have done at least 30 years you should be released under Presidential Mercy. Someone like Musili should have been released in 2016 because he had already done a third of his life. Musili is 66 years old why are they still holding him?"
A judge sometimes orders a fitness assessment if the accused is unable to understand their charges due to mental disorders. The accused then undergoes a mental status examination.
A psychiatric nurse, who requested anonymity, explains: "It's all about talk therapy. If you're hearing voices in your head to commit a crime even when we do CT-scan we will not see a voice talking you. When the accused is brought to us we look at the general appearance and the cognitive process (concentration, reasoning, memory etc)."
The other is checking if the accused is delusional, are they hallucinating and "we also look at the mood, are they reacting to stimuli for example are they seeing images or hearing voices that do not exist?"
Also checked is insight; are they able to make decisions, do they have the power or act of seeing into a situation?
Concrete evidence
Clinical psychologist and psychiatrist Fridah Kameti says that if someone is going to be sent to jail concrete evidence is necessary and the mental evaluation "will determine if they were sane when they committed the crime, and even if they were sane, what drove them to commit the offence. We determine whether they understand the crime, what is happening in court during the trial."
Dr Kameti adds that they also carry out a background check on whether the accused had a traumatic childhood, they talk to neighbours, colleagues, and teachers.
"We call them psychometric tests; we are determining, history of trauma, depression, psychosis. Detailed family history, is there mental illness in the family is there a history of people having legal issues in the family because some of these things are generational," explains Kameti, adding that it is after this that the assessment the report is taken to the judge and if the patient is unfit then they are taken to Mathari Maximum Security Unit.
One of the challenges of such mental evaluations is that they are done weeks or months after the crime was committed.
The psychiatric nurse says the mental status examination should be done as soon possible.
"If a person gets a brief psychotic episode and they commit a crime, say murder today, the mental status examination will be different next week therefore the assessment loses meaning."
Differentiating mental illness and intellectual disability also poses a challenge, according the nurse.
Related Topics