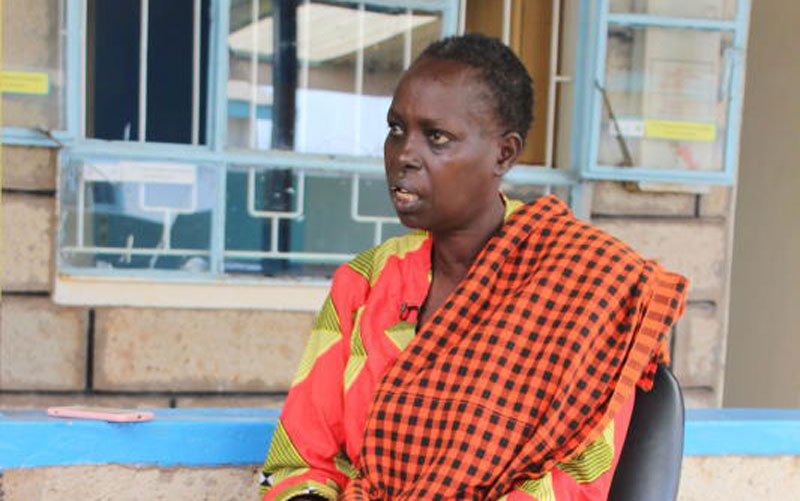 Forty-two-year-old Judith Karuitha sits on a bench at the Meru Teaching and Referral Hospital, her head supported by a folded Maasai shuka. She is happy that she can walk on her own.
"I was in a bad state; I was just in bed. People would carry me around because it was even hard to move my hand," she says.
Ms Karuitha fell ill in 2020, went to a private hospital and was given drugs that did not help. She was later sent to Meru Teaching and Referral Hospital for an X-ray. "When I took the results back to the private hospital, the doctor told me it was cancer of the bone marrow. He suggested further tests worth Sh7,000 at Kenyatta National Hospital," she said.
Lack of money for the biopsy was a blessing in disguise for Ms Karuitha because she returned to Meru Teaching and Referral Hospital, where she was told she did not have cancer but TB of the spine. "I was referred to a health worker at Salome hospital. When they realised it was TB, I was told to start treatment immediately," she said.
She had no cough, but her whole body ached. Adhering to the doctors' instructions helped because after three months she began to walk unassisted. She started the TB treatment in August last year.
This also came with stigma from neighbours. "They would come look at me and say I was dying. Others said I would not survive more than a month. But here I am," she said.
Also at the hospital was nine-year-old Jalline Nkirote, who just finished her 18-month TB dose. Nkirote's mother Ms Serah Kandio said a small swelling around her daughter's neck turned out to be TB. "One Saturday in July 2020, Nkirote complained about a swelling. She could not swallow. The following day, the pain worsened and we took her to a clinic in Meru town, where she was given medication for two weeks," said the mother.
When the condition worsened they took her to a different clinic where two X-rays were done, and she was put on more medicines. When there was no change, she was referred to Meru Teaching and Referral Hospital for further tests.
She struggled to accept that her daughter had TB. "The doctor told us that Nkirote had pulmonary TB; that it is drug resistant and that in children it is different since she might have different symptoms from adults."
Nkirote was put on medication for 18 months, but it was challenging because she was used to syrups. The side effect was bedwetting. "Taking drugs for 18 months was no joke. We had to wake up at 4am to make sure she takes the drugs then wait for two hours before she ate anything. In the evening it was also challenging because she goes to school," said the mother.
Meru County is second to Nairobi in TB prevalence. Health experts attribute the surge in new TB infections and the drug-resistant one to failure to adhere to drugs and a negative attitude, especially among men, towards going to hospital for treatment.
Ms Eunice Kanana, a TB specialist in Meru, says: "They come when they are very sick by the time they come they have spread to other people, there is also a tendency of taking over the counter medications."
Related Topics