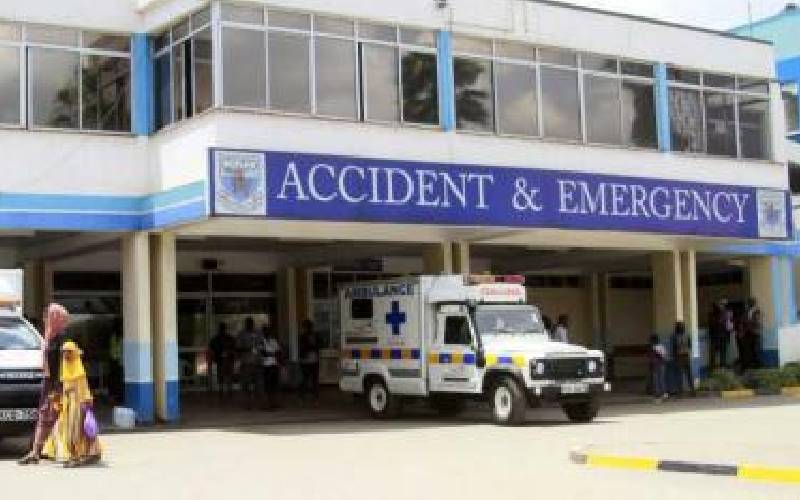 Kenyatta National Referral Hospital is soon going to stick to its core mandate of handling more challenging medical cases referred to it from lower facilities just as its name suggests.
The gigantic facility will close its doors to walk-in patients and attend to referrals only from July when the Nairobi Metropolitan Services (NMS) will have opened all its 24 hospitals to the public.
NMS Director-General Mohammed Badi on Wednesday said all Level 5, 4 and 3 hospitals within Nairobi will cater for all walk-in patients as part of a pilot to implement strategies of easing the burden on referral hospitals like Kenyatta.
President Uhuru Kenyatta had earlier noted that the construction of the 24 hospitals was such that "the public can access health services without having to travel all the way to Kenyatta National Hospital."
Badi announced the closure of walk-in patients to Kenyatta Hospital while opening Kenya's first smart blood collection centre at the Mama Lucy Hospital in Kayole, Embakasi West Constituency. As part of easing the burden on Kenyatta, Badi said plans were underway to upgrade Mama Lucy Hospital into a Level Five hospital.
Last year in August, Uhuru directed Badi to construct 24 health facilities at a cost of Sh2 billion to help reduce the burden in KNH , Mama Lucy, Pumwani and Mbagathi hospitals.
NMS was mandated to build 19 health facilities each for Sh70 million and five would be rehabilitated for Sh300 million. Ten out of the new facilities are Level 2 hospitals while the rest are level 3.
Uhuru has already commissioned four of the 24 hospitals; the Uthiru-Muthua Hospital is a level 3 while the other three — Kiamaiko, Soweto and Ushirika — are Level 2 facilities (dispensaries).
Most of these facilities also frequently need blood and the Life Bank at Mama Lucy will come in handy as a 24/7 blood collection, storage and distribution platform for health facilities in need to "access blood and blood products at the right time, delivered in the right condition, faster, cheaper, and safer than most alternatives," said LifeBank Kenya CEO Philip Nyabera during the launch yesterday.
The Life bank will mean donors will not have to travel all the way to Kenyatta Hospital to donate blood.
The Mama Lucy Hospital Medical, for instance, requires about 400 to 500 units of blood per day but faced an acute shortage of 50 per cent during Covid-19 restrictions, said its Superintendent, Dr Emma Mutio adding that "the centre will go a long way in meeting this demand."
KNBTS director Dr Nduku Kilonzo said the blood shortage in the country last year was accelerated by Covid-19 "but the last quarter of last year saw a 230 per cent increase in blood collection" and expansion plans include supporting counties to build an additional 15 regional blood collection and storage centres.
Badi said one percent of Kenya's population lives in Nairobi which "requires 50,000 units of blood…and we are not able to adequately meet our needs especially with the Covid-19 pandemic."
The announcement comes after a review of the existing referral systems by his teams in partnership with the Ministry of Health.
Badi said NMS is set to open all its 24 hospitals to the public amid efforts to ease traffic at KNH.
He added with the current good working relations with acting Governor Ann Kananu, all efforts will be done to ensure that all the 24 hospitals are fully equipped and operational as pledged by President Uhuru Kenyatta.
KNH was founded in 1901 for non-whites with a bed capacity of 40 before it was renamed the King George VI Hospital, after King George VI of the United Kingdom in 1952.
At that time the whites were served by the nearby European Hospital (now Nairobi Hospital).
The facility was renamed Kenyatta National Hospital, after the founding president Jomo Kenyatta, following independence from the British.
KNH is currently the largest referral and teaching hospital in the country with over 6,000 staff and a bed capacity of 1,800.
Reports however indicate that due to congestion, the patient numbers can rise as high as 3,000.
Related Topics