Beldeen Waliaula and Anyango Otieno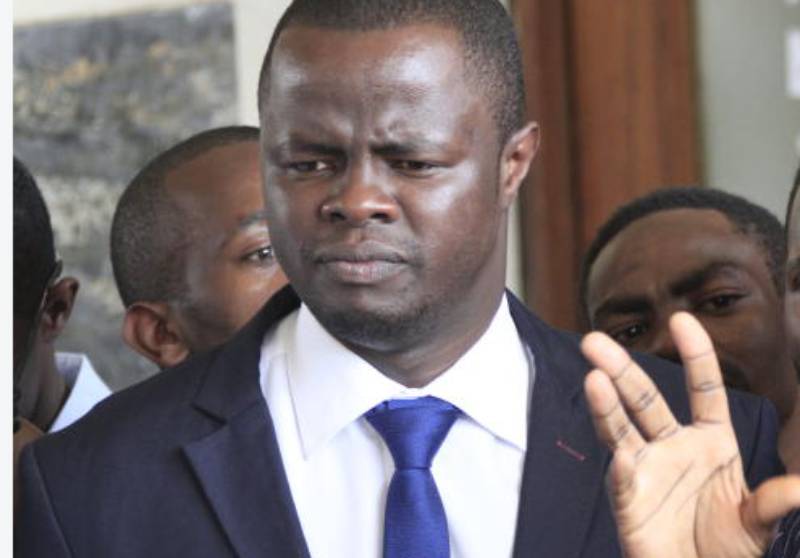 Doctors in Nairobi are set to go on strike after issuing a seven-day notice yesterday over safety of healthcare workers, among other issues.
The Kenya Medical Practitioners and Dentists Union (KMPDU) Secretary General Thuranira Kaugiria (pictured) said the surging numbers of coronavirus infections amongst health workers was a worrying trend.
Yesterday, the medical fraternity lost senior Pulmonologist Ndambuki Mboloi to Covid-19.
The doctors have called on the Ministry of Health to ensure medics working for Nairobi County are provided with a comprehensive National Hospital Insurance Fund (NHIF) cover.
"During this Covid-19 pandemic we have several doctors who have been admitted and have been forced to pay the bills from their own pockets or worse, solicit funds from colleagues to foot bills," said Thuranira.
The union blamed wrangles between Nairobi Metropolitan Services (NMS) and Nairobi City County Government for a six-month delay to pay doctors employed on contract.
"June salaries were paid on July 20 and still as of today, July salaries have not been paid," said Thuranira.
Kenya Medical Association president Were Anyino said supply of personal protective equipment (PPE) was a systemic issue as they were available, but not trickling down to health workers in hospitals, thus exposing them to risk of contracting the virus.
"We had enough time to prepare as a country and work on supply chain of PPE before we went into lockdown, but the lifesaving clothing have become trading items for businessmen, thus causing the shortage," said Were.
He disclosed that most doctors have resorted to buying PPE despite the government's assurance that they have adequate supply.
"I buy my own n95 mask, which goes for Sh1,600 in the market, and most health care workers can't afford to buy this every day," he said.
But Health CAS Mercy Mwangangi said the doctors strike threat has no basis as all allowances for health workers in Nairobi have been paid. "We have the records to show and confirmation from NMS that these allowances were paid to the health workers," she said.
Mwangangi maintained that the PPE distributed in Nairobi were of good quality.
She admitted that the ministry was facing challenges on promotions and designation of health workers and delay to transfer payroll from Nairobi City County to NMS, which had delayed payment of doctors' salaries.
"Following the institution of the NMS, there is delay in the transfer of payroll from Nairobi County to the NMS. However, I am pleased to note that the teams involved in ensuring that this transition takes place have given assurances that they are working on this to ensure all health care workers are transitioned from Nairobi County to NMS," said Mwangangi.
On NHIF cover for doctors, the CAS explained: "There was a delay in NHIF to ensure health care workers in Nairobi are covered, but we have made progress, the budget for that is available and negotiations have commenced at NHIF and will be completed next week."
The ministry yesterday announced that 2,000 healthcare workers in Nairobi have received promotions and re-designations.
Speaking during the update on Covid-19, the CAS said: "I was made aware by NMS that a budget has been made available and therefore what is missing is just the transition period, which is being attended to so that the doctors are able to get promotions and proper designations." The Health ministry announced 580 more cases of coronavirus after testing 5,458 samples.