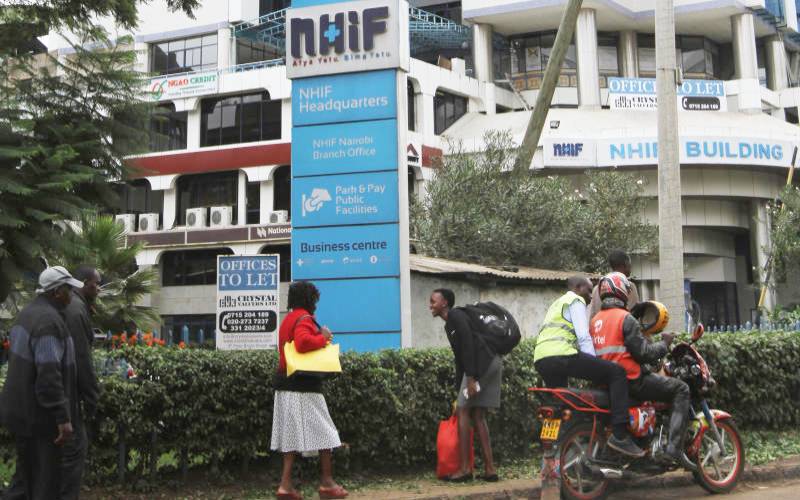 Thousands of Covid-19 patients in the country may get stuck with heavy medical bills after the State health insurer said it will pay expenses for patients in specific hospitals.
A letter from the National Hospital Insurance Fund (NHIF) Chief Executive Officer to facilities indicates of only five categories of hospitals where the bills will be covered by the Government.
These are the Kenyatta National Teaching and Referral Hospital, Kenyatta University Teaching Research and Referral Hospital, Mbagathi County Referral Hospital, county designated facilities and any other which the Ministry of Health will designate.
This directive contradicts the Government's committment that it will cater for all Covid-19 related medical bills of patients in public hospitals.
From this communication by NHIF boss Peter Kamunyo, it appears that patients admitted to facilities not designated to handle Covid-19 will have to cater for their own bills.
Each county as directed by President Uhuru Kenyatta is supposed to have a designated Covid-19 facility and 300 isolation beds.
Some of those beds are to be converted to intensive care units (ICUs).
However, the increase in the number of cases, especially critical patients, has led to a shortage of both ICU and isolation beds in government facilities with spill overs to private hospitals.
Health Chief Adminstrative Secretary Rashid Aman clarified that although the Government caters for Covid-19 bills of patients, this is only in government facilities.
"NHIF will not be liable for bills incurred in non-MoH designated facilities," said Kamunyo.
Covid-19 being a pandemic is not covered by private insurance firms and Kenyans had pegged their hopes on the government.
Even so, this has not been the case as there are incidents of patients being forced to pay before being discharged at Kenyatta University Teaching Research and Referral Hospital.
While Health Director General Patrick Amoth indicated that up to 80 per cent of the medical bills go towards the personal protective equipment (PPEs), a breakdown on the charges say otherwise.
In one of the bills seen by The Standard from Kenyatta University Teaching Research and Referral Hospital, up to 95 per cent of the charges go to bed.
This is while drugs cost less than Sh2,000. Out of Sh74,228 as the total charges for staying at the hospital for 23 days, Sh72,105 went to bed. This is at a rate of Sh3,135 per day.