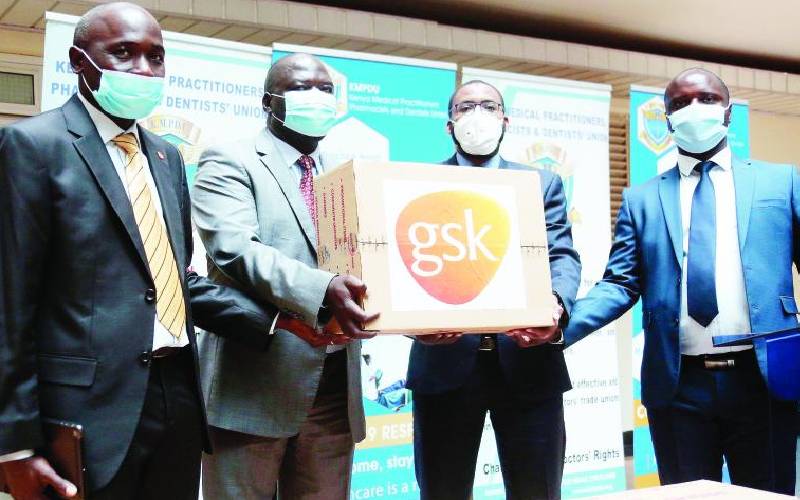 Kenya Medical Practitioners, Pharmacists and Dentists Union (KMPDU) yesterday received a donation of 67,000 masks for health providers from GlaxoSmithKline (GSK) Kenya worth Sh3 million.
As at last Friday, Kenya had 84 healthcare staff infected with Covid-19, raising concerns about frontline workers' safety among various stakeholders.
GSK Kenya General Manager George Onyango said the firm gave the donation in response to a request from KMPDU to support the union's Caring for Carers fund, which was created in April to support healthcare workers and help them get personal protective equipment (PPEs).
"We are delighted to announce a donation of 67,000 surgical masks. I am also pleased to confirm that GSK has donated Sh26.4 million towards Amref Health Africa's 'flattening the curve initiative' appeal," said Onyango, adding that the funding would go towards the Covid-19 response in Kenya.
Increased risk
Acting KMPDU Secretary General Chibanzi Mwachonda said the union has been advocating for the provision of adequate and quality PPEs for doctors across the country as a matter of urgency.
Cases of Covid-19 have been on the rise and medics are now afraid that this translates to an increase in the risk of their frontline colleagues contracting the viral disease.
Through the Caring for Carers campaign, Mwachonda said KMPDU has been able to provide more protection for medics.
"To protect our members, we had to seek partnerships with the likes of GlaxoSmithKline," he said.
Mwachonda added that the donation of face masks would go to all doctors across the country, which will go a long way towards reducing the risk of infection among those on the frontline.
Related Topics