Home
/
Health & Science
Uhuru plan to defeat malaria in two years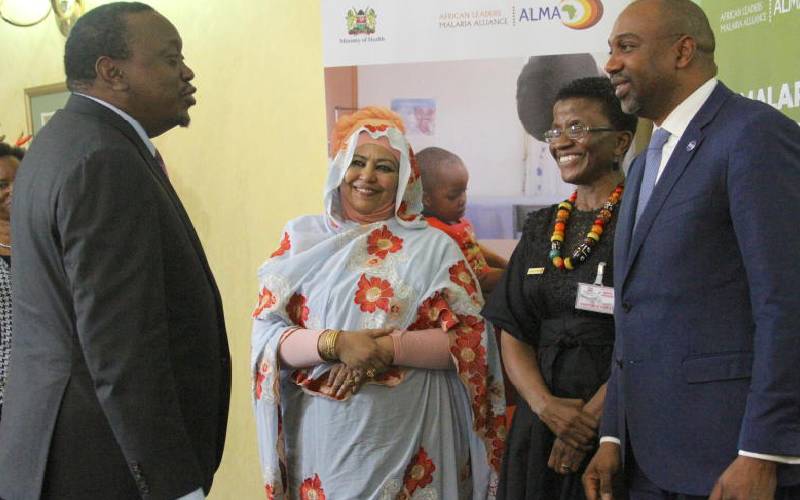 President Uhuru Kenyatta has called for more efforts to eliminate malaria.
"With accelerated action and new models to deal with the disease, we can meet the bold and ambitious targets set in the catalytic framework to end Aids, TB and eliminate malaria in Africa by 2030," said Uhuru, who spoke at State House, Nairobi yesterday.
He said he will focus his efforts on elimination of malaria during the two years he will serve as chairman of African Leaders Malaria Association (Alma).
Uhuru takes over from King Mswati III of Swaziland.
He said a lot of ground has been covered in the fight, but more needs to be done to eliminate the disease.
He said the organisation will use data and digitisation to enhance malaria prevention and elimination, a target Alma hopes to achieve by 2030 under its campaign 'zero malaria starts with me.'
The programme aims at rallying individual participation behind a multi-sectorial fight against malaria and other diseases, including Aids and TB.
Uhuru said Alma's efforts will be concentrated in countries identified by the African Union as high-burden states said to account for 67 per cent global malaria cases and 62 per cent of deaths.
They include Nigeria, DR Congo, Ivory Coast, Mozambique, Niger, Burkina Faso, Mali, Angola and Tanzania.
Uhuru also called for increased manufacturing of anti-malaria commodities in Africa as a measure to eliminate the disease.
Take a quick survey and help us improve our website
Take a survey
We should also create malaria funds to drive resource mobilisation, he said.
Related Topics