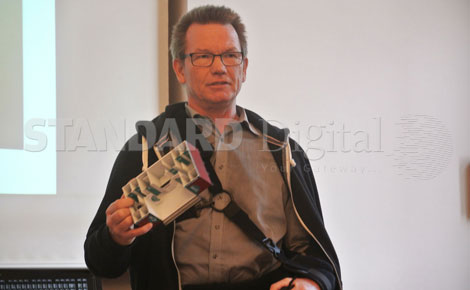 Enviclean director Niels Henrik with a model of the One Stop Shop
By LONAH KIBET
NAIROBI, KENYA: Poor sanitation and unhygienic practices in urban slums and rural populations have been cited as the major causes of diseases while young children have been singled out as the most affected.
In Kenya and parts of Africa, urban slums and refugee camps are characterised by large populations which have limited access to good toilets.
A report by Water and Sanitation Programme shows that 21 million Kenyans use unsanitary or shared toilets while 5.6 million Kenyans have no latrine and defecate in the open.
It further reveals that open defecation costs Kenya US$ 88 million (Sh7.4 billion) per year.
The report notes that to eliminate the practice, 1.2 million latrines have to be built.
The same problem is facing several other African countries costing them billions yearly.
The report shows that there is loss in time in, looking for a private place to "offload", preventing thousands of deaths to diseases like diarrhoea, seeking medical attention and health care which include consultation, medication, and transport to the health facility.
A report by World Health Organization also show that several children in Africa skip school due to the diseases related to sanitation.
Uganda is leading the way by adopting an environmentally safe and profitable sanitation business model by the end of the year.
A market analysis in Kampala and Kasese showed that there was a sanitation problem in the areas that needed rapid attention.
The model dubbed "The One Stop Shop" is a sanitary solution that will focus on highly populated areas including schools, hospitals among others, market places, slum dwellers to providing them with hygienic toilet and shower facilities in a clean, safe and sustainable environment.
The model was demonstrated to a group of environmental journalists from Kenya, Ghana and South Africa at Denmark, sponsored by International Media Support.
The user will pay a small fee of about UG 300 shillings (Ksh10) to access the facility using a token which attracts discounts.
The discounts can be used to purchase other hygiene related products like soap, shampoo and toilet paper at the shop set up in the premises.
The model dubbed "One Stop Shop" will also be profitable for the investors where the waste and grey matter from the facility will be collected and re-used as bio-energy thus creating a sustainable energy source as well as solving a bio-hazard.
The project is initiated by a Danish company EnviClean and will be implemented in collaboration with Red Cross, Ugandan partners Watertech and associated partners, AVV, Bigadan and DMS-Africa, in Kampala and Kasese, thanks to the business researcher and launch pad Access2innovation in Denmark.
Access2innovation creates a platform between the third world market, NGOs, researchers and the world of commerce, where partners come together to work out solutions to concrete problems in the developing world, especially East Africa.
It also allows business partners to access vast new markets with sustainable products that are in demand.
Enviclean director Niels Henrik said the project will not only address the sanitation situation in African countries but will creates a sustainable business for investors with the generation of electricity at the bio-fuel plant.
"We had to come up with a model that will not run down in a couple of years," said Henrik.
He added the needs of the population were put into consideration while designing the model, which include eight toilets and a bathroom.
The projected is highly recommended for densely populated areas like schools, hospitals, slums and within towns among others.
Related Topics