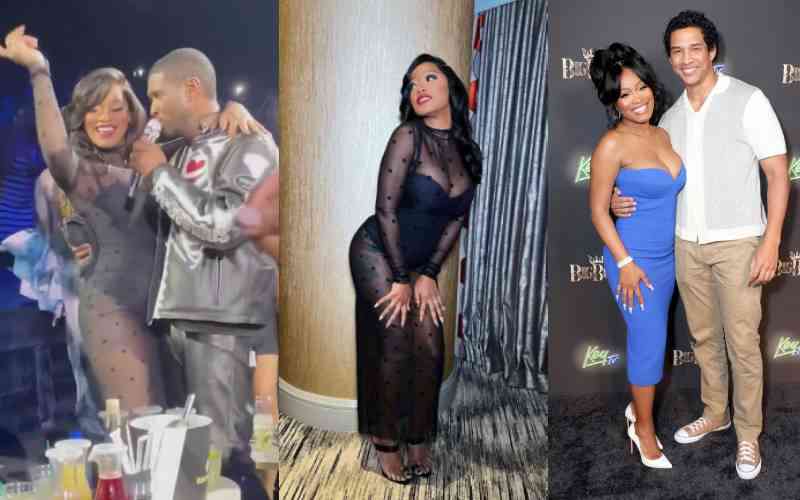 American actress and Musician Keke Palmer recently found herself at the centre of a controversy when her partner Darius Jackson publicly criticised her choice of outfit at Usher's party.
Palmer, 29, has always been unapologetic about her fashion choices, often opting for bold and daring outfits that exude confidence and authenticity.
Her appearance at Usher's latest party was no exception, as she attended wearing a revealing sheer dress and black bodysuit ensemble that some took issue with.
Unfortunately, her partner Darius Jackson was among those who criticised her outfit, publicly shaming her for daring to break the mould.
In a video that has since gone viral, Palmer is seen dancing and hugging singer Usher while he serenades her to the song "There Goes My Baby".
Jackson, also 29, shared the video on his Twitter account and commented: "It's the outfit tho [sic]… you a mom."
His remark elicited mixed reactions, with many people disappointed and questioning how her outfit choice ties to her motherhood.
Despite the momentary setback, Palmer valiantly defended her freedom of expression, highlighting the importance of self-confidence and embracing one's own style.
She responded intelligently through various social media platforms and made it clear that her partner's derogatory comments would neither define nor deter her from expressing herself fully.
Furthermore, Palmer has since launched a new merchandise line parodying her partner's words. The Nope star took to Instagram to unveil the new sweatshirts emblazoned "I'm a Motha" across the body.
In today's society, body shaming continues to be an issue that many individuals face daily. The incident involving Palmer highlights the need for re-evaluation and emphasizes the importance of embracing and celebrating self-expression without fear of judgment or criticism.
Her resilience serves as an inspiration for others facing similar situations, empowering them to reclaim their autonomy and speak out against those who seek to bring them down.
Moreover, it brings forth the often-overlooked fact that body shaming can originate from within intimate relationships.
Palmer's controversy sparks a necessary conversation about the boundaries within relationships and the importance of uplifting and supporting one another's choices.
Related Topics