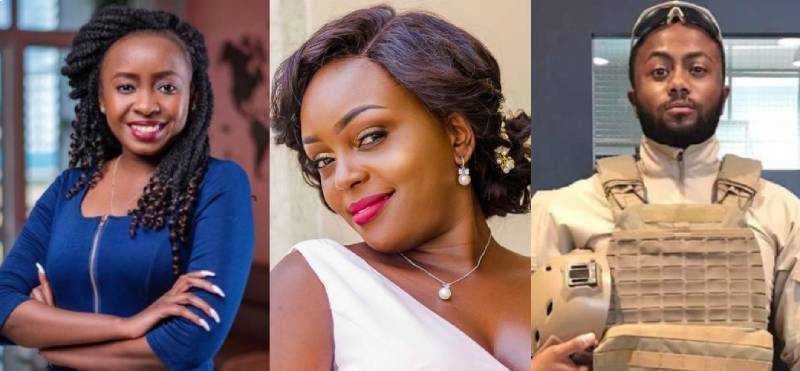 Jacque Maribe was a media star at a young age, but now she is a capital offence suspect fighting to prove her innocence.
At the height of her career, Maribe rubbed shoulders with the high and mighty, at one time even scoring an exclusive interview with President Uhuru Kenyatta.
Then the killing of businesswoman Monica Kimani on the night of September 19, 2018 threw Maribe into the centre of a murder trial.
She was charged alongside her then fiance Joseph 'Jowie' Irungu. In reversed roles, the journalist found herself in the headlines that look like the plot of another blockbuster murder flick.
"We met with Jowie while on the job. Some of my friends knew. We got engaged. He was very nice, he genuinely was," said Maribe.
"Everything was going on so well. My career path was good, undeniably good, until one day, something just happened...," Maribe added in an interview with True Love magazine in 2020, her first candid interview since her arrest.
"This man was that person for me, the one you feel like if I ever had any regrets, then this is it. I do not believe in regrets, but if regret was a person, then that would be it. I do not like to speak about him because... sometimes I feel like if you want to speak your truth, people would come and judge you, and say: 'you are still bitter...' she said in the interview taken by the publication's editor Carole Mandi.
Jowie was arrested as a prime suspect in Monica's murder. Maribe was also later arrested on Saturday night of September 29, 2018, after the police linked her to the murder.
"She is now in custody as a suspect in the murder," Director of Criminal Investigations George Kinoti told journalists soon after she was whisked to Gigiri Police Station in Nairobi.
Overnight, Maribe lost everything -class, status, career, friends and freedom.
The prosecuting officer, Chief Inspector of Police Maxwell Otieno believes Jowie and Maribe were together hours before Monica's death.
"The second accused facilitated the first accused (Jowie) by availing her vehicle, which took him to the house of the deceased," Otieno claimed.
Oduor told the court that Jowie took a taxi to Monica's house on the day Monica was killed. The officer said Jowie used a fake ID to access Monica's apartments.
Amidst all this, Maribe's family has remained close to her.
"Because who is God up and about. Thank you for calls and showing up," that was the last post on her Facebook timeline by her sister Cathylene Maribe in June this year.
Cathylene made the post after Judge Grace Nzioka adjourned the trial to July 18 because Maribe was too sick to attend a court hearing.
The court has now directed parties to submit written submissions on September 30.
But how did she get here?
A Sagittarius whose zodiac element is fire, Maribe is described as a go-getter by those who know her well. To her few trusted friends, she is a happy lady who is always keen to ensure everyone around her circles is comfortable.
Her family - the Mwangis - are staunch Christians and business people who have always steered off the public limelight.
It is a safety net that gives few details about Maribe's personal life especially her formative days, according to a close source.
"Jacque is very very close with her family members. The family is closely knit. They are always coming through and cushioning her from trouble especially since the 2018 murder incidence that got them really distressed," said one of Jackie's close friends who sought anonymity in an earlier interview.
Her father, Mwangi Maribe, at one time told a local media house that his daughter was a victim of love.
"Her biggest mistake was falling in love. There was no way my daughter could have been involved in the gruesome killing and then break the news the following day on Citizen TV," the father said. After her studies at State House Girls School where she nurtured her acting prowess and grew interest in media, Maribe proceeded to the University of Nairobi. She graduated with a degree in Journalism.
After graduating, Maribe got a job at one of Kenya's mainstream TV stations, K24, in 2009.
A promising journalist with a shining star, it was around this time that she became popular for her political coverage and come 2011, she moved to Radio Africa Group before moving on to Citizen TV the following year.
In her interview with True Love, Jacque narrated how President Uhuru personally contacted her for a one-on-one interview in 2014, one year after her had won the 2013 general election.
"When I went to tell my boss that I had been offered the first-ever interview by the president, it was hard. Like why, you? And I remember being told that someone else would conduct the interview," she told Carole Mandi during her interview.
"It actually brought a bit of tension," Maribe, a Head of State Commendation recipient said of the incident.
Related Topics