Home
/
Living
Our daughter only wanted to help her mother fight cancer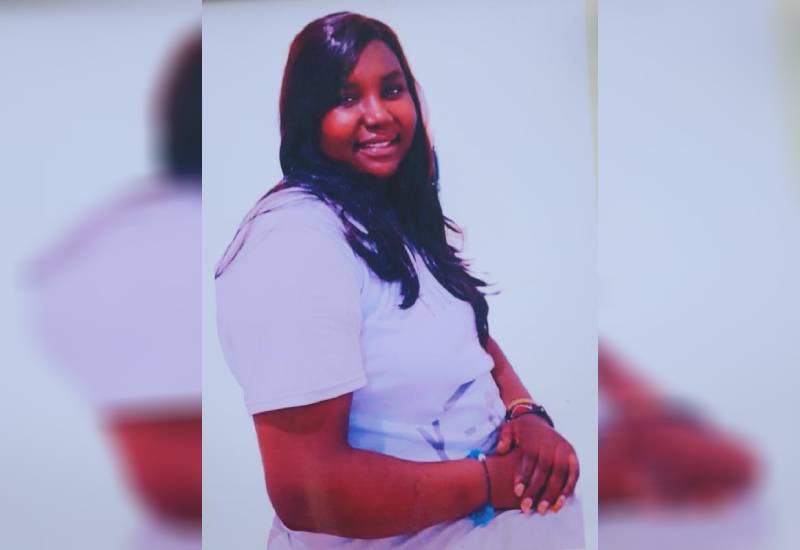 Twenty four hours after the burial of 23-year-old Blessing Nasimiyu, mourning was refused to leave Kwinet Village, some 10 kilometres from the maize-growing town of Moi's Bridge, Uasin Gishu County on the belly of the Rift Valley.
Tragedy, it seems, has set up camp in the homestead, touching everyone who can spare some time to listen to the story around the young woman's death.
And just like indelible ink, the haunting story leaves a mark that cannot be easily erased.
Nasimiyu's parents, Anthony and Gladys Masika are still inconsolable when The Standard visits their home. The pain in their hearts is evident in their eyes. Nobody in Kwinet Village saw such an ending for such a young woman.
Nasimiyu had only been on a plane twice in her life. The first time was when she left home in August 2019 for what looked like an exciting career opportunity in Saudi Arabia. She was excited, and had probably taken in the beautiful views from a window seat.
The second time that Nasimiyu got on a plane was in February this year, there was no excitement and no aisle or window seat. She came back in a coffin.
Nasimuyu had taken the job opportunity so she could earn some money to pay for treatment for her ailing mother, who was battling cancer. The deal was so sweet; no one keen on getting themselves and their families out of poverty could have resisted it.
But while in the foreign country, Nasimiyu tumbled into a pit of untold suffering that is suspected to have resulted in her death. She died that January in Saudi Arabia, more than 3,000 kilometres away, under mysterious circumstances.
When The Standard team visits Nasimiyu's family, her mother Gladys, 60, is still being consoled by neighbours inside the house.
Her father, Mr Masika, 68, sits on the shade of a tree in his compound – the same position he was when the shocking news of the demise of his daughter.
According to Nasimiyu's brother Eric Juma, the family received the news 13 days after his sister's death.
"It was February 25 when my father received a call from the Ministry of Foreign Affairs in Nairobi. We thought it was fake news and we asked neighbours to be calm as we authenticated the sources of the telephone call," Juma recalls.
Juma says the family confirmed two days later that Nasimiyu was dead. He says the family was asked to write a formal letter requesting for repatriation of the body from Riyadh.
"My sister left home in good health. She often spoke with my mother while in Saud Arabia. We were even more puzzled when we were told that her heart stopped on the streets at midnight. We were given reports written in Arabic and we are yet to get an interpreter. To date, we are yet to know what exactly caused the death," he says.
Juma says his sister had complained that she was working for nearly 24 hours a day and had little time to sleep.
Juma says the body landed at the Jomo Kenyatta International Airport (JKIA) at 9.23pm on February 9 through Lufthansa Cargo.
"Her agent, identified as Afak, distanced itself with the death. She has been helping my mother with her cancer treatment. We understand she saved money amounting to over Sh800,000 while in Saudi Arabia but we were only given the body. The agent who took her to Saudi Arabia abandoned us at our hour of need," he says.
An agonised Mrs Masika, Nasimiyu's mother, says she last spoke to her late daughter (her last born child) on January 9.
Mrs Masika says Nasimiyu said she was well and that she was jovial.
"My daughter went to Saudi Arabia because of me. I am not well and she travelled to a foreign to help me. It is unfortunate that she came back on a wooden box as cargo," she says.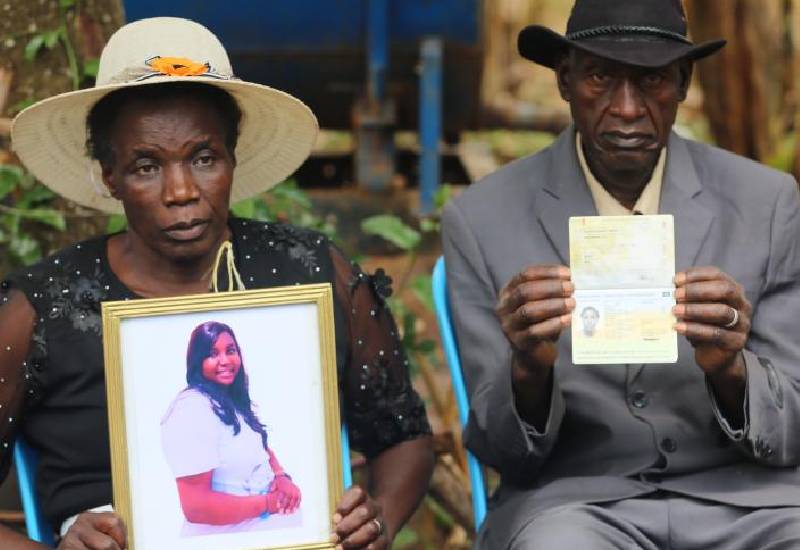 According to Mrs Masika, Nasimiyu's contract as a housemaid in Riyadh was almost coming to an end when the news of her death broke. She says Nasimiyu had plans to travel to Kenya soon to build a better house for the family.
"I was here with my husband when the news of her death broke. I saw the shock on my husband's face as he spoke to the caller and I knew something was wrong. I passed out and I remember a group of neighbours comforting me. My son Eric arrived and told the villagers to remain calm," she remembers.
Mrs Masika says her daughter had complained about what she described as a small problem with her employer in December.
"She didn't tell me the kind of problem she had with the Saudi employer. I wish I had probed further. I should have asked her to escape and come home," the painful mother says.
Her husband, Mr Masika, says his daughter helped him fence his farm during the Covid-19 pandemic period and she was planning to send money to help him till the piece of land before he received the shocking news of her demise.
The father says the news of death hit him hard and it would take time to recover.
"The caller who broke the news of my daughter was straight to the point. She announced the death and promised that more news on the demise would follow. Two days later, a call from the Kenyan Embassy in Saudi Arabia followed. That is when we confirmed that she was indeed dead," he says.
According to a death certificate issued by the Kingdom of Saudi Arabia's Ministry of Interior and Civil Affairs, as seen by The Standard, Nasimiyu, who was born on January 1, 1998 died in January in Riyadh City.
Batha police station in Riyadh, in a report given to the family, says the body of the late Nasimiyu was discovered on the streets of Riyadh in the middle of the night.
The death certificate indicates Nasimiyu, a mother of a four-year-old girl, died of 'stoppage of heart and respiratory system.'
A medical report for the deceased read in part: "Female corpse, around third decade of her age, no vital signs available, we did not reveal any similar traces of injuries externally in the body, as per the detail memorandum of police from Batha police Centre No: 234730 which shows that there are no signs of violence on the body and not found criminal doubt."
The medical report was prepared by a Dr Adel Abdullah Al Shahry of Riyadh Forensic Medical Centre and death affairs and signed by a physician Ali Bawazeer (head of death affairs).
Back in her village, Nasimiyu's death was raising more questions than answers.
How she was found dead on the streets of Riyadh and without injuries remains a mystery.
Related Topics