Agnes Aineah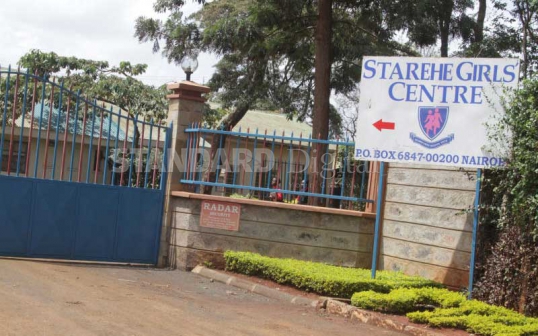 On an expansive portion of land in a rural suburb of Njathaini where Nairobi borders Kiambu County, lies the Starehe Girls Centre. It started with so much pomp and fanfare that no one thought 12 years later it would fade from people's memory.
Even after rising to equal the Starehe Boys Centre in academic performance in less than a decade of existence, the school has more than 57 unsponsored girls due to failed promises and lack of interest from both corporate and locals. The school currently has 520 students.
With a heavy metallic gate, complete with uniformed security men, the entrance to Starehe Girls Centre gives a false sense of safety. The school doesn't have a perimeter wall to hold the gate together.
Without an electric perimeter fence, security at the school is compromised, a magnificent gate and stern-looking security men and women at the gate notwithstanding.
In fact, two youths attempted to break into the school and cross over to the girls' dormitories. The watchmen thwarted their attempt.
Monkeys from a nearby forest roam the school at will and soil dormitories and teachers' quarters before feasting on fruits in the school compound.
The charity-based school also grapples with inadequate learning and boarding facilities. There is also an obvious challenge of housing for the teachers and other non-teaching staff in the leafy suburb.
READ MORE
Starehe Girls Centre came into the limelight in February 2005, a month after it was started, when the late Mama Lucy Kibaki led dignitaries at a donation drive that saw the first group of students get learning and boarding facilities.
But years later, the high-profile visitors who promised to help the school have reduced drastically save for a few faithful ones. That has not deterred hundreds of top performing girls from poor backgrounds across the country.
According to the school's director, Sr Jane Soita, students who are admitted to the school come to seek not just education but also a sense of community and emotional healing.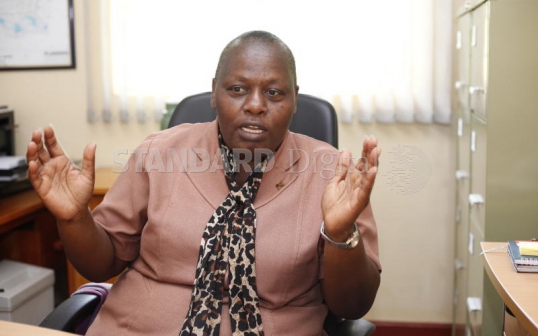 "We admit the poorest of the poor who come here with low self-esteem and self-pity because of the poverty in their homes," says Sr Soita. "We show them the beautiful homes surrounding the school and assure them they can own such and even more if they stay focused in their studies."
Top universities
About 98 per cent of girls at the school join university every year. A good number of the school's alumni joined top international universities and have succeeded in life.
And others, like Shirine Chebet, this year's candidate are walking in the footsteps of their predecessors who, though coming from poor backgrounds, took advantage of free scholarship and prospered.
Chebet, 18, is sitting her Form Four national exams, which started on Monday. Though she comes from a poor background, she got an Equity Bank scholarship. She lost her mother at the age of two, and was raised by her uncle who was "too poor to supply her most basic needs, let alone pay for her secondary school education".
Nearly every girl at Starehe Girls Centre has a background almost similar to Chebet's or worse. As a result, the school has become a magnet for vulnerable girls from marginalised communities. A greater percentage is drawn from communities where the girl-child grapples with many challenges, including forced marriages, teenage pregnancies and female genital mutilation (FGM).
Leah Biwott, who hails from Trans Nzoia, says all the girls she went to primary school with are now married and have a child or two.
"There is no development at all. What people value are traditional family set-ups that do not encourage education, especially for a girl," says Biwott, a candidate.
Margaret Naisiaye, also a KCSE candidate, remembers a tough childhood she endured to score 390 marks in the Kenya Certificate of Primary Education (KCPE).
"There are places in Narok with no quality education for children who have a genuine passion to study," she says.
Having commuted from relatives' homes to access free primary education, Naisiaye now aspires to join the African Leadership Academy to equip herself with leadership skills before proceeding to Cambridge University to pursue Biosystems Engineering. She hopes to go back to Narok as an activist against practices such as FGM and forced marriages that are still a headache to the Maasai girl.
Single mother
The same goes for 17-year-old Najma Khalif who beat all odds, including being raised by a poor single mother, to top Wajir County in KCPE.
Najma scored 394 marks and was sponsored by Precious Sisters to Starehe Girls Centre where she has been a captain for four years.
However, not every student is fortunate enough to have sponsors to keep them in school. In fact, 57 girls at the school are relying on the school's administration for their upkeep.
Sr Soita together with 11 other teachers were the first batch of the school's teaching staff. The number of teaching staff has since grown to 38-25 of them are employed by the Teachers Service Commission, while the remaining 13 are employed by the school.
The sister of Notre Dame would initially commute from her convent in Kariokor, Nairobi, to Starehe Girls Centre to teach. She later left the convent and started staying with the girls in their dormitories. She now has a house at the school.
The school plans to create a fifth stream from next year that will comprise fee-paying students.