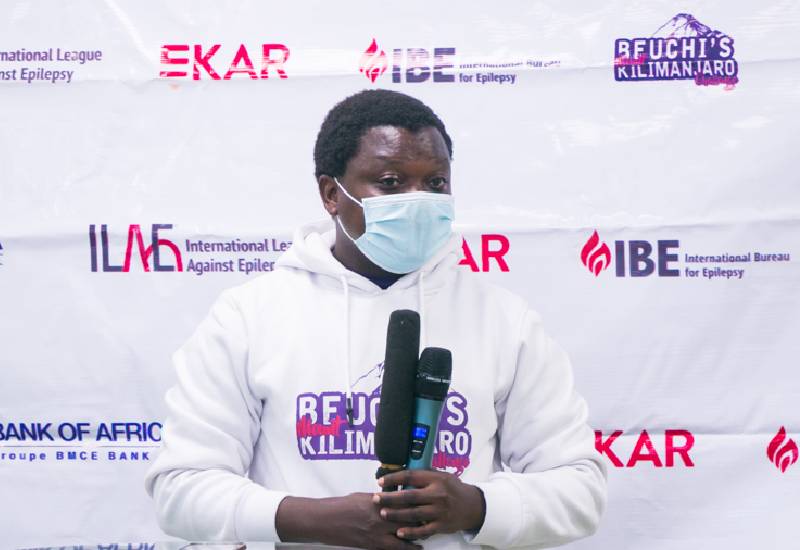 Fredrick Beuchi and his team taking part in an epilepsy awareness expedition to Mt Kilimajaro will officially embark on the trip tomorrow Tuesday 17 November at Ngong town, first cycling to Arusha then climbing Mt Kilimanjaro.
Beuchi, an Epilepsy activist and the secretary of the National Epilepsy Coordination Committee (NECC), addressed the press at the Bank of Africa headquarters in Nairobi on Monday 16 November, where he reiterated the objectives of the expedition terming it an innovative solution to creating epilepsy awareness in Africa.
Dubbed Beuchi's Mt Kilimanjaro Epilepsy Awareness Challenge, the campaign aims to advocate rights of people living with epilepsy (PLWE) and raise awareness about epilepsy across the continent.
"After coming second in Africa in the 2019 International Bureau of Epilepsy (IBE) Golden Light Awards, I got motivated to continue pushing and getting the message of epilepsy awareness out there.
"In line with creating innovative solutions to epilepsy awareness in Africa, we will climb to the top of Mt Kilimanjaro and shout about epilepsy," Beuchi said.
The expedition seeks to rally local and international media in supporting epilepsy awareness in Africa; fundraise for translation of epilepsy awareness material into African local languages; advocate for rights of PLWE, and support children living with Epilepsy access medication.
Beuchi's expedition is part of Angaza Kifafa, a program by the NECC that has so far visited and partnered with 18 counties across the country in line with creating epilepsy awareness and generally improving services offered to PLWE.
READ MORE
Beuchi's journey in epilepsy advocacy began in 2012 when he resigned from his job to help his mother look after his younger sister who was diagnosed with epilepsy, a condition that had left her struggling with seizure attacks every 20 minutes.
In 2018, Beuchi took part in his first epilepsy awareness expedition, a walk from Nairobi to Mombasa, which supported up to 100 children with epilepsy access medication.