Beryl Itindi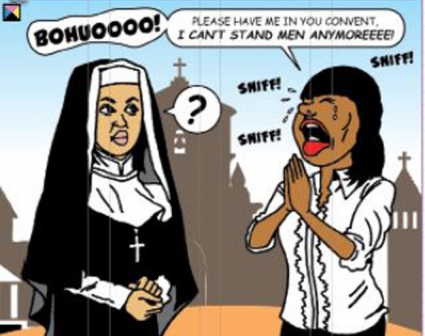 ALSO READ: How to spot and deal with a jealous friend
Allow me to start by appreciating whoever came up with the phrase, 'too much of something is poisonous'.
I might not know whatever came to their mind to come to such a conclusion but I know they could have as well been in a very long relationship that led to separation. Oh yes, I said separation.
In my dating life, I have realised that the longer you date someone before marriage, the less likely you are to walk down the aisle with the person. Long is relative and long to you might as well be a very short time to me.
Personally, I would say the most I can date someone in this era of sponsors, sponsees and cons before we walk down the aisle is two years. In fact, for me to hit the second year, I should be awarded a 'Patience gift'. I mean, if we date for two years without the mention of the word 'Marriage', I expect a gift from you, and a memorable one for that matter.
A gift that would remind me to be patient any time I am about to lose my cool.
Have I ever told you that I once dated a tall dark and handsome man for seven years? Well, he wasn't really tall, but that should not be an issue more than us dating for seven solid years only for us to break up. Don't ask me why we broke up because I have never really had an answer to that.
My friend, seven years calling each other 'Baby' hoping to bring forth a baby then end up not just without a baby but with no ounce of love left between us. My God!
ALSO READ: How betting ruined a much awaited date with Hilda
Sometimes I wish I had used the seven years to study Medicine instead and emerge a doctor. Maybe, just maybe, I would have discovered an antidote for love so that no one else ever suffers from Acute Love Syndrome with nothing positive to show for it.
The seven years I played wife, prepared his meals, did his laundry, got worried stiff anytime he wasn't reachable on phone thinking someone had kidnapped my pumpkin and always having my antennae high up to pick any signal of danger near my baby all ended up in blocking each other on all social media platforms.
To date, I don't have an exact answer of what really broke us up within a day!
After we called it quits, I vowed never to enroll in another seven year 'wify' course and leave with no certificate. As I type this, apart from my educational certificates, the only other certificate I own is my birth certificate.
Sometimes I am always tempted to apply for a certificate of good conduct to boost my certificate folder but anytime I remember it expires after six months, I coil my tail, hug my birth certificate tight and ask God never to walk me through another year of nothing!
Dating for more than three years results into a brotherhood love and the two of you start looking at each other like brother and sister, the only kind of love left between the two of you is Agape love!
This should however not make anyone date for less than six months and imagine they are ready to walk down the aisle.
ALSO READ: Will and Jada Pinkett Smith deny affair with August Alsina
In this era of cons, you might not just be planning to walk someone else's spouse down the aisle unknowingly but you could also be signing your certificate for bankruptcy which will later be topped up by a null and void marriage certificate and garnished with a divorce certificate.
This leaves me with this question "For how long should two lovebirds date before walking down the aisle?"
Please answer me before I sign my application letter to join a convent!