Home
/
Achieving Woman
I lost my eyesight not my zeal to live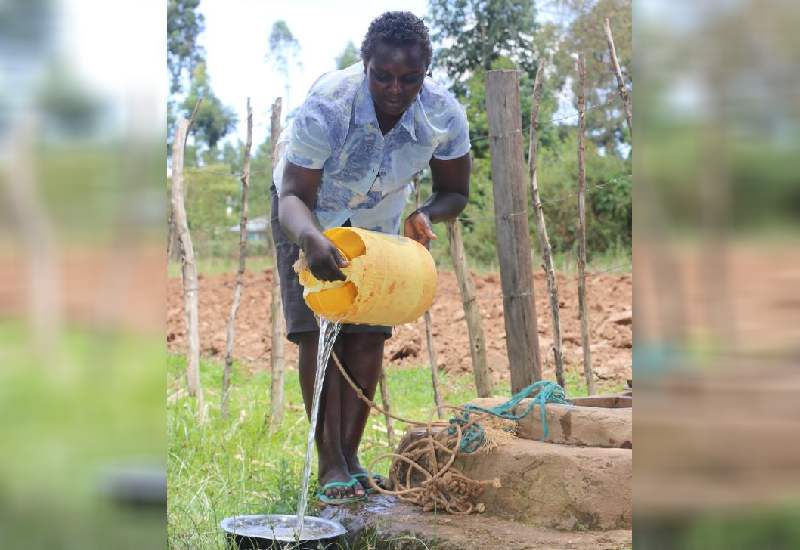 When Veronica Sugut lost her eyesight five years ago, she learnt to do her house chores with little help — even milking cows and fetching water from 40-foot borehole.
She tells us how she copes and why she is determined to live a normal life
At a glance, Veronica Sugut may pass as an ordinary housewife doing her daily chores at their Kapkechui home in Nandi County.
But on a closer look, one will be curious at how she gropes her way through her surroundings using her hands and feet before executing any task.
When the Eve team visited her at her home, we found her in her kitchen plastering her traditional oven, unperturbed as she executed the task with precision and dexterity.
"Don't be shocked. This is my world. I have been doing this for the last five years and now it is normal because life has to go on," Veronica said as she ushered us into her home.
Veronica, 34, has made several visits to various eye clinics but they have proved futile after she was diagnosed with absolute glaucoma.
The condition is characterised by lack of eye vision, absence of pupillary light reflex and pupillary response with a stony eye appearance. Severe pain is also present in the eye.
"Some time in 2016, I suffered from thyroid disease which was successfully treated after a surgery. But one morning, three months later, I felt unexplained pain, especially on one eye that was turning blurry," narrated the mother of three.
Veronica recalled how her husband brushed off her incessant complaints of blurred vision because she could execute her duties well and the eyes appeared normal.
Take a quick survey and help us improve our website
Take a survey
"My husband would examine my eyes and tell me they looked normal but I could feel I was losing sight and the pain was also intense," she said.
But a visit to various hospitals in Nandi and later to Sabatia Mission Eye Hospital confirmed her worst nightmare — she was progressively going blind.
The ophthalmologists at Sabatia booked her for surgery where one severely damaged eye was to be removed to save the other one from total blindness.
But as fate would conspire, she lost a family member and, in the mourning period, delayed going back to hospital. By the time she reported to the health facility, more bad news awaited her — the disease had progressed to both eyes, damaging them irreversibly.
"The news shattered my heart. I was devastated. I sobbed all the way back home because I felt the world crumbling on my shoulders. I contemplated suicide several times," Veronica narrated, sobbing from the memory.
"I was born normal but going blind made me feel useless and I felt like death was my only option. But after a series of counseling sessions, I accepted my new condition and dared to work for my children. I have painkillers to relieve the pain."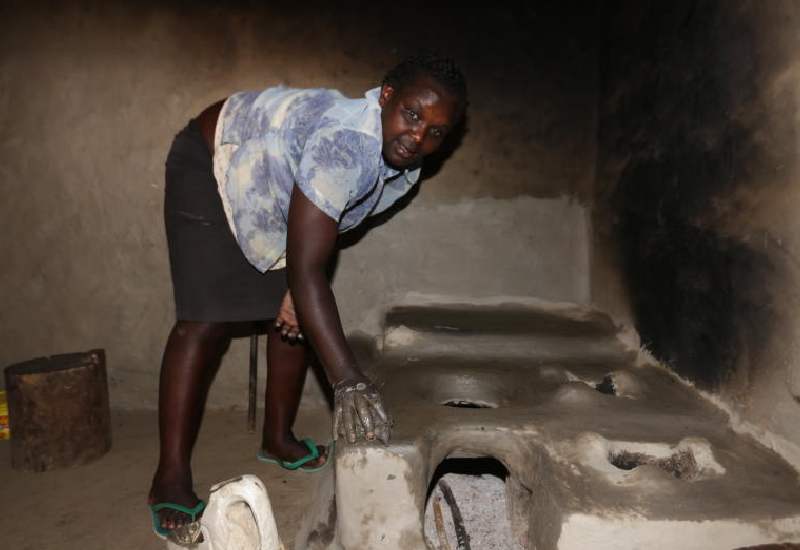 Her daily chores, just like many other stay-at-home mothers, revolve around the homestead. Astonishingly, she fetches water from a 40-foot borehole for home use and also for animals.
"Before schools were closed, I would wake up at 5am to prepare the children for school. After cooking and serving them tea, I would go to the dairy and milk the cows and back to the house to tidy up the home when the children have left for school," she explained.
Looking around, the home is very tidy and one can think Veronica has a sighted person assisting her.
"I have no one to help me in the house save for relatives who pop in once in a while to help. My husband is a truck driver and is rarely at home. I do not want to be a burden. I am striving to live a normal life," she said.
When we ask her why she does not look for a househelp, she answers that she has hired several but they have all left under unclear circumstances, forcing her to soldier on.
Earlier this month, to celebrate 'International Women's Day,' a neighbour volunteered to take her to PCEA Kikuyu Hospital.
"Seeing her juggling her house chores, I imagined that maybe she can see a little and is not totally blind. But the doctors at PCEA Hospital, after subjecting her eyes to intense light, found her to be blind. We are calling on well-wishers to still come forward to help her regain sight if possible," said Charles Barchike, a neighbour.
He says that although Veronica has adapted to her condition very well, proving that disability is not inability, she is still exposed to immense risks.
Edna Jebet, a relative, says she occasionally visits Veronica in the mornings to help with several tasks but, later in the day, she is left alone with the children.
"That she needs help cannot be over-emphasised because she is exposed to a lot of danger," she said.
Related Topics